Business
Microsoft says the launch of the Xbox One on Friday has been the most successful yet for its Xbox gaming console family.
The company sold 1 million consoles in less than 24 hours, it said, putting it roughly equal with the launch of Sony's PlayStation 4 a week earlier. Gamers on both platforms have been waiting several years for the companies to update their hardware, so strong sales at launch shouldn't come as a surprise.
"We are humbled and grateful for the excitement of Xbox fans around the world," Microsoft said.
Many of the 22 Xbox One games available at launch are played online, enabling Microsoft to collect data from its servers about the frenetic first day of gaming.
It said more than 60 million zombies have been killed in "Dead Rising 3," more than 3.6 million miles driven in "Forza Motorsport 5" and more than 8.5 million enemies defeated in "Ryse: Son of Rome."
The Xbox One has been well received by critics, who praised its graphics. The console's non-gaming features, such as the ability to access live television in some countries and integration of Skype, have also been noted.
With both Sony and Microsoft's consoles launched, game retailers and software makers are hoping for a strong holiday season.
Martyn Williams covers mobile telecoms, Silicon Valley and general technology breaking news for The IDG News Service. Follow Martyn on Twitter at @martyn_williams. Martyn's e-mail address is This e-mail address is being protected from spambots. You need JavaScript enabled to view it
Martyn Williams, IDG News Service
, IDG News Service

Martyn Williams covers mobile telecoms, Silicon Valley and general technology breaking news for The IDG News Service.
More by Martyn Williams, IDG News Service
Subscribe to the Daily Downloads Newsletter
Thank you for sharing this page.
Sorry! There was an error emailing this page
Section: Articles -
File Under: Business |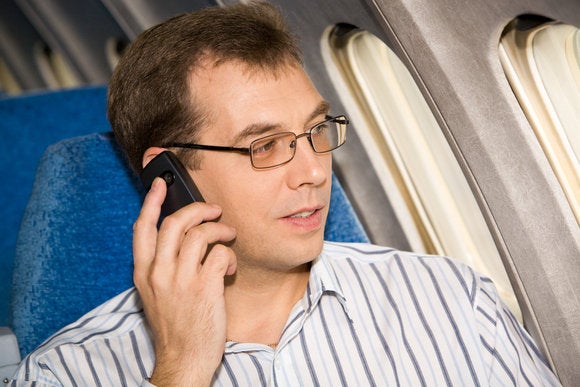 Anyone who dreads hearing one end of a loud phone call all the way from Anchorage to Miami, take heart: The plan to allow cellphones on planes could fail in more ways than an overbooked flight at a snowbound airport on Christmas Eve.
On Thursday, the U.S. Federal Communications Commission said it would consider a proposal to let airlines allow passengers to use cellular services while in flight. The services would use special onboard cells instead of regular towers on the ground and wouldn't be allowed below 10,000 feet.
The FCC is scheduled to discuss the subject at its next public meeting on Dec. 12. If the agency adopts the rule, it will be up to airlines to install the onboard cells and decide whether passengers can talk, text or use cellular data.
Nearly everyone welcomed the Federal Aviation Administration's decision last month to let travelers keep electronic devices on from gate to gate, but allowing cellphone calls in flight is a whole other matter. A flight attendants' union came out strongly against the idea, polls indicate most consumers are worried about it, and a congressman who has fought in-flight calling in the past may revive a bill that would ban it.
"Just imagine the nightmare. You're sitting there in coach, three across, and you're in between two people who are yelling on their cellphones," said Rep. Peter DeFazio, a Democrat from Oregon. "You can't sleep, you can't work."
History
In 2008, DeFazio introduced the Halting Airplane Noise to Give Us Peace (HANG UP) Act, which would have limited in-flight wireless services on airliners to data. The bill failed, but DeFazio said he probably will reintroduce it, if only to give opponents of the FCC's plan something to rally around.
OnAir, a Swiss in-flight cell carrier, links onboard cellular servers to the ground via satellites.
The U.S. is falling behind the rest of the world, if being able to use a cellphone in the air is progress. Many major international airlines, including Air France, Emirates, Singapore Airlines and Virgin Atlantic, already offer cellular service over countries where it's allowed. OnAir, a Swiss in-flight cell carrier, links onboard cellular servers to the ground via satellites. It boasts of roaming agreements with more than 350 mobile operators.
But even if the FCC lifts its rule, which was imposed in 1991 to prevent disruption of ground-based cellular networks, nothing will change in the U.S. unless airlines and service providers see a viable business in phone calls, analysts said.
History is not encouraging, according to Roger Entner of Recon Analytics. An earlier in-flight phone service, Verizon Communications' Airfone, used wired phones built into seatbacks and linked them to the ground via satellite. But most fliers balked at the high per-minute cost of using Airfone and Verizon shut the service down in 2006. In-flight cell service is offered on some airlines outside the U.S. at rates similar to international roaming, but it's not yet clear whether it's a moneymaker, Entner said.
"Somebody would have to make a leap and make it affordable, and hope there's enough volume coming," Entner said.
Little interest by U.S. airlines
U.S. airlines had a chance to allow voice calling through Internet services such as Skype when they installed in-flight Wi-Fi, but they have kept it off limits. Delta Air Lines reaffirmed this policy last month when the FAA opened up device use.
"Delta has years of customer feedback on the impact on the customer experience of voice communications and the overwhelming sentiment is to continue with a policy that could not allow voice communications while in flight," Delta said.
In a survey last year by the Consumer Electronics Association and the Airline Passengers Experience Association, 61 percent of respondents listed voice calling as a part of the in-flight experience that should be restricted. An informal online poll by Network World on Friday got similar results: By late in the afternoon, 74 percent of voters had opposed the FCC's plan.
OnAir, not surprisingly, came out in favor of the proposal. In a statement, the company downplayed the social hazards.
"Forget the hyperbole about the chaos inflight cellphone usage could cause. The issue simply hasn't arisen anywhere in the world in the past six years," the company said in a statement attributed to CEO Ian Dawkins. "An aircraft is a noisy environment, so the sound of a conversation doesn't carry very far. Flight attendants can also control the use of Mobile OnAir by disabling the voice element during quiet times, such as the plane's night."
Rep. DeFazio questions why it's even necessary to take the risk if data services provide numerous ways to communicate silently while in flight.
"What is to be gained in a very small tube, which echoes, which is already a very tense environment?" he said.

Stephen Lawson, IDG News Service
, IDG News Service
Stephen Lawson covers mobile, storage and networking technologies for the IDG News Service.
More by Stephen Lawson, IDG News Service
Subscribe to the Best of TechHive Newsletter
Thank you for sharing this page.
Sorry! There was an error emailing this page
Section: Articles -
File Under: Business |
Bitcoin scored several big wins this week, including endorsements from U.S. federal officials and Virgin Group founder Richard Branson, signalling its progress toward wider acceptance.
Bitcoin has battled concerns about volatility, criminal use and potential government crackdowns, but people continue to invest in the virtual currency. It may still be a way from mass market acceptance, but developments over the past few days show it gaining support beyond enthusiasts, Libertarians and black market traders.
On Monday, federal officials including the acting assistant attorney general at the Department of Justice argued that Bitcoin could benefit the financial system and global commerce more broadly. But the anonymous nature of the currency, which makes it attractive for black market transactions, must be watched, they said.
Some see Bitcoin more as an investment -- if a potentially risky one -- than a legal tender. On Friday a bitcoin was worth more than US$800 on the Mt. Gox exchange, up from just $30 earlier this year. Bitcoin is managed and traded on a peer-to-peer network and is meant to be free of regulation by any central financial authority.
The recent positive attention Bitcoin has received increases its legitimacy and means more people now see it as a real currency, said Jordan McKee, an analyst with the Yankee Group, who has been tracking Bitcoin's evolution.
Take British billionaire Richard Branson. The Virgin Group founder's space travel startup Virgin Galactic will start accepting payments in bitcoins, Branson announced Friday, a currency he referred to as "one of the world's most innovative businesses looking to the future."
"For people who can afford to invest a little in bitcoins, it's worth looking into," said Branson, an investor in the currency himself.
There's also a documentary in the works about Bitcoin and the "deep web," by "Bill & Ted's Excellent Adventure" actor Alex Winter. "Guns, drugs and murder, and a new global currency created by hackers that exist outside the control of government and banks," Winter says of the movie on his Kickstarter page.
Bitcoin will even have a role during the U.S.' post-Thanksgiving shopping orgy known as Black Friday, making it part of American consumerism at its best. Through an event organized by the Bitcoin community, a hodgepodge of online merchants like CheapAir, Gyft and Mixed Tees are participating in the shopping extravaganza by giving exclusive deals to shoppers if they pay in bitcoins.
All this traction is great for Bitcoin, but it still has a ways to go before it becomes mainstream. The ways people pay for goods now are pretty well entrenched, Yankee's McKee said.
"Nearly every form of electronic payment rides the rails the [credit] card networks have forged," he said, adding, "it's unlikely anything will circumvent this system anytime soon."
It's a wonder Bitcoin is still around at all, after a series of shutdowns of exchanges, account seizures and massive selloffs. Tokyo-based Mt. Gox, one of the largest exchanges, temporarily shut down in April after a huge drop in the currency's price.
Some groups have still not gotten back on their feet. Tradehill, another large Bitcoin exchange, said in August that it would be suspending its trading, citing banking and regulatory issues. Trading has not been resumed, judging by its website.
Still, the number of stores accepting the virtual currency continues to rise. Bitpay, which provides a service that makes it easier for merchants to get paid in bitcoins, says it's now used by 12,000 merchants worldwide.
Zach Miners covers social networking, search and general technology news for IDG News Service. Follow Zach on Twitter at @zachminers. Zach's e-mail address is This e-mail address is being protected from spambots. You need JavaScript enabled to view it

Zach Miners, IDG News Service
, IDG News Service
Zach Miners covers social networking, search and general technology news for IDG News Service
More by Zach Miners, IDG News Service
Subscribe to the Daily Downloads Newsletter
Thank you for sharing this page.
Sorry! There was an error emailing this page
Section: Articles -
File Under: Business |
Pharrell Williams' 24 hours of Happy is technically only about four minutes long and fairly simple: dancers bop about and sing along to the infectiously catchy song. And then it starts all over again, with a new star sliding into place. For twenty four hours.
The video lets you skip around Los Angeles through various dance venues, floating down city streets, around boxing gyms and through what looks like an elementary school, to name a few identifiable locales. If you aren't dedicated enough to stick around you can drag a slider about to pick an hour of the day to explore. My favorite parts are definitely the day shots, chock full of bemused onlookers looking at the dancers and the camera trying to figure out what the heck is going on.
YouTube has the official, dare I say canon version. It shuffles through the various shots, but you'll want to watch the proper, interactive experience (a few times) to get the full effect. I imagine it'll get old at some point, but I've been watching folks dance (or something like it) to this track since about five in the morning and I've got a sneaking suspicion I'm going to make it through most of Happy's day.


Nate Ralph
, TechHive
Subscribe to the Now Playing Newsletter
Thank you for sharing this page.
Sorry! There was an error emailing this page
Section: Articles -
File Under: Business |
Remember Turntable.fm? Part chat room and part dancehall, it lets folks across the internet host ersatz DJ sessions with music licensed from record labels, or uploaded by users. Alas, the company behind it all has announced that they'll be shutting the service down to focus their time and resources on their new service, Turntable Live.
This is kind of a bummer, actually. I'll admit I haven't climbed behind the digital wheels of steel in ages, but Turntable.fm remains the most interesting kinda-sorta social network I ever had the pleasure of participating in. I've fond memories of Friday afternoons, one eye on work and the other on my Turntable playlist, ensuring an uninterrupted flow of sweet jams to my similarly occupied colleagues.
But fond memories don't pay the bills. Licensing music all of that music isn't cheap, and while there are advertisements and a premium subscription service for folks who wanted to contribute directly, the company remarked that it couldn't possibly keep two music services afloat.
Perhaps they'll have better luck with Live. The new platform lets artists schedule internet-concerts: Turntable will sell the tickets, and stream the event live to an audience around the world.
There will be a final shut-down party on December 2nd, so there's still some time to hold a few final jam sessions.


Nate Ralph
, TechHive
Subscribe to the Now Playing Newsletter
Thank you for sharing this page.
Sorry! There was an error emailing this page
Section: Articles -
File Under: Business |
«
Start
Prev
1
2
3
4
5
6
7
8
9
10
Next
End
»
Page 1 of 27