Business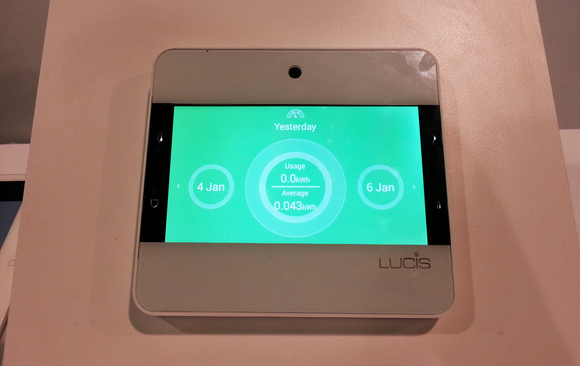 LAS VEGAS– The market for smart lighting is growing by leaps and bounds, but all too many products depend on your smartphone or tablet for control. Sometimes it's just better to have those controls right on the wall. Lucis Technologies seems to agree with that sentiment.
Lucis describes its NuBryte product as a "smart-home lighting and safety console." Like the Umbrela, the NuBryte replaces an existing light switch, allowing you to control the "dumb" lights in the room in which it's installed. It's programmable, of course, so if you install one in your bedroom, you can set it up to automatically slowly dim the lights to help you fall asleep at night and gradually brighten them in the morning to help you wake up.
Like the Nest thermostat, the NuBryte learns the household's daily behavior patterns and will automatically begin turning lights on and off in accordance with those patterns. This feature is particularly useful when you turn on the console's "vacation" mode, because it will illuminate the home in the same way that it would if someone was there. Burglars are much less likely to break into a house when they think someone is home.
If an intruder does enter the home, the panel will send an alert to the homeowner as an internal motion-sensitive IP camera records what's happening. The video clips are stored in the cloud, so they can't be destroyed or otherwise tampered with.
The impact on you: Our impressions of the NuBryte are based on a quick demo on a noisy showroom floor, and we won't make a final judgment of this product until we've had time to fully evaluate its performance and capabilities. Having said that, The NuBryte suffers from the same shortcoming as the Umbrela. It's easy to install because it replaces an existing light switch. That means you'll need one for each room you want to control. Even at $150 per room, that could get very expensive very quickly.

Chanelle Bessette
Freelance contributor, TechHive
Chanelle is a freelance contributor who writes about smart home products and connected devices. She has written for Fortune and Forbes covering business and technology.
More by Chanelle Bessette
Subscribe to the Best of PCWorld Newsletter
Section: Articles -
File Under: Business |
LAS VEGAS—As any gamer knows, the problem with a laptop is that once you've purchased it, you're stuck with whatever the manufacturer included inside. MSI now has two separate products that can solve that problem.
MSI announced plans to make the GS30 Shadow laptop a couple of months ago—a bundle of a thin-and-light notebook and a massive gaming dock that can hold a full-length graphics card. And then there's the GT80 Titan SLI, a massive notebook featuring a mechanical keyboard that's serviceable from the top—and may or may not allow you to swap in a new CPU in a few months.
"PC gaming is constantly evolving and our new lineup of battle machines are ready to take on any challenge," says Andy Tung, the president of MSI Pan America, in a statement. "We've thrown down the gauntlet with a selection of outstanding choices for every type of gamer."
At the CES show here, MSI spelled out what gamers will have to shell out for the GS30 Shadow and dock: a flat $2,000. MSI will sell the notebook and dock as a bundle. That's a slightly different business model than the Alienware Graphics Amplifier, a $299 external-GPU dock that's sold separately, but only works with Alienware PCs. 
The Alienware solution uses a X4 external PCI Express GPU connector, though, while the MSI model uses a x16 PCI Express Gen 3 connection. That's about as much bandwidth as the spec allows for, however,and shouldn't prove to be a bottleneck. The dock also includes speakers, a 3.5-inch hard-drive bay, USB ports, ethernet, and analog jacks. The ultraportable GS30 notebook, meanwhile, measures only 0.77 inches thick, and weighs less than 2.65 lbs. What the bundle doesn't include is a graphics card, however; you'll have to supply your own.
Laptop keyboards tend to suck. There, we said it. Unless you opt for an external keyboard, those who feel strongly about keyboards tend to buy Lenovo ThinkPads, and older models at that. 
The MSI GT80 changes all that, with keyboard built around mechanical Cherry MX Brown switches. And if you want, you can even swap out a particular key for something a bit more blingy. 
Inside the GT80, however, is where things get interesting.  It's the first gaming laptop from MSI that comes with dual Nvidia GTX 980M GPUs in SLI mode, with a top-opening hood that allows easy access to the components inside —similar to the way the trunk opens on your car.  It can also support up to 4x M.2 SATA SSDs in RAID 0, with 32GB of memory, and includes a super-efficient dual fan cooling system drawing heat from both graphics cards and processor with its 8-heat pipe design, MSI said. And there's also 24 GB of RAM, a terabyte hard drive, and a 256GB SSD. It's available now for $3,700.
The rumor, according to PCW's Gordon Mah Ung, is that the laptop will eventually support a drop-in Broadwell replacement when the chips are released in several months. And wouldn't that be a nifty upgrade?
Why this matters: We would love, love, love a future where we could take a thin-and-light notebook to work, power through some Web browsing and document creation, then take the same notebook home and plug it into an external GPU for some additional gaming. With Alienware, MSI, and The Hive all supporting something similar, could this be the year of the external GPU?
Subscribe to the Power Tips Newsletter
Section: Articles -
File Under: Business |

International CES has never been a showcase for new smartphones, but it always features several interesting announcements that highlight big trends for the next 12 months, and this year was no exception.
Smartphone manufacturers are struggling to get people to upgrade because new models lack earth-shaking features. But these new devices will still offer significant improvements, including powerful processors, better screens and enhanced cameras, as seen at CES.
Lets look at what some specific makers are doing. LG isn't giving up on the idea of curved smartphones with the launch of the G Flex2, which is curved from the top to the bottom. Interestingly, LG has decreased the screen size from 6 inches to 5.5-inches, while at the same time increasing the resolution to 1080p.
I am still not a fan of the Flex2's curve, which is intended to make the smartphone more ergonomic and comfortable to use. However, Samsung's Galaxy Note Edge, with its curved side, is more useful: it lets users access and see more information and features alongside the main screen.
In fact, LG's display team showed a side-rounded screen as well, so this is a concept that seems to be catching on. The key is to come up with applications that make good use of the rounded edge, so that whatever is displayed there is helpful and not distracting.
Even though it wasn't a trend at CES, more high-end smartphones will get screens with a 2560 by 1440 pixel resolution (also known as QHD), like the ones already available with Google's Nexus 6 and LG's G3.
High-resolution screens are also trickling down to cheaper smartphones. The basic model of the LTE-equipped ZenFone 2 costs US$199, but packs a 5.5-inch screen with a 1080p screen, which is impressive. It also has a 13-megapixel camera on the back and a 5-megapixel camera on the front. In general, buyers of phones that cost under $200 without a contract will get more bang for their buck this year with better screens, cameras and LTE support.
The insides of the Flex2 and the ZenFone 2 are also harbingers of what's to come this year. The Flex2 is powered by the 64-bit octa-core Snapdragon 810 processor, which is Qualcomm's new flagship processor.
The processor will likely power many other high-end smartphones. It offers performance improvements across the board, including the ability to use faster memory and speedier LTE connections along with extensive support for 4K video with the help of the Adreno 430 GPU.
Meanwhile, the ZenFone 2 can have up to 4GB of RAM, which should help improve multitasking performance. Vendors have been slow to increase the amount RAM in their devices, but the ZenFone 2 may signal a change in this respect.
Asus is still very much a challenger in the smartphone market, and it needs something special to help it grab the interest of consumers. While it's doing that with hardware, fellow challenger Alcatel OneTouch is doing the same with software.
The company's new PIXI 3 family of smartphones is operating system-agnostic, and runs Android, Firefox OS or Windows Phone. The OS choice is made when buying the smartphone, as is the case with the HTC One M8, which comes with either Android or Windows Phone.
So what does all this mean for smartphone buyers? If I had bought a new high-end smartphone last year, I'd skip upgrading this year. But for people that have older products or are in the market for a cheaper smartphone, this year's crop of products will look enticing.
For comprehensive coverage of the Android ecosystem, visit Greenbot.com.
Subscribe to the Best of PCWorld Newsletter
Section: Articles -
File Under: Business |

The holiday shopping season wasn't merry for Barnes & Noble's Nook division, which experienced plummeting sales of the Nook e-reader as well as content and accessories for the device.
Total sales in the Nook segment, which includes devices, accessories and content, came in at US$56 million for the nine weeks through Saturday, according to figures released by the bookstore chain on Thursday. This represents a 55.4 percent decrease compared to 2013's holiday shopping period. Device and accessory sales were down by 67.9 percent and came in at $28.5 million. Digital content sales tallied $27.4 million, a 25 percent drop from the previous year's figure.
Barnes & Noble has struggled on the digital front, where Nook sales have proved lackluster. The company hasn't been able to fend off Amazon's popular Kindle e-readers and the plethora of tablets from companies like Apple, Samsung and Google that allow people to download and read books by using an app.
In December, Barnes & Noble announced that it was buying out Microsoft's stake in the Nook division for $120 million in a cash and stock transaction. The companies entered a partnership in 2012 in which Microsoft invested $300 million to obtain a 17.6 percent stake in a newly created Nook Media subsidiary consisting of Barnes & Nobles' digital division and college bookstores. Microsoft may have lost around US$315 million on the Nook partnership after factoring in funding guarantees and arrangements that obligated the tech heavyweight to pay Barnes & Noble to support Nook device and content development, among other stipulations.
That news of dismal Nook sales follows June's announcement that Barnes & Noble was splitting into two companies. One would handle retail stores and online sales and the other would comprise Nook digital operations and the chain's college bookstores. The separation should be complete by August 2015, the company has said.
Fred O'Connor
Reporter, IDG News Service
Fred O'Connor writes about IT careers and health IT for the IDG News Service.
More by Fred O'Connor
Subscribe to the Best of PCWorld Newsletter
Section: Articles -
File Under: Business |
Teenage users have been drifting away from Facebook for the last few years, but now it seems they're in a mad rush to get off the world's largest social network.
A study by investment bank Piper Jaffray (download PDF) about teen behavior on everything from online shopping to social media use shows that Facebook is a distant third when it comes to teens' favorite social networks.
After surveying 7,200 teenagers with an average age of 16, Piper Jaffray found that about 80% cited Instagram as their favorite social site, 65% said they like Twitter and about 40% said they use Facebook.
Tumblr was fourth with about 25% and Pinterest rounded out the top five with about 20%. Facebook rival Google+ was cited by fewer than 10% of respondents
The survey also showed a major exodus during the past six months or so: 45% this fall said they use Facebook -- a big drop from 72% who said that in the spring. (By contrast, 76% of teenagers said they use Instagram now compared to 69% in the spring.)
Bad news for Facebook
"This is very bad news for Facebook," said Patrick Moorhead, an analyst with Moor Insights & Strategy. "Facebook substitutes, like Instagram or Snapchat, seem to pop up every year, providing teenagers an alternative where they probably won't find their parents."
Dan Olds, an analyst with The Gabriel Consulting Group, agreed that the large number of older users on Facebook is driving away younger users. Kids simply don't want to be on the same social network as their parents or the uncle they only see at Thanksgiving.
"As every parent knows, once Mom and Dad get involved in something the kids likes, that thing becomes almost instantly uncool," said Olds.
It's been clear that Facebook was struggling to interest younger users for a while now.
Late last year, a company executive, speaking during Facebook's quarterly earnings call, admitted that the social network was struggling to keep teenagers' attention. "We did see a decrease in [teenage] daily users [during the quarter], especially younger teens," said David Ebersman, Facebook's chief financial officer at the time. He went on to call the network's teen user base "stable."
Although Facebook has more than 1 billion users around the planet, losing younger users is a growing problem.
The next generation moves on
"Younger users are very fickle," said Rob Enderle, an analyst with the Enderle Group. "They are losing their seed corn. Eventually, their audience will age out and the market will see the decline as unavoidable, collapsing their stock price and company valuation. The resulting bad outlook will become a self-fulfilling prophesy as advertisers will abandon them."
Brian Blau, an analyst with Gartner, Inc. doesn't see the situation as dire.
"While this isn't the best news for Facebook, it's also not a sign of impending failure either," he said. "Facebook has and will in the future offer many types of online social experiences. Their apps and platform today is used by a very wide variety of people and businesses, and they will continue to grow as they help offline users around the world come online."
The company, which already owns teen-favorite Instagram, has taken steps to draw those younger users back, even if it's not directly to Facebook's own site.
In February, Facebook bought WhatsApp, a popular mobile messaging app, and in June, it took direct aim at social competitor Snapchat by launching Slingshot, its own mobile app.
Both WhatsApp and Slingshot are aimed at the younger market.
Earlier this year, Facebook inked a deal to acquire Oculus VR Inc., a company that makes virtual reality gaming glasses. Analysts immediately noted that the company had spent $2 billion to lureback some of its lost teenage user.
While analysts are split on whether Facebook can bring younger users back and keep the ones it has, Olds doesn't think Facebook has to to survive.
"As long as they see Instagram as being the cool place to be, that should make Facebook happy," he added. "Plus, it gives them two strong platforms with different demographics to use for advertising. That's a damned good position to be in. What they have is actually better than just having everyone on Facebook because if you only have one platform for all, it's easier for a competitor to come in and steal around the edges."


Sharon Gaudin
Reporter, Computerworld

Sharon Gaudin covers the Internet, social media, cloud computing and emerging technologies for Computerworld.
More by Sharon Gaudin
Subscribe to the Business Brief Newsletter
Thank you for sharing this page.
Sorry! There was an error emailing this page
Section: Articles -
File Under: Business |
«
Start
Prev
1
2
3
4
5
6
7
8
9
10
Next
End
»
Page 1 of 49