Business
Written by Administrator on Wednesday, 16 April 2014 11:03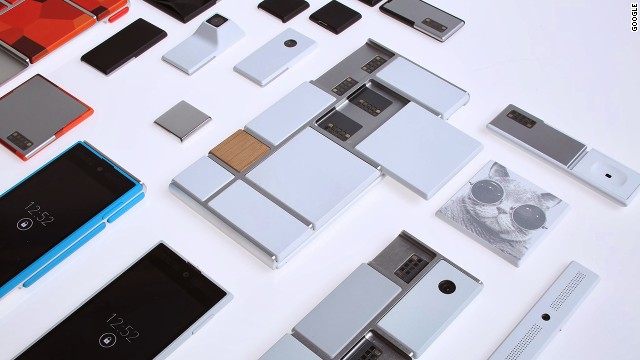 (CNN) -- Google is jumping into its next futuristic hardware project. This time it's a modular smartphone dubbed Project Ara that can be customized by swapping out individual pieces, such as the battery and the camera.
The company previewed the very early-stage project at a developer event in Santa Clara, California, this week. Google said the first version of the phone will likely be available in early 2015. Though the company didn't mention a sale price, it said the devices would cost anywhere from $50 to $500 to manufacture, depending on the model.
The phone will come in three sizes, ranging from mini to "phablet," and it will run on a future version of the Android mobile operating system. A frame called the Endo will hold the interchangeable components together with magnets.
The idea is to allow smartphone owners to customize and update their phones on their own -- say, popping out an old battery or broken display for a new version, and thereby creating a device that lasts longer than current smartphones.
Because the Ara project is open-source, the fun will be adding third-party modules or even printing your own with a 3D printer. Instead of relying on a single hardware manufacturer, people could shop around and add unusual elements made by startups, cameras produced by camera companies, or custom hardware for highly specialized work phones.
The modules will be sold much like apps are now, through a custom Google online store and possibly even physical pop-up stores.
An Ara device could be used for five to six years. That lengthy lifespan (for a smartphone) could cut down on electronic waste and shake up the planned obsolescence that seems common with current mobile gadgets.
Instead of dropping a still-working Galaxy S4 for the S5, you could just upgrade the parts you care about, like adding a fingerprint sensor or a better camera.
Project Ara is the brainchild of Google's Advanced Technology and Projects group (ATAP). When Google bought Motorola's mobile division for $2.9 billion, it also picked up ATAP, its experimental lab where employees work on futuristic projects. Google is already selling Motorola Mobility to Lenovo, but it's hanging on to ATAP and its leader, former DARPA director Regina Dugan.
Section: Articles -
File Under: Business |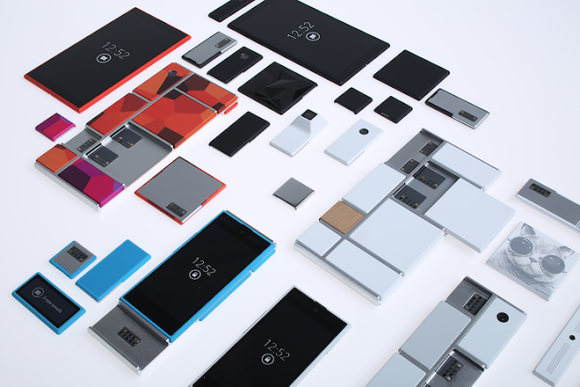 The spotlight will fall on Project Ara this week when Google holds a big event for developers, but it's far from the first company to toy with modular smartphones.
Among the first was Japan's NTT DoCoMo, which showed off a prototype modular smartphone at an exhibition in Japan in 2009. Users could attach modules to it to customize the phone to their needs. Ideas at the time included a blood tester, a rollable e-paper screen and an electronic flute.
The device never went on sale and appeared a good deal clunkier than Project Ara, which will allow users to snap components such as a processor, camera and extra memory into a fixed frame.
Israeli handset maker Modu had a similar idea around the same time, producing a concept phone that had a minimum of features but could be snapped into a larger case that performed other functions.
One version of the original Modu has made it to market in Tel Aviv. The case can serve three functions: a camera, a speaker or an exercise band.
More recently, in 2011, Microsoft applied for a patent for a smartphone in which components could be swapped in and out. Microsoft envisaged them including a keyboard, a gaming pad, a second battery pack or an additional screen.
Microsoft also proposed a different phone that would come in two parts: one holding the main display and a second, smaller unit with the microphone and earpiece. The idea was that the user could continue to use the touchscreen and apps while holding the other part to their ear.
More details on Ara are expected Tuesday, when Google begins a two-day developer event to stoke interest in an idea that was launched by Motorola engineers when that company was part of Google. Google is webcasting the event.
Martyn Williams
, IDG News Service

Martyn Williams covers mobile telecoms, Silicon Valley and general technology breaking news for The IDG News Service.
More by Martyn Williams
Subscribe to the Best of PCWorld Newsletter
Thank you for sharing this page.
Sorry! There was an error emailing this page
Section: Articles -
File Under: Business |

Many organizations today are looking for things that talk to the Internet. Sensors, cameras, medical equipment and even snowplows are on that wish list.
The "Internet of Things" is not.
The municipalities that come to systems integrator AGT International are already sold on so-called IoT technologies, such as wireless traffic sensors embedded in streets, said Gadi Lenz, a senior technical fellow at AGT.
But they aren't interested in IoT, nor in "smart cities," another term that's been getting a lot of play lately. What they want, Lenz said, is a solution to their problems.
Even Cisco Systems, one of the biggest evangelists for IoT, thinks the concept still needs some explaining. Enterprises, cities and utilities all could stand to benefit from IoT, but first they need a better idea of how it can help them do their jobs.
"We definitely need to spend more time educating the market," Inbar Lasser-Raab, vice president of Enterprise Network Solutions, said last week at a meeting at Cisco. Leaders from IT vendors, industrial companies and governments came together there to hash out issues for IoT.
Networked devices have been talking to each other for years. What's new in so-called IoT is the scale of those networks and the way advanced data analysis can draw conclusions from them. But getting this broad vision off the ground, including getting enterprises to adopt the new technology, raises several challenges, according to participants at last week's meeting.
AGT's Lenz said his company has been implementing sensor networks in cities for years, but as those devices get smaller and cheaper, they also become more plentiful. That can change the scale of projects as well as how the devices are deployed, Lenz said. More devices means new possibilities and new problems.
For example, devices that can measure a wide variety of environmental conditions are now small enough to put in backpacks, so ordinary citizens may be able to carry them around, Lenz said. Such devices used to be so big there could only be a few, strategically placed around a city. An exponential growth in the number of sensors means much more data but also calls for new techniques to distribute and manage those sensors, he said.
IoT may also mean dealing with multiple kinds of data and figuring out the best approach for each. For example, 10 years ago, the only data that electric companies collected from their grids was critical, time-sensitive information needed to operate and protect the grid, said Dean Siegrist, who is director for Utility Telecom at Black & Veatch, an engineering company serving utilities. Now the power companies are also gathering data about the power use of individual households, which they serve back to the customers to help them monitor their usage, he said.
Those two types of data have different requirements in terms of urgency and security, so utilities have to decide where to draw the line between them and what infrastructure is best for each, Siegrist said.
IoT also brings new ways of processing data in order to run more efficiently or even generate more revenue. For example, Ford Motor plans to collect data about how consumers use new technologies, including electric cars and new dashboard designs, in order to fine-tune future vehicles, said Jim Buczkowski, a Henry Ford Technical Fellow and director at Ford.
The services business of Xerox, which has helped enterprises plan and set up IoT systems, is trying to help them boost revenue and improve products. For example, the company is helping transit providers redefine routes based on fare data, said Rebecca Scholl, a senior vice president at Xerox.
"Our customers are no longer content with just a cost savings," Scholl said.
The city of Chicago uses GPS (Global Positioning System) to track the location of its more than 400 snowplows and put that data in a real-time smartphone app. The app has helped to dispel a myth that the mayor and other high-ranking officials get their streets plowed first, said Deputy Mayor Steve Koch.
"It's weirdly popular. People are sort of obsessed with this kind of stuff," Koch said.
However, most enterprises aren't yet organized to take advantage of all the information they may have, she said.
"Especially in large corporations, getting to the right person who's going to have the full visibility over the impact of IoT across multiple business processes ... you don't have that person," Scholl said. "Right now, everybody has a clear mandate, and it's not yet that one."
She proposed companies establish a new role of chief digital officer, who would sit between the CIO, CFO and operations chief to coordinate efforts around IoT and data analysis.
Several speakers and participants also cited the overarching challenges of security and standardization.
The lack of standards can make IoT deployments far more expensive and time-consuming, according to Lenz from AGT. There are open standards for many types of IoT networks, but there seems to be resistance to using them, he said. For example, one city where AGT set up road sensors wanted to feed the sensor data wirelessly through Wi-Fi access points on light poles. But the sensors used a legacy protocol instead of Wi-Fi, so the access points had to be equipped with extra radios, Lenz said.
Subscribe to the Business Brief Newsletter
Thank you for sharing this page.
Sorry! There was an error emailing this page
Section: Articles -
File Under: Business |

Google Glass is getting a big software update to coincide with its one-day sale on Tuesday, but video calling is one feature that's been put on hold.
The Internet-enabled headset will get KitKat, the newest version of the Android operating system for mobile devices, allowing longer battery life and easier updates, according to Google.
The new software features will include photo bundles, which are groups of daily photos, videos and other material. Users will also be able to reply with photos in Google Hangouts and have their voice commands organized by frequency.
But the update will leave out video calls, which have been available to early adopters using Glass.
"We hold ourselves to high standards for the features that we build, and video calls aren't living up to these standards," the Google Glass team wrote in blog post.
The team said less than 10 percent of Glass users, which are known as Explorers, use the video calling feature.
Video calls will return to Glass when "the experience is better," the team wrote without elaborating.
The post did not say whether privacy concerns were part of the decision to remove the function. Google did not immediately respond to a request for more information.
On its help page for Glass video calls, the search giant cautioned against improper use, writing, "Consider etiquette and common sense when taking video. For example, refrain from broadcasting events or content where such activity is prohibited (e.g. movie theater)."
Some Glass users reacted negatively to the update, with one lamenting on the Glass blog post, "I used video call recently to include my cousins from various countries in on a family funeral they couldn't attend in person. They were so grateful to be included and have that opportunity thanks to advancement in technology with Google Glass."
Google announced last week that Glass will go on sale for one day only on Tuesday to all residents of the U.S. who are 18 or older.
The head-mounted display is priced at US$1,500 plus tax. It could be officially released later this year.
Subscribe to the Business Brief Newsletter
Thank you for sharing this page.
Sorry! There was an error emailing this page
Section: Articles -
File Under: Business |
It's hard to believe today—especially since you can just look up at the sky and see our crater-covered moon with your naked eyes—but there was a time when people weren't intimately familiar with what the surface of our nearby neighbor looked like. Before the Renaissance-era invention of the telescope, the moon was generally thought to be a perfect, unblemished sphere. These days, with even a moderate telephoto lens, you can photograph the moon and see the surface details for yourself.
You can take sharp, detailed photos of the moon with a long lens and a tripod.
What you'll need
To shoot the moon, the technique is the same whether you have a compact digital camera or an SLR model—the only caveat is that no matter what kind of camera you choose, it should have a manual exposure mode, in which you dial in the aperture and shutter speed separately. So although many compact cameras will work just fine, if your camera is a true point-and-shoot with just a bunch of scene modes to choose from, you won't have much luck shooting the moon.
Something else to keep in mind: The bigger your zoom, the more dramatic your moon photos will be.  After all, your subject is 250,000 miles away, so a wide-angle lens will have a hard time capturing the scene. If you're lucky enough to have more than 400mm, that's awesome. That might sound like a mighty big lens, but keep in mind that many common "megazoom" compact cameras can reach up to 1000mm—it's almost like having a telescope nailed to the front of your camera.
If your camera doesn't reach quite that far, don't worry; you can still get a great photo, and you can crop it afterward to put more emphasis on the moon.
Using a tripod is also a good idea. You'll be dialing in a shutter speed that's slow enough that you won't be able to keep the camera steady (especially when you're zoomed as far as the lens will go) without a little help.
If you don't have a tripod, find something—a nearby tree, a window, a wall, the hood of a car, anything—against which you can securely steady the camera.
Finally, you'll get better photos if you can trigger the exposure without touching the camera. To do that, you can take the shot using your camera's self-timer mode. That way, you can press the shutter release and the camera will take the shot several seconds later, vibration-free.
Dial in your camera settings
For the best results, switch your camera to the Manual exposure mode so that you can set the aperture and shutter speed yourself. Set an aperture of f/16 and choose a speed of about 1/100 second (or as close to that value as your camera allows).
Why those numbers in particular? Well, longtime photographers might recognize this setting as what used to be called the "Sunny 16 rule," a guide to getting a good exposure in daylight back before the invention of cameras with built-in automatic exposure meters. These are the exposure settings you'd use in midafternoon, for example. They work in this situation because the moon is simply reflecting sunlight, and it's the moon that you want to get a good exposure of—not the surrounding blackness of space.
Take the shot using the Sunny 16 settings, and review the shot in your camera's LCD screen. Then feel free to under- or overexpose the photo a bit to get the result you like.
You can use the same settings to shoot a partial moon, like this quarter moon.
Scene modes are a bust
What if you own a compact camera that lacks a manual exposure mode? You might expect that one of your camera's many exposure modes will do the trick, but unfortunately none of them are up to snuff. Regardless of camera or mode, automatic and semiautomatic exposure settings tend to misjudge the conditions grossly when you point your camera at the night sky and shoot the moon. To confirm, we experimented by shooting the moon with every available setting on the Nikon Coolpix L810. None of its roughly two dozen scene modes came close to exposing the moon properly. Not even using the exposure compensation control to underexpose the photo by two full stops could salvage the shot. The moral of the story? If you plan to ever do creative photography, including night shots such as this, be sure that your next camera has a manual exposure mode in addition to the usual bevy of automatic and scene modes.
Can smartphones play along?
Suppose you see the most awesome full moon of your life, and all you have with you is an iPhone. I have some bad news: You really have no practical way to get a good photo. In this case, a few forces are working against you. Not only does the lack of exposure control mean that the moon will be an overexposed blob of white, but your phone's relatively wide-angle lens means that the moon will be tiny. And the relatively slow shutter speed will blur the scene unless you can stabilize the camera by holding it extremely still, or by mounting it on a small smartphone tripod or leaning it against something immobile, like a wall. This is one of those situations where owning an advanced megazoom compact camera really comes in handy.


Dave Johnson
, TechHive

Dave Johnson is a writer and photographer who has covered technology for magazines such as PCWorld and Wired. He is currently the Editorial Director for eHow.com's Tech channel. Dave is the author of How to Do Everything with Your Digital Camera, and over a dozen other books.
More by Dave Johnson
Subscribe to the Digital Photo Newsletter
Thank you for sharing this page.
Sorry! There was an error emailing this page
Section: Articles -
File Under: Business |
«
Start
Prev
1
2
3
4
5
6
7
8
9
10
Next
End
»
Page 1 of 44