Business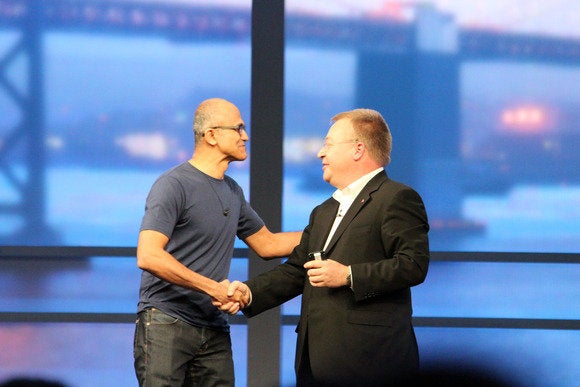 Image: Jon Phillips
The end is nigh. Or is that a new beginning? Either way you look at it, Microsoft on Monday announced that its $7 billion acquisition of Nokia's phone business will finally close this Friday, April 25, after regulatory delays slowed the deal.
Microsoft general counsel Brad Smith also revealed some additional agreements hammered out in the months since the acquisition's announcement. Most revolve around behind-the-scenes personnel and manufacturing details, but of particular note is that Microsoft will handle the nokia.com website and Nokia's social media presence for up to a year, despite the fact that the rest of Nokia is carrying on as a separate company.
Stephen Elop, the Nokia CEO who arrived at the company by way of Microsoft, will return to the Redmond company as part of the deal, where he will assume control of Microsoft's hardware division. He's just one of approximately 32,000 Nokia employees making the jump to Microsoft.
Ch-ch-ch-changes
Microsoft's Nokia buyout comes in the middle of a gargantuan shift for Microsoft, which—in addition to recently replacing its CEO—is transitioning from a traditional software company to something more device- and services-oriented.
While both Nokia's Lumia line and Windows Phone as a platform have struggled to compete with the dual Android/Apple mobile juggernaut, Microsoft has said that phones are the key to everything in today's tightly controlled ecosystems. While we're skeptical that buying Nokia will pay off for Windows Phone's prospects, the hard-won lessons that the intensely consumer-focused Nokia can teach Microsoft could help transform the business that Bill Gates built into something great again, one Nokia phone at a time.
Image: Jon Phillips
Nokia's Stephen Elop at Microsoft's Build 2014 keynote.
Windows Phone itself is on the upswing right now, at least in the hearts and minds of developers, if not everyday users. At its recent Build conference, Microsoft announced a trio of announcements designed to drive a jolt of energy into its mobile ecosystem, starting with the vastly improved Windows 8.1 update, which adds a much-needed notification center and Cortana, the surprisingly useful digital assistant. Between those and the numerous other features baked into the update, Windows Phone is finally a full-fledged OS capable of taking on Android and iPhone—at least as far as the core experience is concerned. In other words, Windows Phone 8.1 finally provides a level of software polished enough to match well with Nokia's impeccable hardware designs.
Microsoft also announced universal Windows apps, which allow developers to create a single app, then easily push it out across Windows Phones, PCs, and tablets, complete with the option for users to buy the app once and have it run on any platform. The first of those have already begun appearing in Microsoft's app stores. Microsoft also now provides the Windows Phone operating system for free to phone manufacturers, as well—a move that can both push WP8 adoption and quell any discontent about Microsoft snapping up Nokia.
With all the focus on Windows Phone, though, one big question remains: What will Microsoft do with Nokia's recently announced Nokia X phones, which run on a heavily modified version of Android chock full of Microsoft services? Given Microsoft's newfound services focus—as exemplified by Office for iPad—Microsoft may just let the experiment play out, at least for a while.


Brad Chacos
Senior Writer, PCWorld

Brad Chacos spends the days jamming to Spotify, digging through desktop PCs and covering everything from BYOD tablets to DIY tesla coils.
More by Brad Chacos
Subscribe to the Windows Tips & Trends Newsletter
Thank you for sharing this page.
Sorry! There was an error emailing this page
Section: Articles -
File Under: Business |

Advanced Micro Devices doesn't want its chips in low-priced tablets, and is eager to avoid a battle with Intel or ARM, whose chips have driven tablet prices down to under US$100.
Growth in the tablet market is driven by low-end devices and Android, but AMD's tablet strategy is driven by Windows and high-performance machines. So AMD's avoidance of the low end of the market narrows options for people looking for name-brand chips in low-price machines.
AMD chips are in just a handful tablet models. Those AMD chips that are available for tablets are essentially watered-down PC chips with strong graphics capabilities. But the company plans to introduce new chips, code-named Beema and Mullins, for tablets These new chips are based on a new core and designed to provide more performance and battery life.
"If we miss out on some units in the low end, so be it," said Lisa Su, general manager of AMD's global business units, during the first-quarter earnings call on Thursday.
AMD executives said they didn't want to buy their way into the tablet market like Intel, which has been subsidizing tablet makers to use its x86 chips through its "contra revenue" program. Instead, AMD wants to be selective in its product mix, and focus on high-margin and high-value products.
"This idea of contra revenue is foreign to us," said Rory Read, CEO of AMD, during the call.
AMD could go after tablets priced at $300, but won't go under that, said Nathan Brookwood, principal analyst at Insight 64.
"They are not chasing bad business," Brookwood said.
AMD doesn't have the financial resources to provide subsidies to tablet makers to use its chips, Brookwood said.
Though the tablet market is important, AMD is more concerned about generating revenue from custom chips and other areas, Brookwood said.
AMD makes custom chips for game consoles like Microsoft's Xbox One and Sony's PlayStation 4, which helped drive up revenue by 28 percent in the first fiscal quarter of 2014. AMD's revenue in the PC, server and tablet chip business declined.
Addressing the wide tablet market isn't a good idea for AMD and its bottom line, said Dean McCarron, principal analyst at Mercury Research. AMD is directing more resources out of tablets and into consoles, where there is more financial reward, McCarron said.
But it does need one or two big customers to help their tablet business, he said.
"They are being very judicious in what part of the product stack they are playing in," McCarron said. "They are working on home-run customers."
A $200 million chip deal is big for AMD, but peanuts for a company like Intel, McCarron said.
Intel also has its own factories and can afford to subsidize chips. AMD gets its chips made from contract chip manufacturers like GlobalFoundries.
Intel is looking to ship 40 million tablet chips this year, and this week reported it had shipped 5 million tablet chips in the first fiscal quarter. The tablet market is currently favorable to ARM, so Intel has to provide subsidies and incentives to device makers in an effort to establish x86 chips.
And just like in PCs, AMD could simply piggyback Intel's success and make its way into the x86-friendly tablet market.
"It isn't the first time that's happened," Brookwood said. "But I don't think they want to do that."


Agam Shah
Reporter, IDG News Service

Agam Shah is a reporter for the IDG News Service in New York. He covers hardware including PCs, servers, tablets, chips, semiconductors, consumer electronics and peripherals.
More by Agam Shah
Subscribe to the Power Tips Newsletter
Thank you for sharing this page.
Sorry! There was an error emailing this page
Section: Articles -
File Under: Business |

A Space X Falcon rocket lifted off Friday afternoon for the International Space Station (ISS) from the Cape Canaveral Air Station in Florida.
The mission is the third commercial resupply flight for Space X to the ISS and part of NASA's push to use private launch companies for routine space flight.
The Dragon cargo capsule that sat atop the Falcon rocket was successfully deployed into space about 10 minutes after the 3:25 p.m. Eastern time launch. It is scheduled to dock with the ISS on Sunday.
Dragon is carrying more than 2 tons of cargo and experiments including several cubesat micro satellites and a pair of legs for the Robonaut robot on the ISS. It will also carry four HD cameras that will be placed on the ISS for streaming live video of the Earth on the Internet.
One of the most interesting items of cargo is NASA's Optical Payload for Lasercomm Science (OPALS) test bed, which will test the feasibility of using a laser to transmit data from space to Earth.
Data and video links from the ISS and other NASA spacecraft to Earth are currently carried over radio waves, but the use of a laser could mean much greater bandwidth. NASA says OPALS could realize speeds of around 50Mbps, about the same or faster than that available on many home broadband connections.
The OPALS unit will be robotically taken from the Space X Dragon capsule and mounted onto the exterior of the space station. Once in place, it will begin a three-month mission that will consist of a series of 100-second long tests.
Each will begin when a ground station fires a laser beam towards the OPALS module on the ISS. When that is detected, the unit will use it to lock onto the ground station and fire up its own laser to send back data modulated on the laser beam.
The eventual goal of the tests is a multi-gigabit per second data communications system.
Martyn Williams
, IDG News Service

Martyn Williams covers mobile telecoms, Silicon Valley and general technology breaking news for The IDG News Service.
More by Martyn Williams
Subscribe to the Business Brief Newsletter
Thank you for sharing this page.
Sorry! There was an error emailing this page
Section: Articles -
File Under: Business |

Borrowing a page from the recently revised Microsoft playbook, development tools maker Telerik has released as open source the bulk of its Kendo software library of components for building Web and mobile applications
The Kendo UI Core is a collection of user interface widgets and framework features, built from JavaScript and HTML5. The collection includes all the features available in its commercial Kendo UI Mobile package.
Telerik created the collection to accompany its flagship Icenium cross-platform mobile application development software. More than 40,000 organizations have used Telerik's development products, according to the company.
The Kendo collection has been released under the Apache 2.0 license, allowing developers to freely use and modify the code in their own commercial and personal projects. Telerik hopes to use the best contributions to the code base for its own commercial editions, as well as contribute additional components back to the project as they are developed.
The package includes a total of 38 user interface widgets, including components for autocomplete, drop-down lists, panel bars and calendars. Framework functions include drag and drop capabilities and data validation.
The library has been integrated with other popular JavaScript libraries, such as Bootstrap and Google's AngularJS.
"I'm impressed with the beauty and completeness of Telerik Kendo UI components," said Brad Green, Google engineering director for AngularJS, in a statement. "I'm ecstatic that it has gone the open source route to enrich the world's development community."
The company has held back releasing a few key features that might be of particular value to the enterprise, such as stock charts, mapping and a data grid. Those will be available only through the commercial Professional Kendo distribution.
The company has indicated that it is following Microsoft's lead in open sourcing the library. Earlier this Month, Microsoft open sourced its own core WinJS JavaScript library for building Windows and mobile application using JavaScript.
Like Microsoft, Telerik hopes that developers become acquainted with the library and come to regard the company's commercial products as the best tools to use with the library.
Joab Jackson
, IDG News Service
Joab Jackson covers enterprise software and general technology breaking news for the IDG News Service.
More by Joab Jackson
Subscribe to the Daily Downloads Newsletter
Thank you for sharing this page.
Sorry! There was an error emailing this page
Section: Articles -
File Under: Business |
Can plastic materials morph into computers? A research breakthrough published this week brings such a possibility closer to reality.
Researchers are looking at the possibility of making low-power, flexible and inexpensive computers out of plastic materials. Plastic is not normally a good conductive material. However, researchers said this week that they have solved a problem related to reading data.
The research, which involved converting electricity from magnetic film to optics so data could be read through plastic material, was conducted by researchers at the University of Iowa and New York University. A paper on the research was published in this week's Nature Communications journal.
More research is needed before plastic computers become practical, acknowledged Michael Flatte, professor of physics and astronomy at the University of Iowa. Problems related to writing and processing data need to be solved before plastic computers can be commercially viable.
Plastic computers, however, could conceivably be used in smartphones, sensors, wearable products, small electronics or solar cells, Flatte said.
One product area might be OLEDs, such as those used in televisions.
What would they do?
The computers would have basic processing, data gathering and transmission capabilities but won't replace silicon used in the fastest computers today. However, the plastic material could be cheaper to produce as it wouldn't require silicon fab plants, and possibly could supplement faster silicon components in mobile devices or sensors.
"The initial types of inexpensive computers envisioned are things like RFID, but with much more computing power and information storage, or distributed sensors," Flatte said. One such implementation might be a large agricultural field with independent temperature sensors made from these devices, distributed at hundreds of places around the field, he said.
The research breakthrough this week is an important step in giving plastic computers the sensor-like ability to store data, locally process the information and report data back to a central computer.
Mobile phones, which demand more computing power than sensors, will require more advances because communication requires microwave emissions usually produced by higher-speed transistors than have been made with plastic.
It's difficult for plastic to compete in the electronics area because silicon is such an effective technology, Flatte acknowledged. But there are applications where the flexibility of plastic could be advantageous, he said, raising the possibility of plastic computers being information processors in refrigerators or other common home electronics.
"This won't be faster or smaller, but it will be cheaper and lower power, we hope," Flatte said.
PLastic OLEDs
In the new research, Flatte and his colleagues were able to convert data encoded in a magnetic film from an electric flow into optics for an organic light-emitting diode (OLED). The LED was made out of the plastic, and connected to the magnetic film through a substrate. Plastics can't handle electricity; the data had to be converted into optics for communication.
"The plastic devices are very important in certain areas of light emission but have tended not to be important in communication," Flatte said.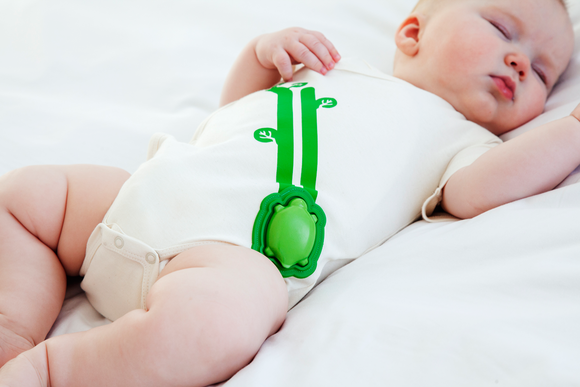 Another possibility? Wearable baby garments.
The researchers were more concerned about making the technology happen—environmental concerns related to plastic are a completely different discussion, Flatte said.
To be sure, there are plastic devices with silicon computers in them already on the market, like a baby garment from Rest Devices, which has electronics to measure a baby's motion, temperature, breathing patterns and pulse. And before this week, basic transistors made out of plastic had been demonstrated. Now, this latest research establishes a method for plastic devices to read data from storage.
"The writing problem would have to be solved. But I think [reading] is an important step forward," Flatte said.


Agam Shah
Reporter, IDG News Service

Agam Shah is a reporter for the IDG News Service in New York. He covers hardware including PCs, servers, tablets, chips, semiconductors, consumer electronics and peripherals.
More by Agam Shah
Subscribe to the Power Tips Newsletter
Thank you for sharing this page.
Sorry! There was an error emailing this page
Section: Articles -
File Under: Business |
«
Start
Prev
1
2
3
4
5
6
7
8
9
10
Next
End
»
Page 1 of 45