Business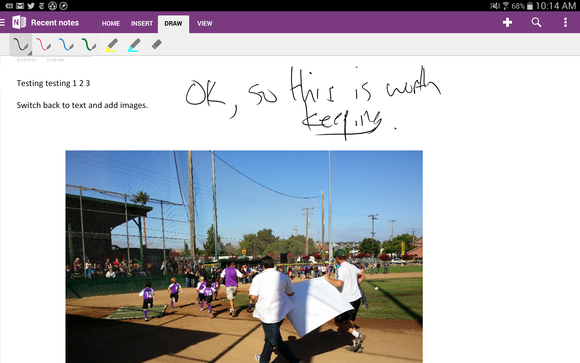 Mark Hachman
Microsoft released a major update to its OneNote for Android app today, adding handwriting input and tablet support and bringing Android users closer to the OneNote experience the company envisioned for the Microsoft Surface.
When the Surface Pro 3 was announced, OneNote figured significantly into the release. Microsoft's Panos Panay positioned the tablet as an effective digital inking device that even launches OneNote when users click the stylus. Once inside the app, users can mix and match typed notes and text, written annotations, audio, and images. And thanks to another update today, the Windows app can also import files such as PowerPoint documents and PDFs, as well as highlight text in notes and print them.
Many of these features have now been brought to the OneNote for Android app.
The addition of handwriting support is long overdue. Suddenly OneNote for Android feels like OneNote. I downloaded the app onto our Galaxy Tab Pro, a large Android tablet with roughly the same dimensions of the Surface Pro 3 and a stylus to boot.
Microsoft
The OneNote app for Android includes an Office-style ribbon. Unfortunately, to format text, you need to click the text, then the "Home" tab, then apply your edits.
You can't perform the wake-on-click-the-stylus trick—clicking the button on the Tab Pro's stylus brings up the familiar Samsung radial menu and nothing OneNote specific. But just the ability to type in a note, pull in an image, and then scrawl an inked note next to it is refreshing. You still can't import a PDF or PowerPoint presentation into the OneNote for Android app, but you can get around it with a quick snapshot or by exporting the files as JPEGs. 
By bringing new capabilities to its standard apps on various platforms at different times (Microsoft recently updated its Mac and iOS versions of OneNote, as well),  it feels a bit like watching a horse race run by Windows, the Mac, iPads and iPhones, Windows Phones, and Android devices. Personally, it's still frustrating to pull out a Lumia phablet and be forced to either type or dictate a quick note to myself because OneNote for Windows Phone hasn't yet implemented handwriting support. 
We gave the Samsung Galaxy Tab Pro high marks for its productivity earlier this year, based on its large screen size and multi-window capability. Now, Microsoft has given the Tab Pro and its competitors an additional boost.
Microsoft's OneNote for Android is available now in the Google Play Store.
Subscribe to the Best of PCWorld Newsletter
Thank you for sharing this page.
Sorry! There was an error emailing this page
Section: Articles -
File Under: Business |

The U.S. Federal Communications Commission has the green light to collect new data on the pricing of so-called special access services, the middle-mile network services used to deliver business broadband and mobile service backhaul.
The U.S. White House Office of Management and Budget (OMB) has given the FCC permission to collect new data in the long-running dispute over special access pricing. The FCC announced this week that the OMB approval was needed for the agency to comply with the Paperwork Reduction Act, a law designed to reduce the paperwork burden the government imposes on businesses.
AT&T and Verizon Communications control an estimated 80 percent of the special access market, and competitors have complained for years that the two dominant telecom carriers are charging excessive prices for special access services. Special access is used by businesses for broadband, credit-card processing and cash machines, as well as by competing telecom and mobile carriers for backhaul.
Several competitors to AT&T and Verizon proposed the OMB approval for data collection in the FCC's slow-moving inquiry into special access rates. The FCC circulated a proposed order on special access in mid-2012, but late that year, also asked for comments on the special access market. Those comments aren't due until late this year.
Complaints about special access rates date back to years earlier.
OMB's approval will help "pave the way for the commission's review of business broadband service providers' market power, business practices, and pricing," carrier TW Telecom said in a statement. "The FCC's access to this pertinent market data will help open the window to increased competition in the industry."
The NoChokePoints Coalition, a group calling for FCC intervention in the special access market, called the OMB approval an important step forward.
"Countless industries and organizations and hundreds of millions of customers across the country depend on this critical broadband infrastructure to connect our cell phones, workplaces, banks, factories, data centers, universities, and hospitals to enable communications among customers, employees, suppliers, government, and each one of us," a coalition spokeswoman said by email.
The FCC last collected data on special access in 2007 and showed large profits by the incumbent carriers, she said.
Asked for a response to the OMB approval, an AT&T spokeswoman pointed to a 2012 blog post by Bob Quinn, the company's senior vice president of federal regulatory affairs.
FCC inquiries into the special access market are unnecessary because the telecom industry is moving to newer technologies, AT&T has argued.
FCC data collection on special access fees comes "against a backdrop where the industry ... is rapidly moving yesteryear's copper-based special access services to fiber-based, IP services," Quinn wrote in 2012. "This transition is attracting new competitors, creating greater network capacity and broadband speeds, and promoting industry-wide investment and job-creation."
FCC Chairman Tom Wheeler, however, called special access "increasingly important in the digital economy." The new data collection will help the FCC "better understand competition in this marketplace, and the impact on consumers as we pursue the commission's statutory mandate to ensure special access services are provided at reasonable rates and on reasonable terms and conditions," he said in a statement.


Grant Gross
Reporter, IDG News Service
Grant Gross covers technology and telecom policy in the U.S. government for The IDG News Service.
More by Grant Gross
Subscribe to the Best of PCWorld Newsletter
Thank you for sharing this page.
Sorry! There was an error emailing this page
Section: Articles -
File Under: Business |

About six months after retiring as CEO of Microsoft, Steve Ballmer has relinquished his seat on the company's board of directors effective immediately, citing a busy schedule and confidence in the company's current and future financial performance.
"As I approach the six month mark of my retirement and your appointment as CEO, I have been reflecting on my life, my ongoing ownership of Microsoft stock, and my involvement with the company," Ballmer told his successor, Satya Nadella, in a letter made public Tuesday. "I have reached some conclusions and wanted to share them with you."
Since leaving Microsoft, "I have become very busy," Ballmer added, citing his purchase of the Los Angeles Clippers basketball team, civic activities and teaching. "I have confidence in our approach of mobile-first, cloud-first, and in our primary innovation emphasis on platforms and productivity."
Ballmer noted that he holds more Microsoft shares than anyone apart from index funds, and expects "to continue holding that position for the foreseeable future."
Overall, "given my confidence and the multitude of new commitments I am taking on now, I think it would be impractical for me to continue to serve on the board, and it is best for me to move off," Ballmer added.
Nadella thanked Ballmer in a letter of his own, which was also released Tuesday.
"It's been a great privilege to have worked with you and learned from you," Nadella said. "Under your leadership, we created an incredible foundation that we continue to build on—and Microsoft will thrive in the mobile-first, cloud-first world. While your insights and leadership will be greatly missed as part of the board, I understand and support your decision."
Chris Kanaracus
, IDG News Service
Chris Kanaracus covers enterprise software and general technology breaking news for the IDG News Service.
More by Chris Kanaracus
Subscribe to the Daily Downloads Newsletter
Thank you for sharing this page.
Sorry! There was an error emailing this page
Section: Articles -
File Under: Business |

Acer's dual-purpose Aspire Switch 10 can function as a Windows 8 tablet and laptop, but the shape-shifting product's uniqueness is in its magnetic keyboard base, an element not found on other hybrid devices.
The Aspire Switch 10 is first a tablet, but it can be attached in multiple ways to a keyboard base, so it can be used as a laptop or as a screen to conduct video chats or watch movies. The keyboard base has a rotating roller with snap-on hinges and magnets that allow the tablet to be placed in multiple positions.
During a brief hands-on test at an event in New York, the tablet securely snapped on to the hard keyboard dock base. The tablet can also be docked to the base in the opposite direction, which Acer calls "display mode." It also can adopt a reverse V shape, which the company calls "tent mode."
The Switch 10 incorporates ideas from other hybrids already available, but the differentiating factor is the magnetic keyboard base. Lenovo's heavier Flex and Yoga hybrids can be placed in similar positions as the Switch 10, but the screens are hardwired to the keyboard base. Detachable hybrids like Hewlett-Packard's Split X2 and Acer's Transformer Book T100 have tablet screens that dock to the base only in laptop mode.
Microsoft's 10.6-inch Surface Pro 2 has an optional soft keyboard that attaches to the tablet through magnets, but a kickstand is needed to secure the tablet.
As a tablet, the Switch 10 had a sharp screen and felt responsive. It runs on a dual-core Intel Atom Z3745 processor—code-named Bay Trail—with a clock speed of 1.33GHz. The tablet has a screen resolution of 1366 x 768 pixels, which is close to 720p, and not full HD.
At 585 grams, the Switch 10 isn't as light as the iPad, but it feels light enough to carry around. Acer missed on some features—it has only one front-facing, 2-megapixel webcam. Many tablets in the class of Switch 10 have two cameras, one on the front and one on the back.
The Switch 10 will ship with a basic keyboard dock, and with it the product weighs roughly 1.2 kilograms. Acer plans to sell an option dock with a hard drive, which will appeal to laptop users. Internal storage on the Switch 10 is only 32GB or 64GB.
The product starts at US$379 and will ship in June in the U.S. and Canada. The company didn't comment on worldwide availability. Other similar-sized tablets include the $375 HP Omni 10, which has a faster Bay Trail processor and more cameras, but no keyboard base.
The Switch 10 is an example of how hybrid device makers are trying out a variety of designs. But in a stagnant PC market desperate for innovation, companies are hoping one of these designs will become a hit.
"At the end of the day what they are trying to do is combine the capabilities of a PC and tablet in a device," said Bob O'Donnell, chief analyst at Technalysis Research.
PC makers are trying to get the weight, size and price point of hybrid devices right, O'Donnell said. There has been some adoption of hybrids among business users, who want a tablet yet need a PC to run business applications.
The success of hybrids also depends on the willingness of users to run Windows 8 in tablet form, and early signs of adoption are encouraging, he said.


Agam Shah
Reporter, IDG News Service

Agam Shah is a reporter for the IDG News Service in New York. He covers hardware including PCs, servers, tablets, chips, semiconductors, consumer electronics and peripherals.
More by Agam Shah
Subscribe to the Best of PCWorld Newsletter
Thank you for sharing this page.
Sorry! There was an error emailing this page
Section: Articles -
File Under: Business |

Twitter on Tuesday turned in some healthy sales figures for the first quarter, though its net loss grew substantially compared to last year.
Total revenue for the period ended March 31 was roughly US$250 million, Twitter reported, more than double the $114 million recorded for the same period in 2013. Twitter's sales topped analysts' consensus estimate of $241 million, as polled by Thomson Reuters.
"We had a very strong first quarter," said Twitter CEO Dick Costolo in the company's announcement. "Revenue growth accelerated on a year over year basis fueled by increased engagement and user growth."
However, Twitter hasn't managed to turn a profit since it became a public company. The company reported a net loss of more than $132 million for the quarter, nearly quintupling the loss of roughly $27 million reported for the year-ago period.
The company's earnings per share loss was $0.23, a tad worse than a loss of $0.21 reported last year. On a pro forma basis, excluding share-based compensation and other adjustments, Twitter broke even, beating analysts' expectations of a loss of $0.03 per share.
Twitter's stock was down to $38.30 in after hours trading, down considerably from its $42.62 Tuesday close.
Twitter, like Google and Facebook, makes the bulk of its money from advertising—$226 million for the quarter, up 125 percent. The lion's share of its advertising—80 percent in the first quarter—comes from mobile.
To continue growing its ad revenue, Twitter needs to attract more users and increase the time they spend using the service. As a public company, Twitter is under pressure to make its service more accessible to a mainstream audience.
The company in recent months has tried to address this, partly through cosmetic changes like redesigning user profile pages and making photos more prominent in people's streams.
Twitter is making progress in this area, but not very rapidly. Compared to the same period last year, Twitter grew its monthly active users by 25 percent, to 255 million. But compared to the fourth quarter of 2013, Twitter grew its monthly active users sequentially by less than 6 percent.
On mobile, Twitter now has 198 million monthly active users—a 31 percent increase, the company said.
Twitter executives will hold a conference call with investors and financial analysts Tuesday afternoon to discuss the results in-depth. More information could be given during the call about the health of particular types of ads, or of Twitter's mobile ad network, MoPub.


Zach Miners
, IDG News Service
Zach Miners covers social networking, search and general technology news for IDG News Service
More by Zach Miners
Subscribe to the Best of PCWorld Newsletter
Thank you for sharing this page.
Sorry! There was an error emailing this page
Section: Articles -
File Under: Business |
«
Start
Prev
1
2
3
4
5
6
7
8
9
10
Next
End
»
Page 1 of 47