Space
NASA Low-Density Supersonic Decelerator Set to Lift Off
This artist's concept shows the test vehicle for NASA's Low-Density Supersonic Decelerator (LDSD), designed to test landing technologies for future Mars missions. Image credit: NASA/JPL-Caltech
› Full image and caption
June 27, 2014
Mission managers are proceeding with preparations for a launch attempt tomorrow morning, Saturday, June 28, of a high-altitude balloon carrying the Low-Density Supersonic Decelerator (LDSD) test vehicle to the edge of space. The text will occur at the U.S. Navy's Pacific Missile Range Facility in Kauai, Hawaii.
At present, weather forecasted for tomorrow morning is within launch constraints. Mission managers will evaluate latest weather conditions later this evening to confirm favorable conditions.
The Saturday balloon launch window extends from approximately 11:15 a.m. to noon PDT (8:15 a.m. to 9 a.m. HST). The balloon will take approximately 2 to 3 hours to achieve float conditions. Shortly thereafter, the test vehicle will be released from the balloon and the test will begin.
Check back here and on our Twitter sites: @NASA_Technology, @NASA, @NASAJPL and @NASA_Marshall to get the latest updates on the mission.
NASA will stream live video of the test via Ustream at:
http://www.ustream.tv/nasajpl2
The video may be intermittent based on test activities. For real-time updates, and more information, reporters should consult:
NASA plans on providing edited supporting video of the test the day after flight.
For NASA TV streaming video, schedules and downlink information, visit:
NASA's LDSD program is part of the agency's Space Technology Mission Directorate, which is innovating, developing, testing and flying hardware for use in NASA's future missions.
DC Agle/Whitney Clavin Jet Propulsion Laboratory, Pasadena, Calif. 818-393-9011/818-354-4673 This e-mail address is being protected from spambots. You need JavaScript enabled to view it / This e-mail address is being protected from spambots. You need JavaScript enabled to view it David Steitz NASA Headquarters, Washington
202-236-5829
This e-mail address is being protected from spambots. You need JavaScript enabled to view it
Stefan Alford
Pacific Missile Range Facility, Kauai, Hawaii
808-335-4740
This e-mail address is being protected from spambots. You need JavaScript enabled to view it
2014-207
Section: Articles -
File Under: Space |
Engineers connected the Orbiting Carbon Observatory-2 (OCO-2) to a crane at California¹s Vandenberg Air Force Base on June 14, preparing to mate it to a United Launch Alliance Delta II rocket.
› Full image and caption
June 27, 2014
The Orbiting Carbon Observatory-2 (OCO-2) is scheduled to launch July 1 from California's Vandenberg Air Force Base. OCO-2 is NASA's first mission dedicated to studying atmospheric carbon dioxide, the leading human-produced greenhouse gas driving changes in Earth's climate.
1. Humans release nearly 40 billion tons of carbon dioxide into the atmosphere annually. The amount varies from nation to nation, but that averages about 5.5 tons per person. Earth's land surface and ocean absorb about half of these emissions. OCO-2's measurements will show scientists where this carbon dioxide comes from (the sources on Earth) and where it is absorbed out of the atmosphere and stored (the sinks).
2. OCO-2's field of view is only about one square mile (three square kilometers) -- smaller than New York City's Central Park. Why so small? To dodge clouds. Clouds regularly cover about two-thirds of Earth, but even a tiny wisp of cloud in OCO-2's view compromises the measurement.
3. OCO-2 studies carbon dioxide by looking at the colors (or wavelengths) of sunlight that carbon dioxide absorbs. To identify very small changes in this absorption from one wavelength to the next, the OCO-2 instrument separates light into many narrow bands of wavelengths. In three wavelength regions, which represent only a small portion of the spectrum, it can measure more than 3,000 individual bands. A camera divides the same range of wavelengths into just three colors.
4. OCO-2 will collect 24 measurements every second, totaling about a million soundings every day. Of these, about 100,000 are expected to be sufficiently cloud free to provide highly useable carbon dioxide data. The best carbon dioxide-observing satellite currently in orbit takes 4 seconds to make one sounding and collects fewer than 20,000 pieces of data per day, with about 500 of those being highly useful.
5. The observatory has just a 30-second opportunity to launch. The timing has to be so precise because OCO-2 will join the A-Train, a constellation of five other international Earth observing satellites that fly very close together to make nearly simultaneous measurements of our planet. Launching a few seconds too early or late will prevent it from joining the right orbit track. If it misses its 30-second opportunity on July 1, it can launch during exactly the same 30-second window on a succeeding night.
For more information on OCO-2, see:
For more information about NASA's Earth science activities in 2014, visit:
http://www.nasa.gov/earthrightnow
Alan Buis
818-354-0474
Jet Propulsion Laboratory, Pasadena, Calif.
This e-mail address is being protected from spambots. You need JavaScript enabled to view it
Written by Rosalie Murphy
JPL Earth Science and Technology Directorate
2014-206
Section: Articles -
File Under: Space |
NASA's Curiosity Rover Team Today Features Women
Some of the women working on NASA's Mars Science Laboratory Project, which built and operates the Curiosity Mars rover, gathered for this photo in the Mars Yard used for rover testing at NASA's Jet Propulsion Laboratory, Pasadena, California. Image Credit: NASA/JPL-Caltech
› Larger image
June 26, 2014
NASA's Curiosity Mars rover this week completed its first Martian year -- 687 Earth days -- since landing in August 2012. Each day of the rover working on Mars requires several dozen rover team members completing tasks on Earth.
To celebrate reaching this longevity milestone, which had been set as one of the mission's goals from the start, the Curiosity team planned staffing a special day, with women fulfilling 76 out of 102 operational roles.
"I see this as a chance to illustrate to girls and young women that there's not just a place for them in technical fields, but a wide range of jobs and disciplines that are part of the team needed for a project as exciting as a rover on Mars," said Colette Lohr, an engineer at NASA's Jet Propulsion Laboratory, Pasadena, California.
"There's no practical way any one person could learn all the disciplines needed for operating Curiosity," she said. "It takes a team and we rely on each other."
Disciplines range from soil science to software engineering, from chemistry to cartography, in duties ranging from assessing rover-temperature data freshly arriving from Mars to choosing where to point the rover's cameras. Descriptions of the roles, along with names and locations of the team members filling them today, are part of Curiosity Women's Day information available at:
Lohr's role today is strategic mission manager, which means she is responsible for review and approval of plans being developed and modified during the day for rover activities more than three or four days in the future.
She and most of the other engineers and managers on the team are at JPL in California. Today's team, not atypically, also includes members working in 11 other U.S. states, from Massachusetts to Montana, and four other nations: Canada, France, Russia and Spain. Each of the rover's 10 science instruments has people responsible for evaluating newly received data and planning to get more data. Other scientists participating in operations serve on theme groups that pull together information from multiple instruments and choose priorities for upcoming activities.
Curiosity Deputy Project Scientist Joy Crisp of JPL helped organize the special day and will fill the project scientist role, providing scientific leadership in the strategic planning process. She said, "The team has both scientists and engineers, but it's one team working together to accomplish the mission goals."
Each day's rover activities must be planned to fit within budgets of how much time, power and data-downlink capacity are available.
The operational roles fall into categories of tactical, supra-tactical and strategic, which focus, respectively, on the next day's rover activities, the activities two to five days ahead, and planning for weeks or months ahead.
"While some people are focused on today's plan for tomorrow, we need other people to be looking further ahead," Crisp said. "We wouldn't be able to plan complex activities for the rover if we started from scratch each day. We do a lot of work to get a head start on each day."
The operations team for Curiosity is larger than the operations teams for the previous generation of rovers, NASA's Mars Exploration Rovers Spirit and Opportunity. In an experience similar to Women's Curiosity Day, one day in February 2008, Spirit's tactical operations team of about 30 people was almost entirely women.
NASA's Mars Science Laboratory Project is using Curiosity to assess ancient habitable environments and major changes in Martian environmental conditions. JPL, a division of the California Institute of Technology in Pasadena, built the rover and manages the project for NASA's Science Mission Directorate in Washington.
For more information about Curiosity, visit:
http://www.jpl.nasa.gov/msl , http://www.nasa.gov/msl and http://mars.jpl.nasa.gov/msl/
You can follow the mission on Facebook and Twitter at:
http://www.facebook.com/marscuriosity
http://www.twitter.com/marscuriosity
Guy Webster 818-354-6278
Jet Propulsion Laboratory, Pasadena, Calif.
This e-mail address is being protected from spambots. You need JavaScript enabled to view it
2014-205
Section: Articles -
File Under: Space |
NASA's OCO-2 Will Track Our Impact on Airborne Carbon
Fossil fuel burning and other human activities are the primary source for the rise in atmospheric carbon dioxide. NASA's OCO-2 mission will help sort out the gas's sources and reservoirs. Image credit: Wikimedia Commons
› Larger image
June 25, 2014
Every time we get in a car and drive, we burn gasoline, releasing carbon dioxide and other compounds into the air and disturbing Earth's climate. Our use of fossil fuels continues to increase exponentially, with more than half of all fossil fuels ever used by humans being consumed in the last 20 years.
In comparison with the amount of carbon that enters the atmosphere from natural sources, our fossil fuel emissions are modest. "Carbon dioxide generated by human activities amounts to only a few percent of the total yearly atmospheric uptake or loss of carbon dioxide from plant life and geochemical processes on land and in the ocean," said Gregg Marland, a professor in the Geology Department of Appalachian State University, Boone, North Carolina. "This may not seem like much, but humans have essentially tipped the balance."
Scientists are able to accurately measure the amount of carbon dioxide in the atmosphere, both today and in the past, and the impact of our activities is apparent in those measurements. Before the Industrial Revolution, there were about 280 molecules of carbon dioxide out of every million molecules in the atmosphere, that is, 280 parts per million. By 2014, the concentration had risen to about 400 parts per million.
Although we know the concentration of carbon dioxide, much about the processes that govern the gas's atmospheric concentration remains a mystery. We still do not know precisely where all of the carbon dioxide comes from and where it is being stored when it leaves the air. That information is crucial for understanding the impact of human activities on climate and for evaluating options for mitigating or adapting to climate change.
Scientists expect to get some answers soon to these and other compelling carbon questions, thanks to the Orbiting Carbon Observatory-2, a new Earth-orbiting NASA satellite scheduled to launch on July 1. OCO-2 will allow scientists to record detailed daily measurements of carbon dioxide -- around 100,000 measurements of the gas around the world every day.
"Now that humans are acknowledging the environmental effects of our dependence on fossil fuels and other carbon dioxide-emitting activities, our goal is to analyze the sources and sinks of this carbon dioxide and to find better ways to manage it," Marland said.
"If you visualize a column of air that stretches from Earth's surface to the top of the atmosphere, the Orbiting Carbon Observatory-2 will identify how much of that vertical column is carbon dioxide, with an understanding that most is emitted at the surface," said Marland. "Simply, it will act like a plane observing the smoke from forest fires down below, with the task of assessing where the fires are and how big they are. Compare that aerial capability with sending a lot of people into the forest looking for fires. The observatory will use its vantage point from space to capture a picture of where the sources and sinks of carbon dioxide are, rather than our cobbling data together from multiple sources with less frequency, reliability and detail."
Kevin Gurney, an associate professor at Arizona State University, Tempe, believes OCO-2 will complement a suite of NASA-funded efforts he is currently leading that quantify fossil fuel emissions by using statistics on fuel, activity of cars, etc., to pinpoint emissions on scales as small as an individual city building or street.
"This research and OCO-2 together will act like partners in closing the carbon budget, with my data products estimating movements from the bottom up and OCO-2 estimating sources from the top down," Gurney said. "By tackling the problem from both perspectives, we'll stand to achieve an independent, mutually compatible view of the carbon cycle. And the insight gained by combining these top-down and bottom-up approaches might take on special significance in the near future as our policymakers consider options for regulating carbon dioxide across the entire globe."
For more about OCO-2, visit these sites:
OCO-2 is the second of five NASA Earth science launches in 2014, the most in more than a decade. NASA monitors Earth's vital signs from land, air and space with a fleet of satellites and ambitious airborne and ground-based observation campaigns. NASA develops new ways to observe and study Earth's interconnected natural systems with long-term data records and computer analysis tools to better see how our planet is changing. The agency shares this unique knowledge with the global community and works with institutions in the United States and around the world that contribute to understanding and protecting our home planet.
For more information about NASA's Earth science activities in 2014, see: http://www.nasa.gov/earthrightnow
Alan Buis
818-354-0474
Jet Propulsion Laboratory, Pasadena, Calif.
This e-mail address is being protected from spambots. You need JavaScript enabled to view it
2014-204
Section: Articles -
File Under: Space |
NASA Sets New Dates for Saucer-Shaped Test Vehicle Flight
This artist's concept shows the test vehicle for NASA's Low-Density Supersonic Decelerator (LDSD), designed to test landing technologies for future Mars missions. Image credit: NASA/JPL-Caltech
› Full image and caption
June 25, 2014
NASA's Low-Density Supersonic Decelerator (LDSD) project plans to fly its rocket-powered, saucer-shaped landing technology test vehicle into near-space from the U.S. Navy's Pacific Missile Range Facility (PMRF) on Kauai, Hawaii, later this week.
NASA has identified five potential launch dates for the high-altitude balloon carrying the LDSD experiment: June 28, 29, 30, July 1 and 3. The launch window for Saturday, June 28 extends from 8:15 to 9:30 a.m. Hawaii Standard Time (11:15 a.m. to 12:30 p.m. PDT / 2:15 to 3:30 p.m. EDT).
The test will be carried live via Ustream and simulcast on NASA Television.
The vehicle originally was scheduled for its first test flight earlier in June, but unacceptable weather conditions prevented the launch.
Decisions to attempt launch of the LDSD test will be made the day before each launch opportunity date. NASA will issue launch advisories via the mission website, media advisories and on Twitter at:
https://twitter.com/NASA_Technology and https://twitter.com/NASA
NASA will stream live video of the test via Ustream at: http://www.ustream.tv/nasajpl2
The video may be intermittent based on test activities. Consult the LDSD website for real-time updates of the test.
For NASA TV streaming video, schedules and downlink information, visit: http://www.nasa.gov/nasatv
After the balloon reaches an altitude of 120,000 feet, the rocket-powered test vehicle will be dropped. Seconds later, its motor will fire, carrying it to 180,000 feet and as fast as about Mach 3.8. LDSD carries several onboard cameras.
More information about the LDSD space technology demonstration mission is online at: http://go.usa.gov/kzZQ
NASA's Space Technology Mission Directorate funds the LDSD mission, a cooperative effort led by JPL. NASA's Marshall Space Flight Center in Huntsville, Alabama, manages LDSD within the Technology Demonstration Mission Program Office. NASA's Wallops Flight Facility in Wallops Island, Virginia, is coordinating support with the Pacific Missile Range Facility and providing the balloon systems for the LDSD test.
For more information about the Space Technology Mission Directorate, visit:
DC Agle
Jet Propulsion Laboratory, Pasadena, Calif.
818-393-9011
This e-mail address is being protected from spambots. You need JavaScript enabled to view it
David Steitz
Headquarters, Washington
202-236-5829 or 202-358-1730
This e-mail address is being protected from spambots. You need JavaScript enabled to view it
Shannon Ridinger
Marshall Space Flight Center, Huntsville, Ala.
256-544-3774 or 256-541-7698
This e-mail address is being protected from spambots. You need JavaScript enabled to view it
Stefan Alford Pacific Missile Range Facility, Kauai, Hawaii
808-335-4740
This e-mail address is being protected from spambots. You need JavaScript enabled to view it
2014-202
Section: Articles -
File Under: Space |
NASA's Low-Density Supersonic Decelerator to Lift Off June 28
The launch tower helps link the Low-Density Supersonic Decelerator test vehicle to a balloon; once the balloon floats up, the vehicle is released from the tower and the balloon carries it to high altitudes. The vehicle's rocket will take it to even higher altitudes, where the supersonic test begins. Image credit: NASA/JPL-Caltech
› Full image and caption
June 27, 2014
A balloon carrying a test vehicle for NASA's Low-Density Supersonic Decelerator (LDSD) is scheduled to lift off Saturday, June 28, from its pad at the U.S. Navy's Pacific Missile Range Facility in Kauai, Hawaii, during a launch window that opens at 8:15 a.m. Hawaii Standard Time (11:15 a.m. PDT/2:15 p.m. EDT). The vehicle, which resembles a flying saucer, is designed to test landing technologies for future Mars missions.
This first of three LDSD flights will determine the flying qualities of the test vehicle. As a bonus, the flight plan also includes deployment of two new technologies -- an inflatable device and mammoth parachute. However, those landing technologies are not officially scheduled to be tested until next summer, in two additional LDSD flights.
After liftoff, the balloon carrying the LDSD test vehicle will slowly float upward, taking several hours to reach an altitude of 120,000 feet (36,600 meters). At that point, the balloon will release the vehicle and its rocket will kick in, boosting the craft to an altitude of 180,000 feet (54,900 meters).
When the test vehicle reaches 180,000 feet and is traveling at about Mach 3.8, it will deploy the first of the new technologies, a doughnut-shaped tube called the Supersonic Inflatable Aerodynamic Decelerator (SIAD). The SIAD decelerates the test vehicle to approximately Mach 2.5. The test vehicle will then deploy a mammoth parachute (the Supersonic Disk Sail Parachute), which will carry it safely to a controlled water impact about 40 minutes after being dropped from the balloon.
The website will be updated as event milestones occur, at the top of the page.
More information on LDSD is online at:
NASA's LDSD program is part of the agency's Space Technology Mission Directorate, which is innovating, developing, testing and flying hardware for use in NASA's future missions.
DC Agle Jet Propulsion Laboratory, Pasadena, Calif. 818-393-9011 This e-mail address is being protected from spambots. You need JavaScript enabled to view it David Steitz NASA Headquarters, Washington
202-236-5829
This e-mail address is being protected from spambots. You need JavaScript enabled to view it
Stefan Alford
Pacific Missile Range Facility, Kauai, Hawaii
808-335-4740
This e-mail address is being protected from spambots. You need JavaScript enabled to view it
2014-208
Section: Articles -
File Under: Space |
Support a Good Cause To Win a Trip To Space
Want to stay on top of all the space news? Follow @universetoday on Twitter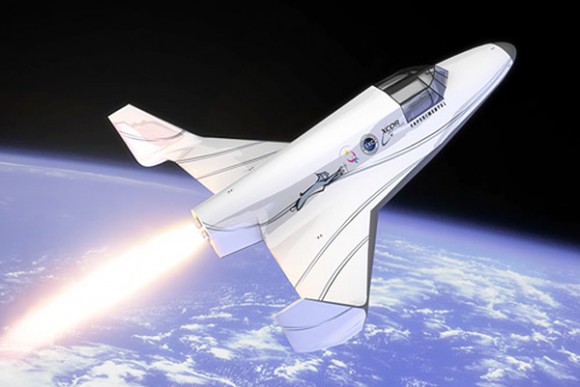 XCOR Aerospace's Lynx Mark II suborbital vehicle is designed to fly to 328,000 feet (Credit: XCOR)
Well, technically not space*, but suborbital, and that'd still be way cool! And what's even cooler is that you can enter to win a trip on an XCOR Lynx Mark II suborbital flight while helping to support a good cause of your choice, courtesy of The Urgency Network's "Ticket to Rise" campaign. Check out the dramatic spaceflight-packed promotional video and find out how to enter below:
The Urgency Network is an online platform whereby participants can win experience-based prizes by participating in campaigns that are designed to aid and support good causes, many of which assist specific communities in need, awareness groups, and conservation efforts. You earn "entries" for prize drawings by purchasing gift packages from the participating foundations or by donating time, social media presence, or money directly. It's a way for organizations that might not have (or be able to afford) a large PR department to get funded and gain widespread exposure. Learn more about The Urgency Network here.
In the Ticket to Rise campaign, the grand prize is beyond stratospheric — literally! One lucky winner will experience a ride aboard an XCOR Lynx Mark II suborbital craft, a single-stage space vehicle that takes off from a runway to ultimately coast briefly at a maximum altitude of 328,000 feet (about 100 km), experiencing 4 minutes of microgravity before re-entry and a runway landing. It's a supersonic 30-minute flight to the very edge of space!
(*Actually, 100 km is right at the von Karman line, so riding the Lynx Mark II past that could qualify you as an astronaut. Just sayin'.)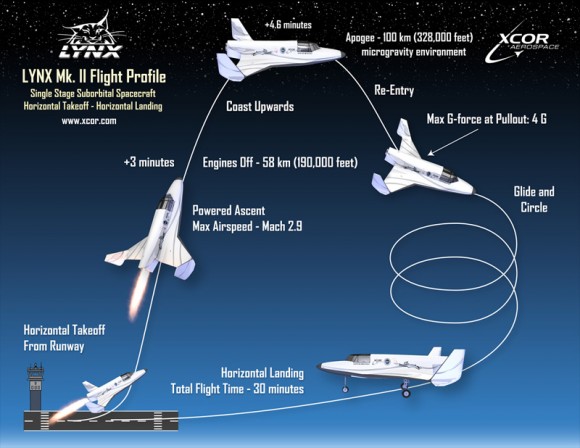 How a Lynx Mark II flight works (Source: XCOR)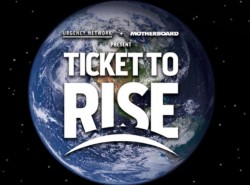 Add to that you'd be helping any one of dozens of good causes (you can choose from different ones by clicking the "Select a Different NonProfit" text link on the donation page) and it's a win-win for everyone. And even if you don't get a seat aboard a spaceship (many will enter, few will win) you can still get some pretty awesome promo offers from the organizations as bulk-entry packages.
Click here to sign up and enter the Ticket to Rise campaign.
The deadline to enter the campaign is 11:59:59 p.m. EDT August 11, 2014. Drawing will be held on August 12. The Lynx flight is dependent on meeting all requirements and passing physical exams and tests by XCOR Aerospace, and although the date is expected to be in the fall of 2015, this is rocket science and things change. Read the official rules for all details.
Jason Major on Google+
A graphic designer in Rhode Island, Jason writes about space exploration on his blog Lights In The Dark, Discovery News, and, of course, here on Universe Today. Ad astra!
Tagged as: donate, Lynx, spaceflight, support, Ticket to Rise, Urgency Network, win a trip to space, XCOR
Section: Articles -
File Under: Space |
Has the Cosmology Standard Model become a Rube Goldberg Device?
Want to stay on top of all the space news? Follow @universetoday on Twitter
This week at the Royal Astronomical Society's National Astronomy Meeting in the UK, physicists are challenging the evidence for the recent BICEP2 results regarding the inflation period of the Universe, announced just 90 days ago. New research is laying doubt upon the inclusion of inflation theory in the Standard Cosmological Model for understanding the forces of nature, the nature of elementary particles and the present state of the known Universe.
Back on March 17, 2014, it seemed the World was offered a glimpse of an ultimate order from eons ago … actually from the beginning of time. BICEP2, the single purpose machine at the South Pole delivered an image that after analysis, and subtraction of estimated background signal from the Milky Way, lead its researchers to conclude that they had found the earliest remnant from the birth of the Universe, a signature in ancient light that supported the theory of Inflation.
Thirty years ago, the Inflation theory was conceived by physicists Alan Guth and Andei Linde. Guth, Linde and others realized that a sudden expansion of the Universe at only 1/1000000000000000000000000000000000th of a second after the Big Bang could solve some puzzling mysteries of the Cosmos. Inflation could explain the uniformity of the cosmic background radiation. While images such as from the COBE satellite show a blotchy distribution of radiation, in actuality, these images accentuate extremely small variations in the background radiation, remnants from the Big Bang, variations on the order of 1/100,000th of the background level.
Note that the time of the Universe's proposed Inflationary period immediately after the Big Bang would today permit light to travel only 1/1000000000000000th of the diameter of the Hydrogen atom. The Universe during this first moment of expansion was encapsulated in a volume far smaller than the a single atom.

Emotions ran very high when the BICEP2 team announced their findings on March 17 of this year. The inflation event that the background radiation data supported is described as a supercooling of the Cosmos however, there were physicists that simply remained cool and remained contrarians to the theory. Noted British Physicist Sir Roger Primrose was one who remained underwhelmed and stated that the incredible circular polarization of light that remained in the processed data from BICEP2 could be explained by the interaction of dust, light and magnetic fields in our own neighborhood, the Milky Way.
Now, new observations from another detector, one on the Planck Satellite orbiting the Earth, is revealing that the contribution of background radiation from local sources, the dust in the Milky Way, is appearing to have been under-estimated by the BICEP2 team. All the evidence is not yet laid out but the researchers are now showing reservations. At the same time, it does not dismiss the Inflation Theory. It means that more observations are needed and probably with greater sensitivity.
So why ask the question, are physicists constructing a Rube Goldberg device?
Our present understanding of the Universe stands upon what is called "the Standard Model" of Cosmology. At the Royal Astronomical Society meeting this week, the discussions underfoot could be revealing a Standard Model possibly in a state of collapse or simply needing new gadgets and mechanisms to remain the best theory of everything.
Also this week, new data further supports the discovery of the Higg's Boson by the Large Hadron Collider in 2012, the elementary particle whose existence explains the mass of fundamental particles in nature and that supports the existence of the Higgs Field vital to robustness of the Standard Model. However, the Higgs related data is also revealing that if the inflationary period of the Universe did take place, then if taken with the Standard Model, one can conclude that the Universe should have collapsed upon itself and our very existence today would not be possible.
Dr. Brian Green, a researcher in the field of Super String Theory and M-Theory and others such as Dr. Stephen Hawking, are quick to state that the Standard Model is an intermediary step towards a Grand Unified Theory of everything, the Universe. The contortion of the Standard Model, into a sort of Rube Goldberg device can be explained by the undaunting accumulation of more acute and diverse observations at cosmic and quantum scales.
Discussions at the Royal Astronomical Society meeting are laying more doubts upon the inflation theory which just 90 days ago appeared so well supported by BICEP2 – data derived by truly remarkable cutting edge electronics developed by NASA and researchers at the California Institute of Technology. The trials and tribulations of these great theories to explain everything harken back to the period just prior to Einstein's Miracle Year, 1905. Fragmented theories explaining separately the forces of nature were present but also the accumulation of observational data had reached a flash point.
Today, observations from BICEP2, NASA and ESA great space observatories, sensitive instruments buried miles underground and carefully contrived quantum experiments in laboratories are making the Standard Model more stressed in explaining everything, the same model so well supported by the Higg's Boson discovery just two years ago. Cosmologists concede that we may never have a complete, proven theory of everything, one that is elegant; however, the challenges upon the Standard Model and inflation will surely embolden younger theorists to double the efforts in other theoretical work.
For further reading:
RAS NAM press release: Should the Higgs Boson Have Caused our Universe To Collapse?
We've Discovered Inflation!: Now What?
Cosmologists Cast Doubt on Inflation Evidence
Are the BICEP2 Results Invalid? Probably Not
Tagged as: BICEP2, Cosmology, inflation, standard model
Section: Articles -
File Under: Space |
Nature & Man in One Astrophoto: Iridium Flare, Milky Way, Clouds and Light Pollution
Want to stay on top of all the space news? Follow @universetoday on Twitter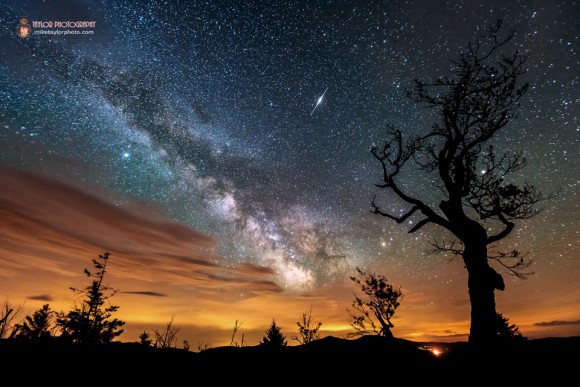 An Iridium Flare flashes over western Maine in this beautiful night sky image from June 2014. Credit and copyright: Mike Taylor/Taylor Photography.
Ever seen a flash in the night sky and wondered if you were seeing things? Iridium flares are often mistaken for meteors because of their notable bright flashes of light in the night sky but they are actually caused by a specific group of satellites that orbit our planet. The Iridium communication satellites are just in the right orbit that when sunlight reflects on their antennas, a flash — or flare — is visible down on Earth. There are currently about 66 Iridium satellites in orbit, so flares are a rather common occurrence.
This image from photographer Mike Taylor is one frame from a timelapse of the Milky Way and other features of the night sky in motion against a silhouetted foreground. "Photographed from western Maine, this shot includes quite a bit of light pollution and some fast moving cloud cover," Mike told Universe Today via email. "Most of the light pollution in this image is coming from Farmington, Maine which is about 35 miles from this location."

Mike added the footage from this timelapse will be featured in his upcoming short film "Shot In The Dark."
He also provided this info about Iridium flares:
Iridium satellites are in near-polar orbits at an altitude of 485 miles. Their orbital period is approximately 100 minutes with a velocity of 16,800 miles per hour. The uniqueness of Iridium flares is that the spacecraft emits 'flashes' of very bright reflected light that sweep in narrow focused paths across the surface of the Earth. An Iridium communication satellite's Main Mission Antenna is a silver-coated Teflon antenna array that mimics near-perfect mirrors and are angled at 40-degrees away from the axis of the body of the satellites. This can provide a specular reflection of the Sun's disk, periodically causing a dazzling glint of reflected sunlight. At the Earth's surface, the specular reflection is probably less than 50 miles wide, so each flare can only be viewed from a fairly small area. The flare duration can last from anywhere between 5 to 20 seconds and can easily be seen by the naked eye.
If you want to try and see an Iridum flare for yourself, check out Heavens Above for your location.
For this image Mike used:
Nikon D600 & 14-24 @ 14mm
f/2.8 – 30 secs – ISO 3200 – WB Kelvin 3570
06/23/14 – 11:07PM
Processed via Lightroom 5 & Photoshop CS5
Check out more of Mike's work at his website: Taylor Photography. He also leads workshops on night sky photography.
Want to get your astrophoto featured on Universe Today? Join our Flickr group or send us your images by email (this means you're giving us permission to post them). Please explain what's in the picture, when you took it, the equipment you used, etc.
Nancy Atkinson on Google+
Nancy Atkinson is Universe Today's Senior Editor. She also is the host of the NASA Lunar Science Institute podcast and works with Astronomy Cast. Nancy is also a NASA/JPL Solar System Ambassador.
Tagged as: Astrophotos, Iridium Flare, milky way
Section: Articles -
File Under: Space |
«
Start
Prev
1
2
3
4
5
6
7
8
9
10
Next
End
»
Page 5 of 170