Space
Comet ISON Hosted A Rare Kind Of Nitrogen, Hinting At Reservoirs In Young Solar System
Want to stay on top of all the space news? Follow @universetoday on Twitter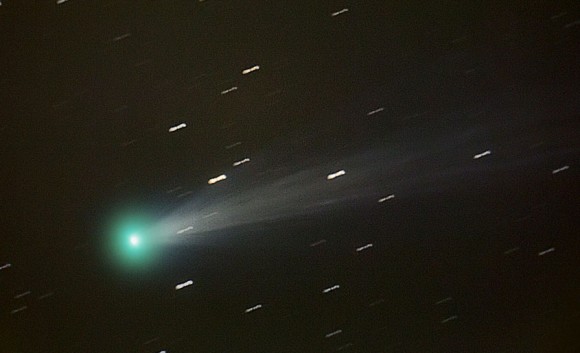 Photo of Comet ISON taken Nov. 15 from Charleston, Rhode Island. Credit: Scott MacNeill
Comet ISON — that bright comet last year that broke up around Thanksgiving weekend — included two forms of nitrogen in its icy body, according to newly released observations from the Subaru Telescope.
Of the two types found, the discovery of isotope 15NH2 was the first time it's ever been seen in a comet. Further, the observations from the Japanese team of astronomers show "there were two distinct reservoirs of nitrogen [in] the massive, dense cloud … from which our Solar System may have formed and evolved," stated the National Astronomical Observatory of Japan.
Besides being pretty objects to look at, comets are considered valuable astronomical objects because they're a sort of time capsule of conditions early in the universe. The "fresh" comets are believed to come from a vast area of icy bodies called the Oort Cloud, a spot that has been relatively untouched since the solar system formed about 4.6 billion years ago. Spying elements inside of comets can give clues as to what was present in our neighborhood when the sun and planets were just coming to be.
"Ammonia (NH3) is a particularly important molecule, because it is the most abundant nitrogen-bearing volatile (a substance that vaporizes) in cometary ice and one of the simplest molecules in an amino group (–NH2) closely related to life. This means that these different forms of nitrogen could link the components of interstellar space to life on Earth as we know it," NAOJ stated.
You can read more details about the finding at the NAOJ website, or in Astrophysical Journal Letters.
Elizabeth Howell on Google+
Elizabeth Howell is the senior writer at Universe Today. She also works for SPACE.com, Astronomers Without Borders, Space Exploration Network, the NASA Lunar Science Institute, NASA Astrobiology Magazine and LiveScience, among others. Career highlights include watching three shuttle launches, and going on a two-week simulated Mars expedition in rural Utah. You can follow her on Twitter @howellspace or contact her at her website.
Tagged as: ammonia, early solar system, national astronomical observatory of japan, nitrogen, Subaru Telescope
Section: Articles -
File Under: Space |
NASA Data Find Some Hope for Water in Aral Sea Basin
A relic of the vanishing Aral Sea. Image credit: Wikimedia Commons
› Larger image
February 14, 2014
A new study using data from NASA satellite missions finds that, although the long-term water picture for the Aral Sea watershed in Central Asia remains bleak, short-term prospects are better than previously thought.
Once the fourth largest inland sea in the world, the Aral Sea has lost 90 percent of its water volume over the last 50 years. Its watershed -- the enormous closed basin around the sea -- encompasses Uzbekistan and parts of Tajikistan, Turkmenistan, Kyrgyzstan and Kazakhstan.
Graduate student Kirk Zmijewski and assistant professor Richard Becker of the University of Toledo, Ohio, wanted to find out whether all of the water was gone for good, or whether some of it might have ended up elsewhere in the watershed, behind dams or in aquifers. They also wanted to gauge whether decreasing rainfall has contributed to the catastrophic water loss.
The researchers used data from NASA's Gravity Recovery and Climate Experiment (GRACE) satellites to map monthly changes in mass within the watershed from 2003 to 2012. These changes are associated with changes in water volume, both on and below the land surface. They mapped the entire Aral Sea watershed, which is more than twice the size of Texas at 580,000 square miles (1.5 million square kilometers).
Zmijewski and Becker found that each year throughout the decade, the watershed lost an average of 2.9 to 3.4 cubic miles (12 to 14 cubic kilometers) of water, or the equivalent of one Lake Mead per year. That's a sobering rate of loss, but it's only about half as much as the rate at which the Aral Sea itself is losing water (5.8 cubic miles or 24 cubic kilometers).
"That means that roughly half the water lost from the Aral Sea has entirely left the watershed, by evaporation or agricultural uses, but half is upstream within the watershed," said Becker.
Specifically, more water is now in the central part of the watershed, where almost all of the region's farming takes place. That area increased in mass during the last four years of the study. The researchers believe that some of the increase comes from improvements in water conservation practices, though some was simply the result of inefficient irrigation, for example, water seeping out of unlined ditches into aquifers.
Decreasing rainfall in the region has been widely reported, and the researchers wanted to quantify its role in the water loss. They were unable to find a complete and reliable published rainfall record for the entire watershed using ground-based measurements, so they analyzed rainfall data from NASA's Tropical Rainfall Measuring Mission satellite. Unexpectedly, they found no change in precipitation since 2002. "That was more surprising to us than anything else," said Becker. To check that result, they extended their analysis back to 1980, using data from the Global Precipitation Climatology Project for the earlier years. There was no sign of dwindling precipitation for the watershed across the entire 30-year period.
Patterns of rainfall have shifted near the Aral Sea, Becker pointed out, and that may have misled observers into believing that rain was decreasing overall. "Lake-effect precipitation downwind of the Aral Sea has decreased, but precipitation over the sea itself has increased, so that's not changing the whole system," he said.
The basin's water woes began in the 1930s with a Soviet development plan to create a cotton industry in the Central Asian desert. Rivers flowing into the Aral Sea were diverted to nourish the thirsty crop, setting off the inland sea's decline. Since the breakup of the Soviet Union, several watershed countries have maintained a cotton-based economy.
Declining availability of freshwater due to human activities and climate change is a critical issue throughout the world, affecting agriculture, economics and politics. Becker said, "When water is removed from the watershed, agricultural prospects in the region decline. It's hopeful that investments in irrigation upgrades have decreased water losses. With savvy water policy, each country in the watershed could continue to improve in the future."
The research was published January 31 in the journal Earth Interactions.
For a slideshow of the shrinking Aral Sea during the 21st century, visit: http://earthobservatory.nasa.gov/Features/WorldOfChange/aral_sea.php.
For more about GRACE, visit: http://www.csr.utexas.edu/grace/.
NASA monitors Earth's vital signs from land, air and space with a fleet of satellites and ambitious airborne and ground-based observation campaigns. NASA develops new ways to observe and study Earth's interconnected natural systems with long-term data records and computer analysis tools to better see how our planet is changing. The agency shares this unique knowledge with the global community and works with institutions in the United States and around the world that contribute to understanding and protecting our home planet.
For more information about NASA's Earth science activities in 2014, visit: http://www.nasa.gov/earthrightnow.
Alan Buis 818-354-0474
Jet Propulsion Laboratory, Pasadena, Calif.
This e-mail address is being protected from spambots. You need JavaScript enabled to view it
Written by Carol Rasmussen
NASA Earth Science News Team
2014-050
Section: Articles -
File Under: Space |
Mars Rover Heads Uphill After Solving 'Doughnut' Riddle
This image from the panoramic camera (Pancam) on NASA's Mars Exploration Rover Opportunity shows where a rock called "Pinnacle Island" had been before it appeared in front of the rover in early January 2014. Image Credit: NASA/JPL-Caltech/Cornell Univ./Arizona State Univ.
› Full image and caption
February 14, 2014
Researchers have determined the now-infamous Martian rock resembling a jelly doughnut, dubbed Pinnacle Island, is a piece of a larger rock broken and moved by the wheel of NASA's Mars Exploration Rover Opportunity in early January.
Only about 1.5 inches wide (4 centimeters), the white-rimmed, red-centered rock caused a stir last month when it appeared in an image the rover took Jan. 8 at a location where it was not present four days earlier.
More recent images show the original piece of rock struck by the rover's wheel, slightly uphill from where Pinnacle Island came to rest.
"Once we moved Opportunity a short distance, after inspecting Pinnacle Island, we could see directly uphill an overturned rock that has the same unusual appearance," said Opportunity Deputy Principal Investigator Ray Arvidson of Washington University in St. Louis. "We drove over it. We can see the track. That's where Pinnacle Island came from."
Examination of Pinnacle Island revealed high levels of elements such as manganese and sulfur, suggesting these water-soluble ingredients were concentrated in the rock by the action of water. "This may have happened just beneath the surface relatively recently," Arvidson said, "or it may have happened deeper below ground longer ago and then, by serendipity, erosion stripped away material above it and made it accessible to our wheels."
Now that the rover is finished inspecting this rock, the team plans to drive Opportunity south and uphill to investigate exposed rock layers on the slope.
Opportunity is approaching a boulder-studded ridge informally named the McClure-Beverlin Escarpment, in honor of engineers Jack Beverlin and Bill McClure. Beverlin and McClure were the first recipients of the NASA Medal of Exceptional Bravery for their actions on Feb. 14, 1969, to save NASA's second successful Mars mission, Mariner 6, when the launch vehicle began to crumple on the launch pad from loss of pressure.
"Our team working on Opportunity's continuing mission of exploration and discovery realizes how indebted we are to the work of people who made the early missions to Mars possible, and in particular to the heroics of Bill McClure and Jack Beverlin," said rover team member James Rice of the Planetary Science Institute, Tucson, Ariz. "We felt this was really a fitting tribute to these brave men, especially with the 45th anniversary of their actions coming today."
Opportunity's work on the north-facing slope below the escarpment will give the vehicle an energy advantage by tilting its solar panels toward the winter sun. Feb. 14 is the winter solstice in Mars' southern hemisphere, which includes the region where Opportunity has been working since it landed in January 2004.
"We are now past the minimum solar-energy point of this Martian winter," said Opportunity Project Manager John Callas of NASA's Jet Propulsion Laboratory in Pasadena, Calif. "We now can expect to have more energy available each week. What's more, recent winds removed some dust from the rover's solar array. So we have higher performance from the array than the previous two winters."
During Opportunity's decade on Mars, and the 2004-2010 career of its twin, Spirit, NASA's Mars Exploration Rover Project has yielded a range of findings proving wet environmental conditions on ancient Mars -- some very acidic, others milder and more conducive to supporting life.
JPL manages the Mars Exploration Rover Project for NASA's Science Mission Directorate in Washington. For more information about Spirit and Opportunity, visit: http://www.nasa.gov/rovers .
You can follow the project on Twitter and on Facebook at http://twitter.com/MarsRovers and http://www.facebook.com/mars.rovers .
Guy Webster 818-354-6278
Jet Propulsion Laboratory, Pasadena, Calif.
This e-mail address is being protected from spambots. You need JavaScript enabled to view it
Dwayne Brown 202-358-1726
NASA Headquarters, Washington
This e-mail address is being protected from spambots. You need JavaScript enabled to view it
2014-051
Section: Articles -
File Under: Space |
NASA to Host Deep Space Network Social Media Event
Beam Wave Guide antennas at Goldstone, known as the "Beam Waveguide Cluster." Each antenna is 111.5-feet (34-m) in diameter. They're located in an area at Goldstone called "Apollo Valley." This photograph was taken on Jan. 11, 2012. Credit: NASA/JPL-Caltech
› Full image and caption
February 13, 2014
NASA will host a two-day NASA Social for 50 of its social media followers on April 1 and 2, 2014, at the agency's Jet Propulsion Laboratory in Pasadena, Calif., and the Deep Space Network complex in Goldstone, Calif.
The event is part of a yearlong celebration of the 50th anniversary of NASA's Deep Space Network (DSN), the world's largest and most powerful communications system for "talking" to spacecraft. From the first planetary encounters, the first human landing on the moon, to interstellar space, the network has been there to bring home the critical data, images and science.
A NASA Social is an informal meeting of people who use social networking sites such as Twitter, Facebook and Google+. Participants at this event will be provided a unique in-person experience at JPL and the Goldstone Deep Space Communications Complex, which they are encouraged to share with others through their favorite social networks.
NASA Social participants will spend April 1 at JPL inside the Mission Control Center of NASA's Deep Space Network, where engineers communicate with spacecraft across the solar system. Participants will also get a behind-the-scenes tour of JPL that includes:
• Spacecraft Assembly Facility, where hardware for upcoming missions is under construction
• Earth Science Center, where data from many of the agency's Earth-observing missions are showcased in interactive displays
• Mars Yard, where engineering models of NASA's Curiosity rover are tested in a sandy, Mars-like environment
On April 2, participants will attend the DSN 50th anniversary celebration at the Goldstone Deep Space Communications Complex near Barstow in the Mojave Desert. Attendees will learn about the DSN's past, present and future, and then tour the facility. The tour will include:
• Apollo Valley, to see the historic Apollo antenna and the 34-meter Beam Waveguide Cluster antennas
• Mars Valley, home of the large 70-meter Mars antenna, 34-meter Uranus antenna and Signal Processing Center 10
• Spacecraft Operations Control Center
• Goldstone indoor and outdoor museums

Attendees will also take part in a ribbon-cutting ceremony for the Goldstone Tunnel Display.
Registration for this NASA Social is now open, and closes at 9 a.m. PST (noon EST) on Feb. 19, 2014. NASA will randomly select participants from qualified online applicants. Registration is for one person, aged 18 and over only, and is non-transferable. Because this event takes place at a facility with restricted areas, registration is limited to U.S. citizens.
For more information on this event and to register, go to: http://www.nasa.gov/content/celebrate-50-years-of-communicating-in-deep-space/#.Uvwa8_aKX8H.
Courtney O'Connor 818-354-2274
Jet Propulsion Laboratory, Pasadena, Calif.
courtney.m.o' This e-mail address is being protected from spambots. You need JavaScript enabled to view it
2014-049
Section: Articles -
File Under: Space |
NASA Hosts Media Teleconference About Supernovas
Artist's concept of NuSTAR on orbit. NuSTAR has a 10-m (30') mast that deploys after launch to separate the optics modules (right) from the detectors in the focal plane (left). Image credit: NASA/JPL-Caltech
› Full image and caption
February 13, 2014
NASA will host a news teleconference at 10 a.m. PST (1 p.m. EST) Wednesday, Feb. 19, to announce new observations from its high-energy X-ray mission, the Nuclear Spectroscopic Telescope Array (NuSTAR).
The findings reveal new information about supernovas, the tremendous explosions that mark the ends of massive stars' lives.
The briefing participants are:
-- Paul Hertz, director of NASA's Astrophysics Division in Washington
-- Fiona Harrison, NuSTAR principal investigator, California Institute of Technology, Pasadena, Calif.
-- Brian Grefenstette, astronomer, Caltech
-- Robert Kirshner, astronomer, Harvard-Smithsonian Center for Astrophysics, Cambridge, Mass.

Audio and visuals will be streamed live online at: http://www.ustream.tv/nasajpl2. Audio of the teleconference will be streamed live on NASA's website at: http://www.nasa.gov/newsaudio.
A link to the graphics will be posted at the start of the teleconference on NASA's NuSTAR site: http://www.nasa.gov/NuSTAR.
NuSTAR is a Small Explorer mission led by Caltech in Pasadena and managed by NASA's Jet Propulsion Laboratory, also in Pasadena, for NASA's Science Mission Directorate in Washington. The spacecraft was built by Orbital Sciences Corporation, Dulles, Va. Its instrument was built by a consortium including Caltech; JPL; the University of California, Berkeley; Columbia University, New York; NASA's Goddard Space Flight Center, Greenbelt, Md.; the Danish Technical University in Denmark; Lawrence Livermore National Laboratory, Livermore, Calif.; ATK Aerospace Systems, Goleta, Calif., and with support from the Italian Space Agency (ASI) Science Data Center.
NuSTAR's mission operations center is at UC Berkeley, with the ASI providing its equatorial ground station located at Malindi, Kenya. The mission's outreach program is based at Sonoma State University, Rohnert Park, Calif. NASA's Explorer Program is managed by Goddard. JPL is managed by Caltech for NASA.
Whitney Clavin 818-354-4673
Jet Propulsion Laboratory, Pasadena, Calif.
This e-mail address is being protected from spambots. You need JavaScript enabled to view it
J.D. Harrington 202-358-5241
NASA Headquarters, Washington
This e-mail address is being protected from spambots. You need JavaScript enabled to view it
2014-048
Section: Articles -
File Under: Space |
NASA Moves Longest-Serving Mars Spacecraft for New Observations
No NASA Mars orbiter has been in a position to observe morning daylight on Mars since the twin Viking orbiters of the 1970s. Image credit: NASA/JPL
› Full image and caption
February 12, 2014
NASA's Mars Odyssey spacecraft has tweaked its orbit to help scientists make the first systematic observations of how morning fogs, clouds and surface frost develop in different seasons on the Red Planet.
The maneuver took place Tuesday, Feb. 11. Odyssey team engineers at NASA's Jet Propulsion Laboratory in Pasadena, Calif., and Lockheed Martin Space Systems of Denver, designed the gentle move to accelerate Odyssey's drift toward a morning-daylight orbit. The desired change will occur gradually until the intended orbit geometry is reached in November 2015 and another maneuver halts the drift.
The change will enable observation of changing ground temperatures after sunrise and after sunset in thousands of places on Mars. Those observations could yield insight about the composition of the ground and about temperature-driven processes, such as warm-season flows observed on some slopes, and geysers fed by spring thawing of carbon-dioxide ice near Mars' poles.
"We're teaching an old spacecraft new tricks," said Odyssey Project Scientist Jeffrey Plaut of JPL. "Odyssey will be in position to see Mars in a different light than ever before."
Neither Odyssey, nor any other NASA Mars orbiter since the 1970s, has flown an orbital pattern with a view of the ground in morning daylight. Earlier NASA orbiters and the European Space Agency's Mars Express orbiter have provided some tantalizing views of morning mists on Mars, but have concentrated on afternoon observation times when views of the surface are less hazy.
Odyssey was launched in 2001 and began its science mission 12 years ago this month. It is the longest-working spacecraft ever sent to Mars.
Odyssey completed Tuesday's maneuver at 12:03 p.m. PST (3:03 p.m. EST). It used four thrusters, each providing about 5 pounds (22 newtons) of force for a 29-second burn.
"This veteran spacecraft performed exactly as planned," said Odyssey Project Manager David Lehman of JPL.
Odyssey flies in an orbit nearly over the poles and synchronized with the sun. For most of its first six years at Mars, the orbit was set at about 5 o'clock, local solar time. At every spot Odyssey flew over as it made its dozen daily passes from the north pole region to the south pole region, the local solar time was about 5 p.m. Beneath the south-to-north leg of the orbit, the time was about 5 a.m. That orbit provided an advantage for the orbiter's Gamma Ray Spectrometer to have its cooling equipment pointed away from the sun. The spectrometer checked for evidence of water near the Martian surface. It made important discoveries of how widely water ice -- detected as hydrogen-- and other elements are distributed on Mars.
Later, Odyssey worked for three years in a 4 o'clock orbit. That provided an advantage for mineral mapping by the orbiter's Thermal Emission Imaging System (THEMIS). Mid-afternoon warmth made minerals' infrared signatures easier to identify. This timing, however, added stress to Odyssey's power system. It put more of each orbit into the planet's shadow, where solar panels are unproductive. After providing radio-relay support for the 2012 landing of NASA's Curiosity Mars rover, a maneuver set Odyssey on a slow drift to later times of day to help preserve the spacecraft's aging battery.
THEMIS Principal Investigator Philip Christensen of Arizona State University in Tempe, proposed letting the time of the orbit shift past 6 o'clock and then making daylight observations on the south-to-north half of the orbit, at about 6:45 a.m., rather than the north-to-south half. The science team and NASA agreed, and the Odyssey project planned this week's maneuver to get to the desired orbit sooner.
"We don't know exactly what we're going to find when we get to an orbit where we see the morning just after sunrise," Christensen said. "We can look for seasonal differences. Are fogs more common in winter or spring? We will look systematically. We will observe clouds in visible light and check the temperature of the ground in infrared."
After the next orbit-adjustment maneuver, to lock into the 6:45 a.m. local time in November 2015, Odyssey will have about enough propellant left for nine to 10 years of operation at estimated annual consumption rates. In addition to conducting its own observations, Odyssey serves as an important communications relay for spacecraft on Mars' surface.
JPL manages Odyssey for NASA's Science Mission Directorate in Washington. Lockheed Martin Space Systems built the spacecraft and collaborates with JPL in mission operations.
For more about the Mars Odyssey mission, visit: http://mars.jpl.nasa.gov/odyssey
Guy Webster 818-354-6278
Jet Propulsion Laboratory, Pasadena, Calif.
This e-mail address is being protected from spambots. You need JavaScript enabled to view it
Dwayne Brown 202-358-1726
NASA Headquarters, Washington
This e-mail address is being protected from spambots. You need JavaScript enabled to view it
2014-047
Section: Articles -
File Under: Space |
Responding to Potential Asteroid Redirect Mission Targets
This concept image shows an astronaut preparing to take samples from the captured asteroid after it has been relocated to a stable orbit in the Earth-moon system. Hundreds of rings are affixed to the asteroid capture bag, helping the astronaut carefully navigate the surface.
› Full image and caption
February 14, 2014
One year ago, on Feb. 15, 2013, the world was witness to the dangers presented by near-Earth Objects (NEOs) when a relatively small asteroid entered Earth's atmosphere, exploding over Chelyabinsk, Russia, and releasing more energy than a large atomic bomb. Tracking near-Earth asteroids has been a significant endeavor for NASA and the broader astronomical community, which has discovered 10,713 known near-Earth objects to date. NASA is now pursuing new partnerships and collaborations in an Asteroid Grand Challenge to accelerate NASA's existing planetary defense work, which will help find all asteroid threats to human population and know what to do about them. In parallel, NASA is developing an Asteroid Redirect Mission (ARM) -- a first-ever mission to identify, capture and redirect an asteroid to a safe orbit of Earth's moon for future exploration by astronauts in the 2020s.
ARM will use capabilities in development, including the new Orion spacecraft and Space Launch System (SLS) rocket, and high-power Solar Electric Propulsion. All are critical components of deep-space exploration and essential to meet NASA's goal of sending humans to Mars in the 2030s. The mission represents an unprecedented technological feat, raising the bar for human exploration and discovery, while helping protect our home planet and bringing us closer to a human mission to one of these intriguing objects.
NASA is assessing two concepts to robotically capture and redirect an asteroid mass into a stable orbit around the moon. In the first proposed concept, NASA would capture and redirect an entire very small asteroid. In the alternative concept, NASA would retrieve a large, boulder-like mass from a larger asteroid and return it to this same lunar orbit. In both cases, astronauts aboard an Orion spacecraft would then study the redirected asteroid mass in the vicinity of the moon and bring back samples.
Very few known near-Earth objects are ARM candidates. Most known asteroids are too big to be fully captured and have orbits unsuitable for a spacecraft to redirect them into orbit around the moon. Some are so distant when discovered that their size and makeup are difficult for even our most powerful telescopes to discern. Still others could be potential targets, but go from newly discovered to out of range of our telescopes so quickly there is not enough time to observe them adequately.
For the small asteroids that do closely approach Earth, NASA's Near-Earth Object Program has developed a rapid response system whose chief goal is to mobilize NEO-observing assets when an asteroid first appears that could qualify as a potential candidate for the ARM mission.
"There are other elements involved, but if size were the only factor, we'd be looking for an asteroid smaller than about 40 feet (12 meters) across," said Paul Chodas, a senior scientist in the Near-Earth Object Program Office at NASA's Jet Propulsion Laboratory, Pasadena, Calif. "There are hundreds of millions of objects out there in this size range, but they are small and don't reflect a lot of sunlight, so they can be hard to spot. The best time to discover them is when they are brightest, when they are close to Earth."
Asteroids are discovered by small, dedicated teams of astronomers using optical telescopes that repeatedly scan the sky looking for star-like objects, which change location in the sky slightly over the course of an hour or so. Asteroid surveys detect hundreds of such moving objects in a single night, but only a fraction of these will turn out to be new discoveries. The coordinates of detected moving objects are passed along to the Minor Planet Center in Cambridge, Mass., which either identifies each as a previously known object or assigns it a new designation. The observations are collated and then electronically published, along with an estimate of the object's orbit and intrinsic brightness. Automatic systems at NASA's Near-Earth Object Program Office at JPL take the Minor Planet Center data, compute refined orbit and brightness estimates, and update its online small-body database. A new screening process for the asteroid redirect mission has been set up which regularly checks the small-body database, looking for potential new candidates for the ARM mission.
"If an asteroid looks as if it could meet the criteria of size and orbit, our automated system sends us an email with the subject "'New ARM Candidate,'" said Chodas. "When that happens, and it has happened several dozen times since we implemented the system in March of 2013, I know we'll have a busy day."
Remember, things have to happen quickly because these small NEOs are only visible to even the most powerful of telescopes for a short period of a few days during their flyby of Earth. After receiving such an email, Chodas contacts the scientists coordinating radar observations at NASA's Deep Space Network station at Goldstone, Calif., and the Arecibo Observatory in Puerto Rico, to check on their availability. These are massive radar telescopes (the width of the Goldstone dish is 230 feet, or 70 meters, and the Arecibo dish is a whopping 1,000 feet, or 305 meters, wide). They have the capability of bouncing powerful microwaves off nearby asteroids, providing size and rotation information, and at times, even generating detailed images of an asteroid's surface. If these radar telescopes can see an asteroid and track it, definitive data on its orbit and size will quickly follow.
Chodas may also contact selected optical observatories run by professionals or sophisticated amateurs, who may be able to quickly turn their telescopes to observe the small space rock.
"The optical telescopes play an important role, as their observations can be used to improve our prediction of the orbital path, as well as provide data that helps us establish the rotation rate of an asteroid," said Chodas.
Chodas also reaches out to the NASA-funded Infrared Telescope Facility (IRTF) in Mauna Kea, Hawaii. If the IRTF can detect the space rock, it can provide a wealth of detailed data on spectral type, reflectivity and expected composition.
"After one of these alerts, there is a lot of calling and emailing going on in the beginning," said Chodas. "Then, we just simply have to wait to see what this worldwide network of assets can do to characterize the physical attributes of the potential ARM target."
Scientists estimate that several dozen asteroids in the 20-to-40-foot (6-to-12-meter) size range fly by Earth at a distance even closer than the moon every year. But only a fraction of these are actually detected, and even fewer are in orbits that are good candidates for ARM. Roughly half will pass Earth on the daytime side and are impossible to find in the bright glare of sunlight. Even so, current asteroid surveys are finding tens of asteroids in this size range every year, and new technology is coming online to make detection of these objects even more likely.
"The NASA-funded Catalina Sky Survey, which has made the majority of NEO discoveries since its inception in 2004, is getting an upgrade," said Lindley Johnson, program executive for the Near-Earth Objects Program at NASA Headquarters in Washington. "We also will have new telescopes with an upgraded detection capability, like PanSTARRS 2 and ATLAS, coming online soon, and the Defense Advanced Research Projects Agency's new Space Surveillance Telescope will give us a hand as well."
As part of its effort to find asteroids hazardous to Earth and destinations for future robotic and human exploration, NASA's NEO program will continue to search for even better potential targets for ARM. Also, NASA's WISE spacecraft has been reactivated and rechristened NEOWISE (link to: http://www.jpl.nasa.gov/news/news.php?release=2014-006) and could be used to characterize potential ARM targets.
In an attempt to leave no space-stone unturned, the agency is also combining public-private partnerships, crowdsourcing and incentive prizes to enhance existing efforts. Through its Asteroid Grand Challenge, NASA is reaching out to any and all who may have the next pioneering idea in asteroid research.
Of course, all this looking up and out and into the dim recesses of the solar system requires funding. NASA is already spending $20 million per year in the search for potentially hazardous asteroids through the Near Earth Object Observation Program. NASA's FY 14 budget included $105 million to plan for the capture and redirection of an asteroid, increase innovative partnerships and approaches to help us amplify efforts to identify and track and characterize asteroids, and conduct studies for mitigating potential threats.
We are learning a lot more about space rocks than we ever had before and along with that the rate of discoveries will continue to climb. And of those, only a portion of the new asteroids discovered is destined to have the right stuff for an asteroid retrieval mission -- the right size and the right orbit to satisfy mission requirements for the asteroid redirect mission.
The Near-Earth Object Program Office reports that, with current asteroid surveys already in place, about two potential candidates suitable for the asteroid redirect mission are discovered every year. The rate of discovery is projected to at least double as new imaging assets come online.
Does Chodas think there is a perfect target asteroid out there for an asteroid redirect mission?
"Absolutely. There are a lot of asteroids out there, and there are a lot of dedicated people down here, looking for them," said Chodas. "You put the two together and it's only a matter of time before we find some space rocks that fit our needs."
NASA's Near-Earth Object Program at NASA Headquarters, Washington, manages and funds the search, study and monitoring of asteroids and comets whose orbits periodically bring them close to Earth. JPL manages the Near-Earth Object Program Office for NASA's Science Mission Directorate in Washington. JPL is a division of the California Institute of Technology in Pasadena.
More information about asteroids and near-Earth objects is available at: http://neo.jpl.nasa.gov/, http://www.jpl.nasa.gov/asteroidwatch and via Twitter at http://www.twitter.com/asteroidwatch.
DC Agle 818-393-9011
Jet Propulsion Laboratory, Pasadena, Calif.
This e-mail address is being protected from spambots. You need JavaScript enabled to view it
2014-052
Section: Articles -
File Under: Space |
The 1,000-Year-Old Black Hole --Youngest in the Milky Way
"A Vast Oceanus Borealis May have Once Covered 1/3 of Mars"
Today, large fields of boulder-size rocks blanket parts of Mars' northern plains. By pointing to analogue geological features on our Earth, Lorena Moscardelli, a geologist at the University of Texas, Austin,suggests that the boulders were delivered to their current locations by catastrophic underwater landslides--bolstering evidence for an ancient Martian ocean.
The boulders were spotted by the HiRISE camera on the Mars Reconnaissance Orbiter a while ago. So Moscardelli is not reporting their presence as something new, but rather a new interpretation of the processes behind their origin. The paper was published this month in a journal of the Geological Society of America.
In the past, geoscientists thought of ocean sediments as mostly fine-grained, floating in the water column and settling like a slow "rain" on the sea floor, Moscardelli explained. But we now know it's not the only possible scenario.
"We know that 'submarine landslides' can transport big boulders--sometimes as big as a house--for hundreds of kilometers into the deep-water of the Earth oceans," she said. "Imagine a huge landslide affecting the entire state of Texas, but happening in the ocean."
In her new study, Moscardelli documents several sites where these events have occurred on Earth, such as the Pennsylvanian Jackfork Group of south-central Arkansas; the outcrops of the Guandacol Formation in the Pangazo Basin, Argentina; or in the Santos Basin, offshore Brazil. She even shows that these underwater events can affect huge areas, as with a massive landslide that covered thousands of square kilometers in the Barents Sea, north of Russia, about a million years ago.
Some scientists have suggested that the boulders of Mars's northern plain could be the product of meteorite impacts. But to Moscardelli, that's not a fitting theory.
"That's possible for some of the boulders, especially those found close to craters," she says. "But how do you explain boulder fields that can cover thousands of square kilometers without any impact craters around? The submarine hypothesis provides a feasible alternative."
In the 1980s, Viking spacecraft images revealed two possible ancient shorelines near the pole, much like those found in Earth's coastal regions. But further observations showed the coastlines varied in elevation, undulating like a wave, and thus casting much doubt on the Martian ocean hypothesis. However, later studies eventually showed that the deformation could be simply explained by the movement of Mars' spin axis.
In addition to the boulders of the northern plains, Moscardelli had previously documented other geological features which can form underwater on Earth, including teardrop-shaped islands and polygon-shaped areas.
"There are many hypothesis out there and we still need to learn a whole lot before we can be confident about which one is right or wrong," she said. "I have an informed opinion based on my technical observations, but I am cautious and humble about it because I could be wrong! That said, I think my case is a strong one."
Some of the evidence for terrestrial analogues came from 3-D seismic surveys, a tool traditionally used by the oil and gas industry. So she hopes her approach will encourage more inter-disciplinary research.
"It is amazing to see how little the planetary science and the marine geoscience communities interacts," she said. "If anything, I hope my contributions can help improve that kind of cross-pollination and cooperation."
The Daily Galaxy via NASA's Astrobio.net

Image Credits: ESA, C. Carreau and : NASA (Moscardelli 2014)
Powered By WizardRSS.com | Full Text RSS Feed | RFID | Amazon Affiliate
Section: Articles -
File Under: Space |
«
Start
Prev
1
2
3
4
5
6
7
8
9
10
Next
End
»
Page 5 of 132