Business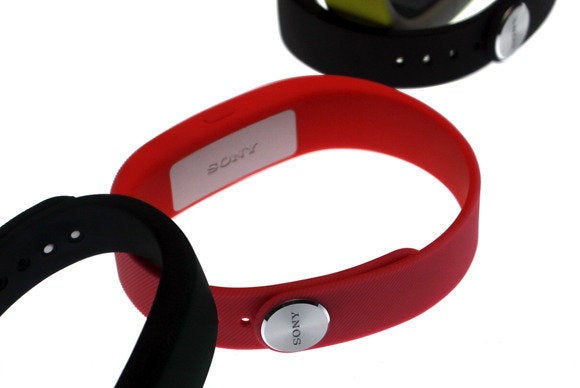 Now that Sony plans to sell off its fashionable Vaio laptop business and convert its TV business into a subsidiary, the Japanese electronics giant appears poised to beef up its line of mobile products, including smartphones and tablets—but especially wearable tech.
At International CES in January, Tokyo-based Sony showed off a small Core sensor for use with its coming SmartWear products. The first product in that line is SmartBand, which works with a new Lifelog app on a smartphone.
Sony revealed few details on the device. The company is expected to release more information about the SmartBand, Core, and other wearables at Mobile World Congress in Barcelona on February 24. Sony is also running a "Wearables Workshop" and a VIP reception at the conference that are clearly meant to generate excitement and press coverage.
Needs to ramp up
Sony might be able to win plenty of customer attention for the emerging wearables market, but it faces an uphill climb in smartphones and tablets where it is getting a late start, analysts said.
In smartphones, research firm IDC ranked Sony Xperia devices seventh globally behind sixth-ranked CoolPad for all of 2013, with a 3.8 percent market share and shipments of 38 million devices. For its Xperia tablets, Sony wasn't even in the top 15 for the fourth quarter of 2013, with less than 1 percent of the worldwide tablet market. IDC hasn't begun publishing rankings for wearable tech vendors since the market is relatively new.
Those low smartphone and tablet rankings are somewhat peculiar, since Sony has a storied electronics history that goes back six decades. Sony has launched successful products, including the WalkMan portable audio cassette player first unveiled in 1979, the PlayStation gaming system in 1994 and the Trinitron TV in 1985. Sony was also behind the first-to-market Betamax, which lost out to VHS videocassette technology in the mid-1970s.
Given all it has been through, Sony's move into wearables could signal a kind of rebirth.
"Sony used to be known for design innovation and pushing the envelope," said Jack Gold, an analyst at J. Gold Associates. "Over the past few years, that hasn't been the case. If they can recapture that spirit with mobile, they have a shot, particularly in up and coming areas like wearables and other smart devices. Can they build the brand back? We'll have to see if they are up to the challenge."
Sony management "has put mobile right, left and center of their strategy, but I think they need to pick up the pace as they are coming to this from behind," said Carolina Milanesi, an analyst at Kantar WorldPanel.
Making headway in a crowded market
Moving from seventh place in smartphones into the top five spots in the next five years would be a major feat. "The smartphone market is pretty crowded, with Samsung on top and then Apple, Huawei, LG and Lenovo in the top five," noted Ramon Llamas, an IDC analyst. "Sony would do well to maintain its position in the top 10."
Sony gets high marks for strong design of its new products, "but they need to rethink how they address software and distribution," noted Patrick Moorhead, an analyst at Moor Insight & Strategy.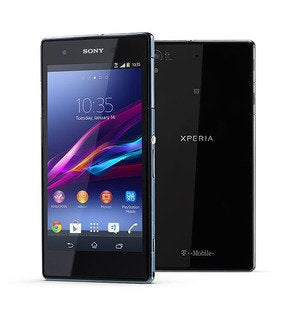 Sony Xperia Z1S
Speaking of limited distribution, the only U.S. carrier offering a Sony smartphone is T-Mobile US, which sells the waterproof Sony Xperia Z1S, with a 5-inch display and Android 4.3 at a full retail price of $528.
Sony sells other smartphones, such as the Xperia Z1 on its Web site, but that's not good enough, analysts said.
"Distribution is truly a limiting factor for Sony smartphones," Llamas concurred.
To catch on in the U.S, Sony smartphones need to be sold by the nation's two biggest carriers, Verizon Wireless and AT&T, Llamas said. In recent years, AT&T sold cheaper Sony-Ericsson phones that didn't do well.
The newer Sony phones, including several models sold on its Web site, "are definitely more expensive [than the average smartphone] and show an attention to design," Milanesi added. "In the U.S., consumers don't know Sony for smartphones, even though they are known for gaming and TV."
Sony Smartwatch2
For Sony to do well, smartphones, tablets, and the new wearables must fit into the company's broad mobile marketing strategy. "There's no question Sony can produce great hardware both from a specs and design point of view," Milanesi added. "If they crack marketing and are able to tell a compelling story on the end-to-end ecosystem, then I think they have a shot."
Sony already has released a second generation of its smartwatch, the $200 SmartWatch 2 (or SW2), which is compatible with Android 4.0 and higher smartphones and tablets and works with 200 apps from Google Play. Smartwatches from Sony and other manufacturers are still highly dependent on smartphones, which serve as a wireless hub to connect to the Internet and apps. That's an example of the kind of mobile ecosystem that Milanesi is talking about.
Battling Samsung
According to Milanesi, Sony "focuses on the user experience better than Samsung does," which is significant. Samsung is clearly the biggest smartphone maker in the world with 31 percent of the market according to IDC.
Samsung, based in Seoul, South Korea, is also expected to introduce the next-generation Galaxy S smartphone, probably called the Galaxy S 5, at the Barcelona show on February 24, putting greater emphasis on style and design than in the GS4.
Samsung also sells the $300 Galaxy Gear smartwatch for use with a few of its Galaxy smartphones, and an update is expected shortly, possibly at MWC.
Samsung continually faces a design and style contest with Apple and its wildly successful iPhones at the high-end of the market. The market for expensive smartphones is, however, saturated, and might not be where Sony can shine.
To swim with the big fish like Samsung, Sony will need to "do something radical and get market awareness and share," Gold said. "Wearables is something they could make a difference in, since it is such a nascent market and most first-gen devices are pretty weak offerings."
Matt Hamblen
, Computerworld

Matt Hamblen covers mobile and wireless, smartphones and other handhelds, and wireless networking for Computerworld.
More by Matt Hamblen
Subscribe to the Best of PCWorld Newsletter
Thank you for sharing this page.
Sorry! There was an error emailing this page
Section: Articles -
File Under: Business |

Nokia and HTC have settled their long-running patent infringement battles, which played out in several countries and have seen a handful of HTC phones banned from sale in Europe.
The two companies, both major players in the smartphone industry, said they have agreed on a "patent and technology collaboration" that will settle all outstanding litigation.
Precise details were not revealed, but the companies said HTC will pay Nokia an undisclosed sum and the collaboration will involve HTC's patents on LTE technology. LTE, often called 4G, is a high-speed wireless data transmission technology being rolled out by carriers in many countries.
Nokia's chief intellectual property officer, Paul Melin, hailed the agreement as validating Nokia's patents while HTC's general counsel, Grace Lei, said her company was "pleased to come to this agreement."
Nokia had asserted since 2012 that HTC infringed on about 50 of its patents and engaged in unauthorized use of proprietary innovations.
The cases had been making their way through the courts in countries including the U.K., Germany, Italy, Japan and the U.S.
In March 2013, Nokia won an injunction in Germany against some HTC smartphones that were found to infringe upon a power-saving technology.
In September, the U.S. International Trade Commission ruled HTC infringed two patents held by Nokia related to cellphones and tablets, and in October the High Court of England and Wales ruled that some HTC devices infringed on a Nokia mobile network standard patent.
Nokia won a sales ban against the HTC One Mini smartphone in the U.K. as a result of that latter judgment.
Patent battles between major smartphone manufacturers have become a common part of the industry in the years since Apple introduced the iPhone and sparked the smartphone boom. Faced with a highly competitive marketplace, companies have been suing each other when one considers a competitor's products look too similar to their own.
Martyn Williams
, IDG News Service

Martyn Williams covers mobile telecoms, Silicon Valley and general technology breaking news for The IDG News Service.
More by Martyn Williams
Subscribe to the Best of PCWorld Newsletter
Thank you for sharing this page.
Sorry! There was an error emailing this page
Section: Articles -
File Under: Business |

The U.S. government has asked industry for information on whether commercially available services can provide a viable alternative to the government holding bulk phone records for a program of the National Security Agency.
The government's collection of bulk phone records under Section 215 of the Patriot Act has been at the center of a privacy controversy since June last year when former NSA contractor Edward Snowden revealed that the agency was collecting bulk telephony metadata in the U.S. from Verizon.
In a review of NSA surveillance last month, U.S. President Barack Obama called for a new approach on telephony metadata that will "establish a mechanism that preserves the capabilities we need without the government holding this bulk metadata." Obama said that a third party holding all the data in a single, consolidated database would be essentially doing what is a government function, and may not increase public confidence that its privacy is being protected.
The RFI (request for information) by the government aims to get information on U.S. industry's commercially available capabilities, so that the government can investigate alternative approaches "without the government holding the metadata, while maintaining the current capabilities of that system and the existing protections for U.S. persons," the Office of the Director of National Intelligence said Friday.
The RFI has been posted to the Federal Business Opportunities site that lists federal government procurement opportunities. The government is looking for information on whether commercially available services can, among other things, provide secure storage and high availability to U.S. telephone metadata records for a sufficient period of time, and ensure that there are no unauthorized queries of the database and no data is provided to the government without proper authorization.
In a related development, the government got approval from the secret Foreign Intelligence Surveillance Court to amend a Jan. 3 primary order on telephony metadata collection, James R. Clapper, director of National Intelligence said in a statement. The motion and orders will be released to the public after a classification review scheduled for Feb. 17.
The focus of the new motion was on Obama's direction that, as a transitional move, the government should with work with FISC to ensure that the telephony metadata can be queried only after a judicial finding or if there is an emergency. Obama also directed that the government will pursue phone calls that are two-steps removed from a number associated with a terrorist group, instead of the three hops previously authorized.
John Ribeiro
, IDG News Service
John Ribeiro covers outsourcing and general technology breaking news from India for The IDG News Service.
More by John Ribeiro
Subscribe to the Best of PCWorld Newsletter
Thank you for sharing this page.
Sorry! There was an error emailing this page
Section: Articles -
File Under: Business |

Manufacturing giant Foxconn Technology Group is investing US$1 billion to build factories in Indonesia, in the company's latest step to address a major handset market in Asia.
Foxconn plans to make the investment over a three to five year period, and has signed a letter of intent with the government of Indonesia, the company said Saturday.
The Taiwanese manufacturer has already sent a team to Indonesia's capital to plan the factories. In about three months, the company will release a detailed proposal to the nation's authorities.
Foxconn has been in talks with Indonesian officials to build the manufacturing facilities since 2012. But unlike its other factories in China that build products for international markets, these new facilities would assemble products for local Indonesian consumers.
The country is one of the largest in Asia, with 250 million people. But smartphone penetration in the nation remains low, with only about 23 percent of Indonesian mobile phone subscribers using one, according to market research group Nielsen.
Foxconn plans to build handsets, tablets and televisions for the country at the new factories and market them by partnering with electronics brands.
One smartphone company involved is BlackBerry, which said in December its partnering with Foxconn to make its products.
The two companies are jointly developing a smartphone for the Indonesian market, and the device will be produced at a factory in the country.
Michael Kan
Beijing correspondent, IDG News Service, IDG News Service
Michael Kan covers IT, telecom and Internet in China for the IDG News Service.
More by Michael Kan
Subscribe to the Best of PCWorld Newsletter
Thank you for sharing this page.
Sorry! There was an error emailing this page
Section: Articles -
File Under: Business |
Software vendors have improved their response to security flaws in the last 12 months but some still take too long to patch the highest-risk vulnerabilities, figures from Swiss testing firm High-Tech Bridge have suggested.
Comparing 2012 to last year, the firm found that critical flaws were now being patched in 11 days (up from 17), while medium and low-risk flaws were now being fixed in 13 and 25 days respectively (as against 29 days and 48 days).
This means that the average time to patch has fallen across categories from 27 days to 18 days, a 33 percent improvement.
These statistics are based on the 62 security advisories released by High-Tech Bridge through its ImmuniWeb SaaS testing service, covering 162 vulnerabilities, so the reported improvement is indicative rather than definitive.
More than half of the flaws in web apps were cross-site scripting (CSS) issues, with SQL injection in second place on 20 percent. Mature products tend to have less of these issues, the firm said, suffering more from cross-site request forgery and user-identity spoofing.
The most flaw-prone web applications during 2013 were content management and publishing systems, with in-house applications accounting for 40 percent of XSS and CSS flaws uncovered by High-Tech Bridge during penetration testing. Plug-ins made up another 30 percent of issues, and small CMS systems 25 percent. The largest systems such as WordPress and Joomla—whose vulnerabilities will cause the most serious problems because of their popularity—made up the final five percent.
Room for improvement
High-Tech Bridge CEO, Ilia Kolochenko, argued that 11 days was still too long to patch serious flaws but did note:
"General awareness within vendors about the importance of application security is growing, with vendors finally taking security seriously. In the past, even well-known vendors postponed security-related fixes in favor of releasing new versions of their software with new functionality and unpatched vulnerabilities," Kolochenko said. "Is 11 days fast enough? Probably not. As patching times improve so do exploit times, holding the industry in a struggle to close a window that always seems remain wedged open. Even when flaws are patched that doesn't mean they are applied quickly, or in some cases, at all."
Still, vendors are setting careful priorities for fixes, he noted. "In 2013, no big vendor adopted this dangerous approach of prioritizing functionality while sacrificing security and only three of the 62 security advisories released by us in 2013 remained unpatched," he said.
There are still areas of concern, especially among CMS systems. "It is important to say that about 90 percent of large and medium-size commercial and open-source CMSs prone to XSS and SQL injection attacks are vulnerable because they are not up-to-date or are incorrectly configured," said the firm's CRO, Marsel Nizamutdinov.
The future of software testing was to combine automated scanning with manual code review by a human, he said.
Subscribe to the Business Brief Newsletter
Thank you for sharing this page.
Sorry! There was an error emailing this page
Section: Articles -
File Under: Business |
Hewlett-Packard's Zero Day Initiative (ZDI) spelled out the rules for its March hacking contest, Pwn2Own, which will put two-thirds of a million dollars in prize money on the table for researchers who can hack the biggest browsers and most popular plug-ins.
ZDI is HP's bug-bounty program, run by its TippingPoint division, a maker of intrusion prevention system (IPS) and firewall appliances for corporate networks.
The 2014 edition of Pwn2Own will offer $645,000 in potential awards to hackers who demonstrate exploits of previously-unknown vulnerabilities in Google's Chrome, Mozilla's Firefox, Microsoft's Internet Explorer (IE) or Apple's Safari, or the Adobe Reader, Adobe Flash, or Oracle Java browser plug-ins.
Those targets were also the focus of last year's challenge.
Prize details and targets
Prizes will be awarded on a sliding schedule, with $100,000 for the first to hack Chrome or IE11 on Windows 8.1. Payments will drop to $75,000 for Adobe Flash or Reader running in IE11, then slide through other targets before ending at $30,000 for Java. Prizes will also be given for exploiting Safari ($65,000) and Firefox ($50,000).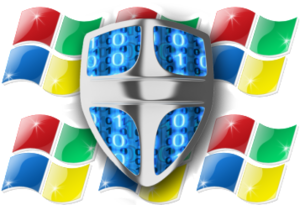 A new $150,000 prize will also be at stake for what HP called the "Exploit Unicorn," a multi-exploit string able to not only hack IE11 on Windows 8.1, but also obtain system-level code execution when Microsoft's Enhanced Mitigation Experience Toolkit (EMET), a utility that manually enables anti-exploit technologies such as ASLR (address space layout randomization) and DEP (data execution prevention) for specific applications, is enabled.
"We're trying to highlight the prowess of the best researchers in the world," said Brian Gorenc, manager of vulnerability research for ZDI, in an interview Friday, referring to the grand prize. "We know that researchers are looking at this [EMET], and we wanted to make this extra difficult."
To grab the $150,000, researchers will have to bypass IE11's "sandbox," a defensive technology that isolates the browser from the rest of the operating system, then leverage at least one additional vulnerability to gain system access—all while EMET is in action.
While Gorenc acknowledged that the addition of EMET is in part an artificial hurdle designed to make exploitation more difficult, there's some method to the madness: Microsoft has increasingly pitched EMET, even to individual users, as a stop-gap defense to use between the time a new vulnerability has been discovered and when the bug is patched.
Security conference hosts event
Pwn2Own, which is in its eighth year, will run March 12-13 at the CanSecWest security conference in Vancouver, British Columbia. Google will also be running its own Pwnium contest—which will pit researchers against its Chrome OS—at CanSecWest, and will be kicking in 25% of the prize money for Pwn2Own.
This year's Pwn2Own will again use a random drawing to choose the order that researchers tackle a target. Each researcher or team of researchers will have 30 minutes to demonstrate their exploit. If successful, the prize money will be awarded and researchers who didn't get a favorable draw will be out of luck.
"The #Pwn2own random drawing shit is back this year, a very bad rule that was removed last year where all pwners were allowed to pwn," said Chaouki Bekrar, CEO of French vulnerability research lab and zero-day seller Vupen, in a tweet yesterday.
Actually, Pwn2Own used the drawing in 2013, but during the challenge the prize pool was expanded to give every successful exploit the winning prize money, which resulted in several earning $20,000 each for hacking Java.
Gorenc said the same may happen at this year's contest, depending on how many register for the contest.
Teams typically have an edge
Pwn2Own has been dominated in recent years by teams to the detriment of individuals who cannot compete with groups of well-armed collectives, such as the team from Vupen, which walked off with $250,000 in prize money last year for hacking IE10, Firefox, Flash, and Java.
"I'm trying to remember, who has won pwn2own by themselves besides me, @dinodaizovi, and @nils?" asked Charlie Miller, a Twitter researcher who has won four times at Pwn2Own, most recently in 2011. "The team aspect takes the fun out if it [in my opinion]."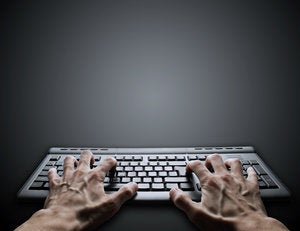 Another individual winner, Peter Vreugdenhil, who took home $10,000 in 2010, now works for Exodus Intelligence, a firm that includes Aaron Portnoy, who once ran Pwn2Own. Several others individually won prizes last year by hacking Adobe Reader and Oracle's Java.
Gorenc disagreed with Miller, and dismissed the idea that teams, especially large ones like Vupen's, skewed the contest. "Every year, we sit down and think about how to make Pwn2Own more interesting," said Gorenc. "Last year, we thought about [individuals versus teams] but just went forward with one contest. If people want to team up and split the prize money, that's up to them."
The total payout in 2013 was a record $480,000.
Bekrar also criticized the Exploit Unicorn challenge, arguing that the $150,000 prize is inadequate when three different zero-day vulnerabilities are needed to win. "Unicorn prize is useless as it requires to burn 3 0days: IE + sandbox bypass + kernel exploit, while two would be enough," he said on Twitter.
According to Gorenc, there is no three-vulnerability minimum for the grand prize. "If they can make it happen in just two, and followed the rules, we'd be glad to give them the prize," Gorenc said.
Payoff: Better security
TippingPoint and its ZDI bounty program have sponsored or co-sponsored Pwn2Own since its 2007 inception. After researchers hand over the vulnerabilities they used to hack targets—and their exploit code—ZDI confirms the results, then passes the information to the pertinent vendors, which often have representatives on-site, ready to jump on patching.
"For us, the contest does multiple things," said Gorenc. "We get to understand and fix exploit techniques and vulnerabilities that are out there, and we get to deploy protections to our customers. It's a good value for us."
HP has published the 2104 Pwn2Own rules on its website, and will provide updates during the contest via a Twitter account and blog.


Gregg Keizer
This e-mail address is being protected from spambots. You need JavaScript enabled to view it , Computerworld

Gregg Keizer covers Microsoft, security issues, Apple, Web browsers and general technology breaking news.
More by Gregg Keizer
Subscribe to the Security Watch Newsletter
Thank you for sharing this page.
Sorry! There was an error emailing this page
Section: Articles -
File Under: Business |
Verizon is denying a charge leveled by a security expert and seemingly acknowledged by its own customer service department that it is "limiting bandwidth" to Amazon Web Services, and by extension Netflix, in response to a recent court decision.    
Just a few weeks ago a Washington D.C. appellate court struck down the Federal Communication Commission's net neutrality rules. The judge ruled that the FCC cannot regulate how ISPs like Verizon deliver services, which could open the door to ISPs providing different connect speeds to different services. Verizon says it has not changed its connection policies since the net neutrality rules were struck down.

David Raphael, director of engineering for cloud security provider iScan, outlines in a blog post how he began noticing that his Internet connection at home was slow. It got to a point where it began impacting his streaming service from Netflix, he says. So he did a couple of tests. From his home he got a bandwidth rate of 40kbps when accessing Amazon Web Services' Simple Storage Service (S3). When he tested it from his work, he got 5000kbps. Both his home and work use Verizon's FiOS Internet Service.
He contacted a Verizon customer support representative to inquire about the issue. After what he says was about a half hour, he asked the representative point-blank if Verizon is now limiting bandwidth to cloud providers such as AWS. "Yes, it is limited bandwidth to cloud providers," the online chat representative said. Raphael responded, "And this is why my Netflix quality is so bad right now?"
The Verizon representative's response: "Yes, exactly."
Raphael says he's worried the net neutrality wars are upon us. "In my personal opinion, this is Verizon waging war against Netflix. Unfortunately, a lot of infrastructure is hosted on AWS. That means a lot of services are going to be impacted by this."
Verizon denies favoritism in speeds
In response to a request for an explanation, executive director of communications for Verzion Edward McFadden replied:
"We treat all traffic equally, and that has not changed. Many factors can affect the speed a customer's experiences for a specific site, including, that site's servers, the way the traffic is routed over the Internet, and other considerations. We are looking into this specific matter, but the company representative was mistaken. We're going to redouble our representative education efforts on this topic."
Raphael's blog post is already garnering considerable attention on social media sites. On Twitter some users are wondering if Raphael's account is one of the first results of the net neutrality ruling. On HackerNews, a tech forum, users point out that the statement is from a Verizon customer service representative and should be taken in that context.
Following the net neutrality ruling, Verizon stated that it had no plans to make any changes to its Internet service. "Today's decision will not change consumers' ability to access and use the Internet as they do now," company officials wrote in a statement posted on its website. "The court's decision will allow more room for innovation, and consumers will have more choices to determine for themselves how they access and experience the Internet."
Neither Amazon nor Netflix immediately responded to a request for comment.
Brandon Butler
Staff Writer, NetworkWorld
randon Butler covers cloud computing and social collaboration
More by Brandon Butler
Subscribe to the Business Brief Newsletter
Thank you for sharing this page.
Sorry! There was an error emailing this page
Section: Articles -
File Under: Business |

Yahoo has acquired Cloud Party, a gaming company specializing in virtual worlds, in another deal to give the search giant more engineering chops.
Cloud Party provided a multiplayer, three-dimensional gaming platform that could run directly in a Web browser without plug-ins. Players could build their own worlds and avatars and explore immersive environments, similar to the online system Second Life. The company launched in 2011.
Now those worlds, or at least the technology they were built on, will be incorporated into Yahoo. Cloud Party CEO Sam Thompson said in a blog post Friday that the company will be joining Yahoo and shutting down its service next month
A Yahoo spokeswoman confirmed the acquisition. Financial details were not disclosed.
Cloud Party may not provide Yahoo with any sweeping new worlds in which its users can play, at least not immediately. Yahoo's Games site already lets people play games online and download titles including arcade, board and puzzle games.
Cloud Party appears to be another "acqui-hire" for Yahoo, netting it a talented pool of gaming developers who could improve Yahoo's own gaming offerings or build new ones.
"We're excited to merge their unique perspective and experience with a team that is just as passionate about gaming," the Yahoo spokeswoman said.
Yahoo signaled its interest in gaming last year when it acquired PlayerScale, which provides infrastructure software.
Yahoo has been on an acquisition spree since Marissa Mayer became CEO in 2012. Some of those acquisitions have brought new users, as with Tumblr last May.
But others have been geared toward technology and engineering, as with LookFlow for improving Flickr.


Zach Miners
, IDG News Service
Zach Miners covers social networking, search and general technology news for IDG News Service
More by Zach Miners
Subscribe to the Best of PCWorld Newsletter
Thank you for sharing this page.
Sorry! There was an error emailing this page
Section: Articles -
File Under: Business |

The US$930 million in damages Samsung was ordered to pay Apple last year for infringing its smartphone patents is more than some device makers earn in a year, but for Samsung it's equal to just over 16 days' worth of profit.
The Seoul-based company reported its financial results Friday and said quarterly operating profit from its IT and mobile communications division, which sells primarily phones and tablets, came to 5.47 trillion won (US$5.1 billion).
That works out to roughly $56.6 million per day, so the damages it was ordered to pay Apple in one of their California lawsuits amounts to just over two weeks of profit.
For Apple, it's not much different. The California company is due to report its earnings Monday, but based on its July-to-September quarter, the money it was awarded from Samsung is equivalent to eight days of company operating profit. (Unlike Samsung, Apple doesn't break out its profits from mobile.)
That might illustrate why the huge damages award hasn't stopped the two companies from continuing their court battle.
Apple is often credited with creating the modern smartphone market when it launched the iPhone in 2007. The handset is still the best-seller in many countries, but Samsung has become a more popular brand thanks to the multitude of phones it sells.
Apple cried foul in 2011, accusing Samsung of copying essential elements of its iPhone design, and filed its lawsuit. It was followed by a countersuit from Samsung and parallel lawsuits by both companies in the U.S. and elsewhere. Samsung appealed the California award.
The battle isn't over yet. The two companies will face off for a second lawsuit in California in late March, over patents on a different selection of phones.
Ahead of that case, an exasperated Judge Lucy Koh ordered the companies to sit down and see if they can work out their differences. They have until Feb. 19 to convene a meeting between the CEOs of both companies and a mediator to attempt to avoid a further trial.
Martyn Williams
, IDG News Service

Martyn Williams covers mobile telecoms, Silicon Valley and general technology breaking news for The IDG News Service.
More by Martyn Williams
Subscribe to the Best of PCWorld Newsletter
Thank you for sharing this page.
Sorry! There was an error emailing this page
Section: Articles -
File Under: Business |
«
Start
Prev
1
2
3
4
5
6
7
8
9
10
Next
End
»
Page 1 of 21