Business
Teenage users have been drifting away from Facebook for the last few years, but now it seems they're in a mad rush to get off the world's largest social network.
A study by investment bank Piper Jaffray (download PDF) about teen behavior on everything from online shopping to social media use shows that Facebook is a distant third when it comes to teens' favorite social networks.
After surveying 7,200 teenagers with an average age of 16, Piper Jaffray found that about 80% cited Instagram as their favorite social site, 65% said they like Twitter and about 40% said they use Facebook.
Tumblr was fourth with about 25% and Pinterest rounded out the top five with about 20%. Facebook rival Google+ was cited by fewer than 10% of respondents
The survey also showed a major exodus during the past six months or so: 45% this fall said they use Facebook -- a big drop from 72% who said that in the spring. (By contrast, 76% of teenagers said they use Instagram now compared to 69% in the spring.)
Bad news for Facebook
"This is very bad news for Facebook," said Patrick Moorhead, an analyst with Moor Insights & Strategy. "Facebook substitutes, like Instagram or Snapchat, seem to pop up every year, providing teenagers an alternative where they probably won't find their parents."
Dan Olds, an analyst with The Gabriel Consulting Group, agreed that the large number of older users on Facebook is driving away younger users. Kids simply don't want to be on the same social network as their parents or the uncle they only see at Thanksgiving.
"As every parent knows, once Mom and Dad get involved in something the kids likes, that thing becomes almost instantly uncool," said Olds.
It's been clear that Facebook was struggling to interest younger users for a while now.
Late last year, a company executive, speaking during Facebook's quarterly earnings call, admitted that the social network was struggling to keep teenagers' attention. "We did see a decrease in [teenage] daily users [during the quarter], especially younger teens," said David Ebersman, Facebook's chief financial officer at the time. He went on to call the network's teen user base "stable."
Although Facebook has more than 1 billion users around the planet, losing younger users is a growing problem.
The next generation moves on
"Younger users are very fickle," said Rob Enderle, an analyst with the Enderle Group. "They are losing their seed corn. Eventually, their audience will age out and the market will see the decline as unavoidable, collapsing their stock price and company valuation. The resulting bad outlook will become a self-fulfilling prophesy as advertisers will abandon them."
Brian Blau, an analyst with Gartner, Inc. doesn't see the situation as dire.
"While this isn't the best news for Facebook, it's also not a sign of impending failure either," he said. "Facebook has and will in the future offer many types of online social experiences. Their apps and platform today is used by a very wide variety of people and businesses, and they will continue to grow as they help offline users around the world come online."
The company, which already owns teen-favorite Instagram, has taken steps to draw those younger users back, even if it's not directly to Facebook's own site.
In February, Facebook bought WhatsApp, a popular mobile messaging app, and in June, it took direct aim at social competitor Snapchat by launching Slingshot, its own mobile app.
Both WhatsApp and Slingshot are aimed at the younger market.
Earlier this year, Facebook inked a deal to acquire Oculus VR Inc., a company that makes virtual reality gaming glasses. Analysts immediately noted that the company had spent $2 billion to lureback some of its lost teenage user.
While analysts are split on whether Facebook can bring younger users back and keep the ones it has, Olds doesn't think Facebook has to to survive.
"As long as they see Instagram as being the cool place to be, that should make Facebook happy," he added. "Plus, it gives them two strong platforms with different demographics to use for advertising. That's a damned good position to be in. What they have is actually better than just having everyone on Facebook because if you only have one platform for all, it's easier for a competitor to come in and steal around the edges."


Sharon Gaudin
Reporter, Computerworld

Sharon Gaudin covers the Internet, social media, cloud computing and emerging technologies for Computerworld.
More by Sharon Gaudin
Subscribe to the Business Brief Newsletter
Thank you for sharing this page.
Sorry! There was an error emailing this page
Section: Articles -
File Under: Business |
Everyone wants in on the wearables game—Motorola, Samsung, LG, and if rumors are to be believed, Apple. Not to be outdone, Intel announced a new partnership Friday with watchmaker Fossil to "further develop wearable technology for the fashion industry."
According to the two companies, Intel and Fossil will team up "to identify, support and develop emerging trends in the wearable technology space" and "work together on emerging products and technologies that will be developed for the fashion-oriented consumer," according to a joint press release. 
Presumably, the partnership will eventually result in Fossil-branded wearables (likely smartwatches) with Intel's technology inside.
In the joint press release, Fossil and Intel put emphasis on developing fashionable wearables. A major critique of early smartwatches is that they are mini-computers first,  watches second—that the fashion aspect comes second. And if wearables are to catch on outside tech enthusiasts, they need to look like something you'll want to wear. 
Tech companies seem to be starting to "get it"—just take a look at the round-faced Moto 360 and LG G Watch R—but there's still plenty of work to do. For instance, many current smartwatches are not well suited for those with smaller wrists, as Joanna Stern at The Wall Street Journal points out.
But having a major fashion-driven watchmaker like Fossil on board and providing smartwatches in a variety of sizes and styles should go a long way toward helping take wearables to a more mainstream audience.

Subscribe to the Best of PCWorld Newsletter
Thank you for sharing this page.
Sorry! There was an error emailing this page
Section: Articles -
File Under: Business |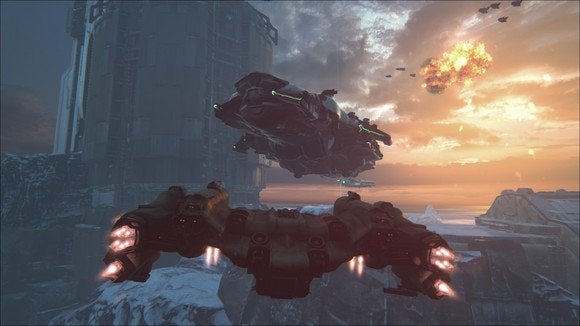 "Everyone always wants to be the fast ships at first. And then they die." These are the dour words of the developer watching over my shoulder as I played Dreadnought, a spaceship combat game, last week. He was right. I died almost immediately, picked out of the sky by a much larger ship as I battered ineffectively against its armor.
Here's the easiest way to describe Dreadnought—the way it was described to me, and presumably the way it was described to everyone at PAX, and it's the first thing you think of when you play the game. Remember that scene in Battlestar Galactica where the ship warps in the atmosphere? Yeah, of course you do unless you didn't watch Battlestar Galactica in which case who are you?
Dreadnought is that scene.
A heavy support vehicle attacking a light dreadnought.
It's a spaceship combat game, as I said, but not in the way you're probably thinking. This isn't Elite: Dangerous or Star Citizen or Enemy Starfighter. In fact, it's not even really a game about dogfighting, which is pretty anathema to the last twenty or so years of space game design.
Instead think of Dreadnought like a tank game with three dimensions of movement, like World of Tanks except with spaceships in the starring role. All of the key ideas of a tank game—positioning, for instance—are important here as you glide around obstacles and try to hide until the last possible moment. The PAX map even took place in a planet's atmosphere, making it feel like massive floating tanks (though there are space maps planned for the final release).
A titular dreadnought.
There were five ships in the demo I played, ranging from a small sniper/recon ship to the titular Dreadnought, which is your Imperial Star Destroyer/Battlestar size monster of a ship. Each ship is a bundle of compromises, with small ships being more maneuverable but also frail, while larger ships move at a snail's crawl but soak up lots of damage. You can think of the ships as different "classes" from a shooter, considering one is effectively a medic, one is equipped as I mentioned with a long-range weapon, et cetera.
Plus the Dreadnought can warp short distances and it makes a big whoompf noise right before it materializes/starts kicking space-ass and is all around one of the most satisfying moves to pull off in recent history. Oh, and it shoots nukes.
Nuclear missle away! 
But even the smallest ship has a hefty sense of weight that says "I'm a hundred tons of metal" more than "I'm meant for zipping around the galaxy." I'm sure a more experienced player can pull off some complex maneuvers with the smaller ships, but this is not a twitchy dogfighter. It's a tactical game that relies heavily on teamwork.
I had a lot of fun with the round I played at PAX, once I got used to the slow pace. I'm definitely more interested in the space maps (which the developers tell me will feature asteroid fields and ship graveyards) than the in-atmosphere settings, though the backdrop did make for some of those incredible Battlestar Galactica-esque moments.
And hey, the game is going to be free-to-play upon release so there's really nothing stopping you from checking it out. If there's anything good to be said about free-to-play, it's that the barrier to entry is incredibly low regardless of whether the game turns out impressive.
Space. Nukes. Warping. Millions of fictional people dying in massive planetary battles. Trillions of dollars worth of damage per second. Yeah, that's Dreadnought.
Subscribe to the Daily Downloads Newsletter
Thank you for sharing this page.
Sorry! There was an error emailing this page
Section: Articles -
File Under: Business |
The Sims 4 was released this week, but some people who eagerly snatched up a copy soon found themselves perplexed by an apparent bug: The entire game eventually became blurry and pixelated, with the effect beginning as a way to obscure nude Sims and blossoming out from there. Did a major error slip through EA's playtesting?
Nope. Those blurry pixels are intentional—and they appear only if you're using an illegitimate version of The Sims 4. Yes, EA is messing with game pirates.
This isn't the first time a developer's decided to get cute with its anti-piracy measures. In fact, some of the methods game makers have used over the years to thwart pirates have been downright insane. Here are some of the craziest, most hilarious examples.
Section: Articles -
File Under: Business |

Alibaba is looking to raise as much as US$21 billion in its U.S. IPO, according to documents filed Friday, making the Chinese e-commerce company's debut one of the largest initial public offerings in U.S. history.
Its stock will be priced between $60 and $66 per share, according to a prospectus filed with the U.S. Securities and Exchange Commission. At the top of that range, if Alibaba sells just over 320 million shares as planned, it would bring in just over $21 billion. According to published reports, using the midpoint of that range Alibaba would be valued around $160 billion.
The company is expected to begin its global roadshow in New York City on Monday, when executives will meet with potential investors before moving on to Europe, the Middle East, and Asia. The roadshow is expected to end on Sept. 18 with the pricing of the shares, which would go on sale the following day. Alibaba will trade on the New York Stock Exchange under the symbol "BABA."
Previous IPO documents showed Alibaba sold more merchandise than eBay and Amazon combined. But instead of using its own inventory of goods, as Amazon does, Alibaba manages an online marketplace for connecting merchants with consumers. The company runs the Taobao Marketplace and Tmall, two of China's largest online retail sites. In addition, Alibaba affiliate Alipay is China's largest third-party online payment service.
Alibaba has sold to U.S. customers through its supplier sites AliExpress and Alibaba.com, but the company is looking to expand in this country. It recently launched a new site called 11Main, which currently acts as an invitation-only marketplace offering items from specialty shops for clothing, jewelry and the arts.
One of the company's biggest challenges in the U.S. is that consumers don't know the company well.
"When an Internet company of our scale that originated in China enters the global scene, you should expect that it will encounter skepticism from different directions due to differences in cultural perspectives, values and even geopolitical positioning," said founder and executive chairman Jack Ma, in an accompanying letter to investors.
Yahoo holds roughly a 24 percent stake in Alibaba. But the Internet company will sell roughly 121 million shares in the IPO, according to the prospectus, decreasing Yahoo's ownership to 16 percent. At $63 per share, the stock Yahoo is selling would be worth about $7.62 billion.
Alibaba was formed in 1999 as a way to help small exporters in manufacturing and trading reach global buyers.


Zach Miners
, IDG News Service
Zach Miners covers social networking, search and general technology news for IDG News Service
More by Zach Miners
Subscribe to the Best of PCWorld Newsletter
Thank you for sharing this page.
Sorry! There was an error emailing this page
Section: Articles -
File Under: Business |

It's been a big week for smartwatches and the next few days could be even bigger if rumors are true and Apple enters the battle for the wrist on Tuesday.
The company has been such a tremendous force in the smartphone and tablet markets that anything it does could quickly become the standard to which others are measured.
But what does Apple itself have to measure up to?
I spent time on the IFA show floor in Berlin using the new watches from Samsung, LG, Sony, Asus and Motorola and the bar Apple needs to clear is pretty low. All five models are clunky and I get the sense they're still not above the level of high-tech toys for geeks.
The software
Four of the five phones run Google's Android Wear operating system, a customized version of Android for smartwatches. It provides alerts about emails, weather, calendar items and details of flights, and there's also maps, a calculator, games and a fitness tracker.
The exception is Samsung's Gear S, which runs the Tizen operating system and has a 3G modem built in. It also has a tiny on-screen keyboard that can be used to reply to messages and can even be used to make calls. Samsung is pushing the watch as a mini phone in its own right, but that might be too much.
It's a good bet that Apple, famous for minimalist design, will tailor its smartwatch to do a small number of things very well rather than a lot of things in a mediocre fashion. It probably won't be overloading its watch with gizmos and features. An intriguing rumor is that the watch will support wireless payments, something missing from all five watches launched at IFA.
The screen
Just about all the interaction with a watch is done through the touchscreen display, so it's a shame that none of the watches here had better screens. At around 200 or 300 pixels per inch, they're noticeably less sharp than the screens on high-end smartphones, some of which have over 400 pixels per inch.
A sharper screen means greater power consumption, so it could be a conscious trade-off by designers, but this is an area that's ripe for improvement. Apple made waves with its "retina" screens in the past and it's a natural area for the company to attack competitors.
The battery
On the subject of power, most of the new phones will require charging every day or at least every other day.
With Sony's Smartwatch 3, that's via a USB port on the back of the device—a fiddly proposal. LG had a magnetic dock with built in charging terminals but Motorola has gone for wireless charging—a much better idea for daily charging and something that's rumored to have been adopted by Apple.
The looks
It's difficult to pass judgement on something as subjective as looks. As with conventional watches, what's handsome to one person is ugly to another. But while styling differs, there's one thing constant: all the watches here are about a centimeter thick. That's perhaps expected for a new technology and an area that will certainly improve, but one that could significantly benefit the first company to make a thin and stylish watch.
Apple's famous industrial design is perhaps the one piece of its smartwatch that is most anticipated and it would be great if the company came up with something stylish and didn't imitate a wristwatch from the past. Who said a smartwatch had to look like a wristwatch anyway? One thing's for sure: whatever Apple comes up with, it will have plenty of imitators.
The protection
On a wrist and exposed to the elements all the time, protection from water and dust is important. A gadget's resistance to dust and water is signaled by an IP rating and on smartwatches there's a big range. At IP55, the Asus Zenwatch is only resistant to a little dust and water, while Sony's Smartwatch 3 is rated to IP68, which means dust won't get inside and it can be submerged in up to a meter of water with no problem.
Getting this right isn't perhaps as difficult as miniaturization, but it is a crucial area for Apple. The launch of a smartwatch would be ruined if people complain about scratches and wear and tear after a few days.

Martyn Williams
, IDG News Service

Martyn Williams covers mobile telecoms, Silicon Valley and general technology breaking news for The IDG News Service.
More by Martyn Williams
Subscribe to the Best of PCWorld Newsletter
Thank you for sharing this page.
Sorry! There was an error emailing this page
Section: Articles -
File Under: Business |

Smartphones introduced at the IFA trade show in Berlin this week highlight trends that will grow more apparent over the next year, including the use of 64-bit processors, LTE-Advanced and super high-resolution screens.
With smartphone makers all having access to the same components it's a good bet that features and technologies that show up on one device will make their way to other products as well. These were the hardware trends at IFA this year:
64-bit smartphones
Just as 64-bit processing has taken over from 32-bit in PCs, they are poised to do the same in smartphones. They'll bring better graphics performance with the ability to decode and encode high-resolution video more quickly, according to Intel, and should help speed up features like encryption.
The processors are just becoming available now, and HTC's Desire 510 and Lenovo's Vibe Z2 use the 64-bit capable Snapdragon 410 from Qualcomm. HTC has also launched the Desire 820, which uses the Snapdragon 615.
The smartphones won't take full advantage of the processors until Google launches the 64-bit compatible Android L later this year. Until then, they will use the standard 32-bit version of Android, which Qualcomm's processors can also run.
In addition to Intel and Qualcomm, Nvidia and MediaTek are also developing 64-bit processors. Apple started the changeover when it launched the iPhone 5s with a 64-bit A7 chip last year.
LTE-Advanced
One advantage with the Snapdragon 805 is support for LTE-Advanced, a network technology that offers speeds up to 300Mbps by sending data over multiple frequency bands at the same time.
For it to work, mobile operators have to upgrade their networks, but that's slowly becoming a reality. As of the end of the first quarter, ABI Research estimated there were about 60 trials, commitments and commercial deployments worldwide.
The Note 4 and Huawei's Ascend Mate7, which uses one of the company's own Kirin processors, both work with the technology.
Quad HD screens
Larger screens with higher resolutions have been one of the biggest smartphone trends in the last couple years. While screen sizes have reached a point where making them bigger doesn't make sense, the resolution still has room for improvement.
LG started the trend with the launch of the G3, which has an impressive 5.5-inch screen with 2560 by 1440 pixel resolution, or quad HD. Samsung followed suit with the Note 4's 5.7-inch quad HD screen, which is also superb.
Next year it's likely that we'll see more smartphones with the higher resolution, as vendors come under pressure to set their flagship devices apart from increasingly competent and much cheaper models.
Mikael Ricknäs, IDG News Service
, IDG News Service
For comprehensive coverage of the Android ecosystem, visit Greenbot.com.
Subscribe to the Best of PCWorld Newsletter
Thank you for sharing this page.
Sorry! There was an error emailing this page
Section: Articles -
File Under: Business |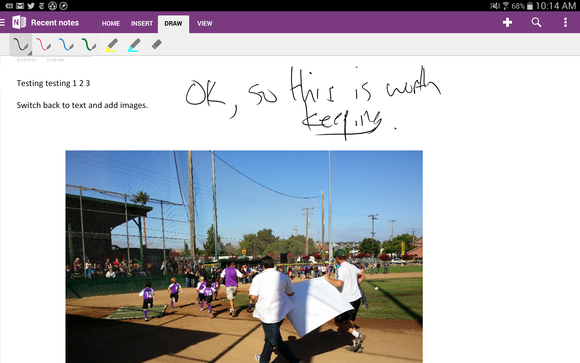 Mark Hachman
Microsoft released a major update to its OneNote for Android app today, adding handwriting input and tablet support and bringing Android users closer to the OneNote experience the company envisioned for the Microsoft Surface.
When the Surface Pro 3 was announced, OneNote figured significantly into the release. Microsoft's Panos Panay positioned the tablet as an effective digital inking device that even launches OneNote when users click the stylus. Once inside the app, users can mix and match typed notes and text, written annotations, audio, and images. And thanks to another update today, the Windows app can also import files such as PowerPoint documents and PDFs, as well as highlight text in notes and print them.
Many of these features have now been brought to the OneNote for Android app.
The addition of handwriting support is long overdue. Suddenly OneNote for Android feels like OneNote. I downloaded the app onto our Galaxy Tab Pro, a large Android tablet with roughly the same dimensions of the Surface Pro 3 and a stylus to boot.
Microsoft
The OneNote app for Android includes an Office-style ribbon. Unfortunately, to format text, you need to click the text, then the "Home" tab, then apply your edits.
You can't perform the wake-on-click-the-stylus trick—clicking the button on the Tab Pro's stylus brings up the familiar Samsung radial menu and nothing OneNote specific. But just the ability to type in a note, pull in an image, and then scrawl an inked note next to it is refreshing. You still can't import a PDF or PowerPoint presentation into the OneNote for Android app, but you can get around it with a quick snapshot or by exporting the files as JPEGs. 
By bringing new capabilities to its standard apps on various platforms at different times (Microsoft recently updated its Mac and iOS versions of OneNote, as well),  it feels a bit like watching a horse race run by Windows, the Mac, iPads and iPhones, Windows Phones, and Android devices. Personally, it's still frustrating to pull out a Lumia phablet and be forced to either type or dictate a quick note to myself because OneNote for Windows Phone hasn't yet implemented handwriting support. 
We gave the Samsung Galaxy Tab Pro high marks for its productivity earlier this year, based on its large screen size and multi-window capability. Now, Microsoft has given the Tab Pro and its competitors an additional boost.
Microsoft's OneNote for Android is available now in the Google Play Store.
Subscribe to the Best of PCWorld Newsletter
Thank you for sharing this page.
Sorry! There was an error emailing this page
Section: Articles -
File Under: Business |

The U.S. Federal Communications Commission has the green light to collect new data on the pricing of so-called special access services, the middle-mile network services used to deliver business broadband and mobile service backhaul.
The U.S. White House Office of Management and Budget (OMB) has given the FCC permission to collect new data in the long-running dispute over special access pricing. The FCC announced this week that the OMB approval was needed for the agency to comply with the Paperwork Reduction Act, a law designed to reduce the paperwork burden the government imposes on businesses.
AT&T and Verizon Communications control an estimated 80 percent of the special access market, and competitors have complained for years that the two dominant telecom carriers are charging excessive prices for special access services. Special access is used by businesses for broadband, credit-card processing and cash machines, as well as by competing telecom and mobile carriers for backhaul.
Several competitors to AT&T and Verizon proposed the OMB approval for data collection in the FCC's slow-moving inquiry into special access rates. The FCC circulated a proposed order on special access in mid-2012, but late that year, also asked for comments on the special access market. Those comments aren't due until late this year.
Complaints about special access rates date back to years earlier.
OMB's approval will help "pave the way for the commission's review of business broadband service providers' market power, business practices, and pricing," carrier TW Telecom said in a statement. "The FCC's access to this pertinent market data will help open the window to increased competition in the industry."
The NoChokePoints Coalition, a group calling for FCC intervention in the special access market, called the OMB approval an important step forward.
"Countless industries and organizations and hundreds of millions of customers across the country depend on this critical broadband infrastructure to connect our cell phones, workplaces, banks, factories, data centers, universities, and hospitals to enable communications among customers, employees, suppliers, government, and each one of us," a coalition spokeswoman said by email.
The FCC last collected data on special access in 2007 and showed large profits by the incumbent carriers, she said.
Asked for a response to the OMB approval, an AT&T spokeswoman pointed to a 2012 blog post by Bob Quinn, the company's senior vice president of federal regulatory affairs.
FCC inquiries into the special access market are unnecessary because the telecom industry is moving to newer technologies, AT&T has argued.
FCC data collection on special access fees comes "against a backdrop where the industry ... is rapidly moving yesteryear's copper-based special access services to fiber-based, IP services," Quinn wrote in 2012. "This transition is attracting new competitors, creating greater network capacity and broadband speeds, and promoting industry-wide investment and job-creation."
FCC Chairman Tom Wheeler, however, called special access "increasingly important in the digital economy." The new data collection will help the FCC "better understand competition in this marketplace, and the impact on consumers as we pursue the commission's statutory mandate to ensure special access services are provided at reasonable rates and on reasonable terms and conditions," he said in a statement.


Grant Gross
Reporter, IDG News Service
Grant Gross covers technology and telecom policy in the U.S. government for The IDG News Service.
More by Grant Gross
Subscribe to the Best of PCWorld Newsletter
Thank you for sharing this page.
Sorry! There was an error emailing this page
Section: Articles -
File Under: Business |
«
Start
Prev
1
2
3
4
5
6
7
8
9
10
Next
End
»
Page 1 of 27