Business

A fake antivirus program in circulation uses at least a dozen stolen digital code-signing certificates, indicating cybercriminals are increasingly breaching the networks of software developers, Microsoft wrote on Sunday.
The application, branded as "Antivirus Security Pro," was first detected in 2009 and has gone by a handful of other names over the years, according to a Microsoft advisory, which calls it by a single name, "Win32/Winwebsec."
Digital certificates, issued by Certification Authorities (CAs), are used by developers to "sign" software programs, which can be cryptographically checked to verify that a program hasn't been tampered with and originates from the developer who claims to write it.
If a hacker obtains the authentication credentials to use a certificate, they can sign their own programs, which makes it appear the applications come from a legitimate developer.
The samples of Antivirus Security Pro collected by Microsoft used stolen certificates issued "by a number of different CAs to software developers in various locations around the world," the company wrote.
The certificates were issued to developers in the Netherlands, U.S., Russia, Germany, Canada and the U.K. by CAs such as VeriSign, Comodo, Thawte and DigiCert, according to a chart.
Using stolen certificates is not a new tactic, but it is usually considered difficult to accomplish since hackers have to either breach an organization or an entity that issues the certificates.
One of the certificates was issued just three days before Microsoft picked up samples of Antivirus Security Pro using it, indicating "that the malware's distributors are regularly stealing new certificates, rather than using certificates from an older stockpile."
Microsoft noticed another fake antivirus program, which is called "Win32/FakePav," is also rotating stolen certificates.
Win32/FakePav has gone by more than 30 other names since its detection around 2010. It didn't use any signing certificates in its early days. The malware was inactive for more than year until new samples were recently discovered that used a certificate, which was substituted after just a few days with another one. Both certificates were issued in the same name but by different CAs, Microsoft wrote.
To prevent problems, software developers should take care to protect the private keys used for code-signing on securely-stored hardware devices such as smart cards, USB tokens or hardware security modules. If a certificate is believed to have been compromised, CAs can revoke it.
"Not only is it inconvenient, and often expensive, to have the certificate replaced, it can also result in loss of your company's reputation if it is used to sign malware," the company wrote.


Jeremy Kirk
Australia correspondent, IDG News Service
Subscribe to the Security Watch Newsletter
Thank you for sharing this page.
Sorry! There was an error emailing this page
Section: Articles -
File Under: Business |
Teams of researchers are hoping to give life to a six-foot, 330-pound humanoid robot at the the Robotics Challenge in Homestead, Florida on December 20 and 21.
The teams are expected to enable the robot—and others—to autonomously walk, use human tools, and drive a car.
The event is sponsored by DARPA, or the Defense Advanced Research Projects Agency, an arm of the U.S. Department of Defense that focuses on advanced research.
DARPA said the program at the Homestead Miami Speedway, is aimed at developing robots capable of working hand-in-hand with humans during natural or man-made disasters.
The NASA Valkyrie.
"Think of the nuclear plants that were damaged during the tsunami in Japan," said David Conner, a senior research scientist with TORC Robotics, whose team is includes with roboticists from Virginia Polytechnic Institute, better known as Virginia Tech. "If they could have gone in and opened some valves to vent some of the hydrogen, they could have avoided an explosion. If we could have sent a robot in to do that task, it wouldn't have put humans in danger. That's the motivating goal in this project.
"We're working to raise the realm of what's possible," he added.
The test is part of a multi-year competition that's divided into three phases. The Florida event is the second phase. The final phase is set for late in 2014. The winner will receive a $2 million prize.
"Robots right now, for the most part, are either on stationary bases working on repetitive tasks or working in a lab," said Gill Pratt, a DARPA program manager. "We're trying to move to task-level autonomy. Instead of saying, 'Move ahead a tenth of an inch,' we'd say, 'Move forward and open that door.' During a disaster, communications could be very poor. The robot needs more smarts to be able to do things on its own."
Robots have yet to reach that level of development. In fact, to date they are far from it.
However, Peter Neuhaus, a research scientist and member of the Florida Institute for Human and Machine Cognition team, said that at the close of the current challenge next year, the vision of having a robot work in a disaster area will be much closer.
The event includes teams from NASA's Jet Propulsion Labs, MIT, Carnegie Mellon University, Drexel University, and Virginia Tech. They are charged with having their robot complete eight different tasks.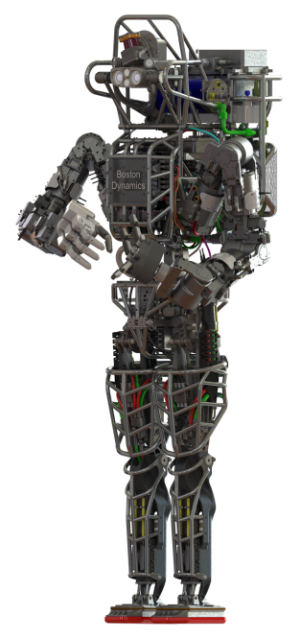 Boston Dynamics' Atlas
The robots will have 30 minutes to complete each task in the challenge. They include climbing a ladder, removing debris, opening and walking through doors, cutting a hole into a wall, turning valves and driving a car.
The tasks are geared to test the robot's mobility, dexterity, perception, and operator control mechanisms.
"The robots are not at the level of task autonomy we would like to see," said Pratt. "We expect their human operators will play a big role. Ultimately, the robot will need to recognize its environment and plan its moves to accomplish its tasks."
The point of the challenge is to push robotics technology to become more autonomous, deciding themselves how best to move around obstacles and how to get to where they need to be.
"It's a robot approximating human capabilities," Connor said. "This is the most ambitious challenge to get all of the systems integrated into a robot acting outdoors. Each individual piece, such as the steering controller or obstacle avoidance, has been demonstrated. But taking that obstacle detection capability into a humanoid robot that is actually steering a car? That's new."
Human controllers will be involved at a higher level than in the past.
For instance, the robots are too complex to control every joint so a human may have to command it to turn a valve while the device figures which individual joints, like the elbow and the wrist, need to be engaged.
"The software is interpreting these high-level commands into low-level commands for how it will get that done," noted Connor.
Complex software
And R.J. Linton, a Ph.D. candidate and member of the team from the Worcester Polytechnic Institute, said it's a much greater challenge to build the software for a humanoid robot, than for a four-legged or wheeled robot.
"The human form is bad in general," he explained. "We have an unstable gate. The humanoid shape is inherently unstable. You're always shifting weight to maintain balance. You have to teach a robot how to do that. Atlas has to always be kind of moving, just like a human."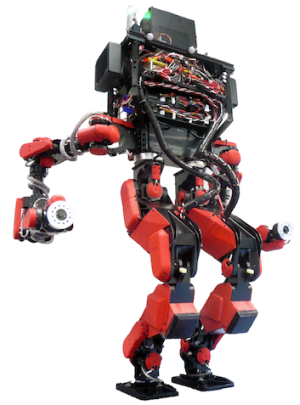 SCHAFT's HRP-2 robot.
Neuhaus said humanoid robots are in their infancy and called the challenge a good starting point for needed research.
"There are some technical challenges—no one really felt it was possible," he said. "It involves solving a lot of problems at the same time. You have to solve the [artificial intelligence] challenge, embedded computers, actuation, algorithms for walking and balancing and manipulation. You have to fit all of that into the same research project. Researchers might work on individual parts but not the entire thing."
A big issue for a humanoid robot, for instance, is enabling it to have the hands do something while it's walking. Those two simple sounding tasks might involve 30 or 40 joints working simultaneously and in unison.
"We spend a few years of our lives learning how to control our [joints] and our sense of balance and pushing that task down to a reflex," said Neuhaus. "When a one-year-old is learning to walk, it's at the forefront of their cognition. They're really thinking hard about how to do it. When you're older, you can walk and think about other things at the same time."
Some teams are building their own robot and the software to run it, while others are developing software for the Boston Dynamics Atlas robot, a six-foot, two-legged, humanoid robot that, at this point, has the mobility and dexterity of a one-year-old child.
When the robotics challenge began, 100 teams registered and 26 qualified to compete. The number was thinned to 17 in June after the software was tested in simulation.
The 17 teams remaining are receiving financial backing from DARPA. The field will be narrowed to eight teams or less after the latest challenge.
According to Linton, a humanoid robot capable of assisting humans during a natural disaster is possible within the next ten years.
Sharon Gaudin
, Computerworld

Sharon Gaudin covers the Internet and Web 2.0, emerging technologies, and desktop and laptop chips for Computerworld.
More by Sharon Gaudin
Subscribe to the Best of TechHive Newsletter
Thank you for sharing this page.
Sorry! There was an error emailing this page
Section: Articles -
File Under: Business |
Subscribers to organizations that sell exploits for vulnerabilities not yet known to software developers gain daily access to scores of flaws in the world's most popular technology, a study shows.
NSS Labs, which is in the business of testing security products for corporate subscribers, found that over the last three years, subscribers of two major vulnerability programs had access on any given day to at least 58 exploitable flaws in Microsoft, Apple, Oracle, or Adobe products.
In addition, NSS labs found that an average of 151 days passed from the time when the programs purchased a vulnerability from a researcher and the affected vendor released a patch.
Some vendors buy in
The findings, released earlier this month, were based on an analysis of ten years of data from TippingPoint, a network security maker Hewlett-Packard acquired in 2010, and iDefense, a security intelligence service owned by VeriSign. Both organizations buy vulnerabilities, inform subscribers, and work with vendors in producing patches.
Stefan Frei, NSS research director and author of the report, said the actual number of secret vulnerabilities available to cybercriminals, government agencies and corporations is much larger, because of the amount of money they are willing to pay.
Cybercriminals will buy so-called zero-day vulnerabilities in the black market, while government agencies and corporations purchase them from brokers and exploit clearinghouses, such as VUPEN Security, ReVuln, Endgame Systems, Exodus Intelligence, and Netragard.
The six vendors collectively can provide at least 100 exploits per year to subscribers, Frei said. According to a February 2010 price list, Endgame sold 25 zero-day exploits a year for $2.5 million.
In July, Netragard founder Adriel Desautels told The New York Times that the average vulnerability sells from around $35,000 to $160,000.
Security: A moving target
Part of the reason vulnerabilities are always present is because of developer errors and also because software makers are in the business of selling product, experts say. The latter means meeting deadlines for shipping software often trumps spending additional time and money on security.
Because of the number of vulnerabilities bought and sold, companies that believe their intellectual property makes them prime targets for well-financed hackers should assume their computer systems have already been breached, Frei said.
"One hundred percent prevention is not possible," he said.
Therefore, companies need to have the experts and security tools in place to detect compromises, Frei said. Once a breach is discovered, then there should be a well-defined plan in place for dealing with it.
That plan should include gathering forensic evidence to determine how the breach occurred. In addition, all software on the infected systems should be removed and reinstalled. Steps taken following a breach should be reviewed regularly to make sure they are up to date.
Subscribe to the Security Watch Newsletter
Thank you for sharing this page.
Sorry! There was an error emailing this page
Section: Articles -
File Under: Business |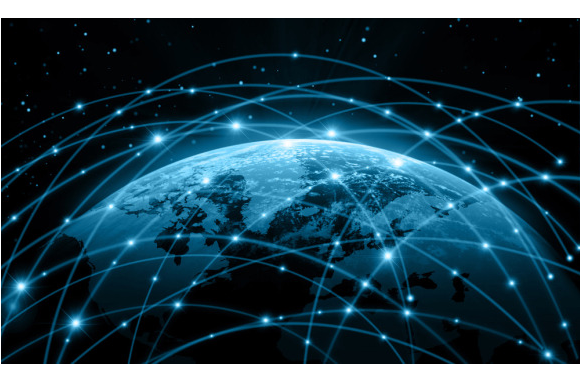 Next year will see demonstrable evidence of the Internet of Things, real-time communications on the Web, and software-defined networking platforms with killer applications for them.
So says Cisco, which recently offered its own predictions on technology trends for 2014. They understandably include markets Cisco is focusing on and looking to drive in order to grow revenue.
Maciej Kranz
The first is the Internet of Things, a market that includes IP-enabled sensors embedded in machines to allow them to connect and share information with people and other machines across the Internet. This market will see 50 billion devices connected by 2020 and a value of $14.4 trillion, Cisco has said.
Three examples of the Internet of Things in action that will emerge in the next 12 months include real-time information, scale, and analytics, says Maciej Kranz, vice president of the Cisco's corporate technology group. An example of real-time information in the Internet of Things is data collected centrally from global production locations, and then readily acted upon by product managers or developers.
An example of scale might be a logistics company needing predictive maintenance information on the shipment of packages. If one tracking site is getting "hot," Kranz says, perhaps package trackers can take action to alleviate shipment bottlenecks.
For analytics, perhaps a vending machine that can notify a supplier when its inventory is getting low instead of that supplier manually visiting each and every vending location to check on inventory. Or an oil rig in the middle of the ocean able to proactively share data on its status with a central monitoring facility.
Real-time web communications
Another expectation for next year is the use of real-time communications on the Web, such as that enabled by WebRTC. This technology enables browser-to-browser audio and video conferencing, and Cisco is looking to have an H.264 codec added to WebRTC.
Susie Wee
Such a capability might be helpful in "high-end" travel where flight arrangements could be quickly changed in the event of inclement weather, says Susie Wee, Cisco vice president and chief technology officer for networked experiences. It could also be helpful in call centers to improve business-to-consumer interactions, she says.
Another trend Wee sees emerging next year is the integration of Internet of Things data from sensors with collaboration tools used by decision making personnel. Such "contextual collaboration" could speed decision making and help enterprises such as retailers better engage with customers.
And with 50 billion devices coming online in just six or so years, Cisco predicts the Internet will ramp up usage of IPv6 addresses next year to prepare for it.
"There are more addresses than atoms on the Earth" with IPv6, says Dave Ward, Cisco chief technology officer of engineering and chief architect.
Ward also expects the hype curve associated with software-defined networking to trend downward next year, replaced instead by actual SDN-enabled platforms offering networking-as-a-service. Such NaaS platforms will employ SDN to integrate networking, servers, storage and applications, he says, presumably as IT cloud services for enterprises.
But what will drive enterprises towards that model will be killer apps, such as virtualized services on top of these SDN-based networks, says Lauren Cooney, Cisco senior director of strategy and planning. Such applications expected in 2014 include security automation tools, analytics and mobility enablers, she says.
Subscribe to the Business Brief Newsletter
Thank you for sharing this page.
Sorry! There was an error emailing this page
Section: Articles -
File Under: Business |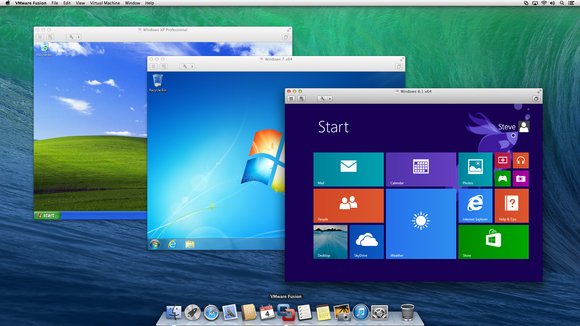 Microsoft may revert to separate release schedules for consumer and business versions of Windows, the company's top operating system executive hinted recently.
At a technology symposium hosted by financial services giant Credit Suisse, Tony Myerson acknowledged the operating system adoption chasm between consumers and more conservative corporations. Myerson, who formerly led the Windows Phone team, was promoted in July to head all client-based OS development, including smartphones, tablets, PCs, and the Xbox game console.
"The world has shown that these two different customers really have divergent needs," Myerson said, according to a transcript of his time on stage. "And there may be different cadences, or different ways in which we talk to those two customers. And so [while Windows] 8.1 and [Windows] 8.1 Pro both came at the same time, it's not clear to me that's the right way to serve the consumer market. [But] it may be the right way to continue serving the enterprise market."
Previous policy
Myerson's comment hinted at a return to a practice of about ten years ago, when Microsoft delivered new operating systems to the company's consumer and commercial customers on different schedules.
Before 2001's arrival of Windows XP—when Microsoft shipped consumer and business versions simultaneously—Microsoft aimed different products, with different names, at each category. In 2000, for example, Microsoft delivered Windows ME, for "Millennium Edition," to consumers and Windows 2000 to businesses. Prior to that, Windows 95, although widely used in businesses, was the consumer-oriented edition, while Windows NT 4.0, which launched in 1996, targeted business PCs and servers.
The update/upgrade-acceptance gap between consumers and businesses reappeared after Microsoft last year said it would accelerate its development and release schedule for Windows, then delivered on the first example of that tempo, Windows 8.1, just a year after the launch of its predecessor.
Enterprises have become nervous about the cadence, say analysts. Businesses as a rule are much more conservative about upgrading their machines' operating systems than are consumers: The former must spend thousands, even millions, to migrate from one version to another, and must test the compatibility of in-house and mission-critical applications, then rewrite them if they don't work.
That conservative approach to upgrades was a major reason why Windows XP retained a stranglehold on business PCs for more than a decade, and why Windows 7, not Windows 8 or 8.1, has replaced it.
It's extremely difficult to serve both masters—consumer and commercial—equally well, said Patrick Moorhead, principal analyst at Moor Insights & Strategy. "No one has yet mastered being good on enterprise and good on consumer," said Moorhead in an interview. "[The two] are on completely different cycles."
Ballmer's take
In October, outgoing CEO Steve Ballmer dismissed concerns over the faster pace. At a Gartner Research-sponsored conference, when analyst David Cearley noted, "Enterprises are concerned about that accelerated delivery cycle," Ballmer simply shook his head.
"Let me push back," said Ballmer, "and say, 'Not really.' If our customers have to take DVDs from us, install them, and do customer-premise software, you're saying to us 'Don't upgrade that software very often ... two to three years is perfect.' But if we deliver something to you that's a service, as we do with Office 365, our customers are telling us, 'We want to be up to date at all times.'"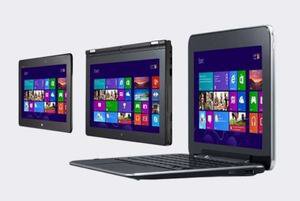 Another Gartner analyst, Michael Silver, countered Ballmer's claim. "Organizations need to be afraid of what's to come," Silver said at the time. "If [companies] get on this release train, Microsoft will take them where [Microsoft] wants to go, or [Microsoft] will run them over."
Myerson's hint of separate release trains, to use Silver's terminology, may be a repudiation of Ballmer's contention. Or not.
His statement of, "It may be the right way to continue serving the enterprise market," could be interpreted to mean that Microsoft will maintain an accelerated tempo for business versions of Windows—one faster than the three years between upgrades that the company has used in the past—and speed up Windows updates to consumers even more.
"The consumer really is ready for things to be upgraded on their own," Myerson said.
"Microsoft's biggest strategic question is, 'Am I an enterprise company or a consumer company, or both?" said Moorhead. "Something has to break here."
And one crack might be, according to Myerson, a separation of consumer and commercial on Windows.


Gregg Keizer
This e-mail address is being protected from spambots. You need JavaScript enabled to view it , Computerworld

Gregg Keizer covers Microsoft, security issues, Apple, Web browsers and general technology breaking news.
More by Gregg Keizer
Subscribe to the Windows Tips & Trends Newsletter
Thank you for sharing this page.
Sorry! There was an error emailing this page
Section: Articles -
File Under: Business |

The person running a U.S. National Security Agency task force to assess the damage of the leaks by Edward Snowden told a TV network that granting him amnesty is "worth having a conversation about."
The NSA may be willing to do a deal with Snowden as reports suggest that the agency is not clear yet as to how much information its former contractor was able to collect from classified government computers.
But the director of the NSA, General Keith Alexander, told CBS TV news show 60 Minutes that people have to be held accountable for their actions.
Snowden, who has been granted temporary asylum by Russia, has disclosed through newspapers since June that the NSA was collecting bulk telephone records from Verizon besides having access in real-time to content on the servers of Internet companies, which the Internet companies have denied. The NSA is also said to be tapping into communications links between Yahoo and Google data centers, besides spying on a number of leaders of countries.
The NSA is worried that Snowden still has some 31,000 documents that could give intelligence adversaries a roadmap on what the U.S. knows and doesn't and could implicitly provide them a way to protect their information from U.S. intelligence, Rick Ledgett, who heads the NSA task force, told the 60 Minutes program.
"So, my personal view is, yes, it's worth having a conversation about," Ledgett said. "I would need assurances that the remainder of the data could be secured and my bar for those assurances would be very high. It would be more than just an assertion on his part."
Ledgett said the view was not unanimous. Alexander, for example, told the interviewer that "this is analogous to a hostage taker taking 50 people hostage, shooting 10 and then say, 'If you give me full amnesty I'll let the other 40 go.'" He added that "what we don't want is the next person to do the same thing, race off to Hong Kong and to Moscow with another set of data knowing they can strike the same deal."
The New York Times quoted an administration official as stating that investigators have spent "hundreds and hundreds of man-hours" trying to reconstruct everything Snowden extracted from government computers, but still don't know all of what he took. Snowden logged into classified systems using the passwords of other security agency employees and by hacking firewalls to gain access to certain parts of the system, according to the newspaper report.
Fearing Snowden had left behind a computer bug or virus, NSA removed the computers Snowden had access to on the NSA's classified and unclassified networks, including the actual cables that connected them, Ledgett said. The operation cost in the tens of millions of dollars, he added.
John Ribeiro
, IDG News Service
John Ribeiro covers outsourcing and general technology breaking news from India for The IDG News Service.
More by John Ribeiro
Subscribe to the Best of PCWorld Newsletter
Thank you for sharing this page.
Sorry! There was an error emailing this page
Section: Articles -
File Under: Business |
Microsoft says the launch of the Xbox One on Friday has been the most successful yet for its Xbox gaming console family.
The company sold 1 million consoles in less than 24 hours, it said, putting it roughly equal with the launch of Sony's PlayStation 4 a week earlier. Gamers on both platforms have been waiting several years for the companies to update their hardware, so strong sales at launch shouldn't come as a surprise.
"We are humbled and grateful for the excitement of Xbox fans around the world," Microsoft said.
Many of the 22 Xbox One games available at launch are played online, enabling Microsoft to collect data from its servers about the frenetic first day of gaming.
It said more than 60 million zombies have been killed in "Dead Rising 3," more than 3.6 million miles driven in "Forza Motorsport 5" and more than 8.5 million enemies defeated in "Ryse: Son of Rome."
The Xbox One has been well received by critics, who praised its graphics. The console's non-gaming features, such as the ability to access live television in some countries and integration of Skype, have also been noted.
With both Sony and Microsoft's consoles launched, game retailers and software makers are hoping for a strong holiday season.
Martyn Williams covers mobile telecoms, Silicon Valley and general technology breaking news for The IDG News Service. Follow Martyn on Twitter at @martyn_williams. Martyn's e-mail address is This e-mail address is being protected from spambots. You need JavaScript enabled to view it
Martyn Williams, IDG News Service
, IDG News Service

Martyn Williams covers mobile telecoms, Silicon Valley and general technology breaking news for The IDG News Service.
More by Martyn Williams, IDG News Service
Subscribe to the Daily Downloads Newsletter
Thank you for sharing this page.
Sorry! There was an error emailing this page
Section: Articles -
File Under: Business |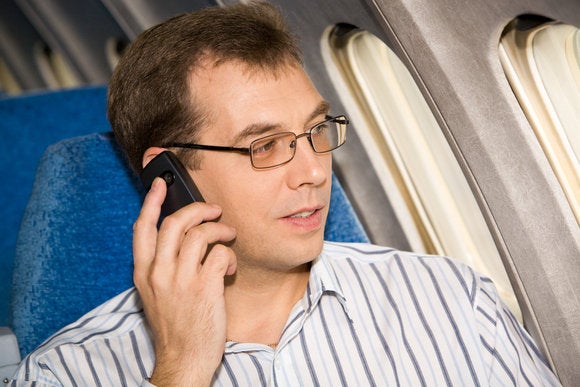 Anyone who dreads hearing one end of a loud phone call all the way from Anchorage to Miami, take heart: The plan to allow cellphones on planes could fail in more ways than an overbooked flight at a snowbound airport on Christmas Eve.
On Thursday, the U.S. Federal Communications Commission said it would consider a proposal to let airlines allow passengers to use cellular services while in flight. The services would use special onboard cells instead of regular towers on the ground and wouldn't be allowed below 10,000 feet.
The FCC is scheduled to discuss the subject at its next public meeting on Dec. 12. If the agency adopts the rule, it will be up to airlines to install the onboard cells and decide whether passengers can talk, text or use cellular data.
Nearly everyone welcomed the Federal Aviation Administration's decision last month to let travelers keep electronic devices on from gate to gate, but allowing cellphone calls in flight is a whole other matter. A flight attendants' union came out strongly against the idea, polls indicate most consumers are worried about it, and a congressman who has fought in-flight calling in the past may revive a bill that would ban it.
"Just imagine the nightmare. You're sitting there in coach, three across, and you're in between two people who are yelling on their cellphones," said Rep. Peter DeFazio, a Democrat from Oregon. "You can't sleep, you can't work."
History
In 2008, DeFazio introduced the Halting Airplane Noise to Give Us Peace (HANG UP) Act, which would have limited in-flight wireless services on airliners to data. The bill failed, but DeFazio said he probably will reintroduce it, if only to give opponents of the FCC's plan something to rally around.
OnAir, a Swiss in-flight cell carrier, links onboard cellular servers to the ground via satellites.
The U.S. is falling behind the rest of the world, if being able to use a cellphone in the air is progress. Many major international airlines, including Air France, Emirates, Singapore Airlines and Virgin Atlantic, already offer cellular service over countries where it's allowed. OnAir, a Swiss in-flight cell carrier, links onboard cellular servers to the ground via satellites. It boasts of roaming agreements with more than 350 mobile operators.
But even if the FCC lifts its rule, which was imposed in 1991 to prevent disruption of ground-based cellular networks, nothing will change in the U.S. unless airlines and service providers see a viable business in phone calls, analysts said.
History is not encouraging, according to Roger Entner of Recon Analytics. An earlier in-flight phone service, Verizon Communications' Airfone, used wired phones built into seatbacks and linked them to the ground via satellite. But most fliers balked at the high per-minute cost of using Airfone and Verizon shut the service down in 2006. In-flight cell service is offered on some airlines outside the U.S. at rates similar to international roaming, but it's not yet clear whether it's a moneymaker, Entner said.
"Somebody would have to make a leap and make it affordable, and hope there's enough volume coming," Entner said.
Little interest by U.S. airlines
U.S. airlines had a chance to allow voice calling through Internet services such as Skype when they installed in-flight Wi-Fi, but they have kept it off limits. Delta Air Lines reaffirmed this policy last month when the FAA opened up device use.
"Delta has years of customer feedback on the impact on the customer experience of voice communications and the overwhelming sentiment is to continue with a policy that could not allow voice communications while in flight," Delta said.
In a survey last year by the Consumer Electronics Association and the Airline Passengers Experience Association, 61 percent of respondents listed voice calling as a part of the in-flight experience that should be restricted. An informal online poll by Network World on Friday got similar results: By late in the afternoon, 74 percent of voters had opposed the FCC's plan.
OnAir, not surprisingly, came out in favor of the proposal. In a statement, the company downplayed the social hazards.
"Forget the hyperbole about the chaos inflight cellphone usage could cause. The issue simply hasn't arisen anywhere in the world in the past six years," the company said in a statement attributed to CEO Ian Dawkins. "An aircraft is a noisy environment, so the sound of a conversation doesn't carry very far. Flight attendants can also control the use of Mobile OnAir by disabling the voice element during quiet times, such as the plane's night."
Rep. DeFazio questions why it's even necessary to take the risk if data services provide numerous ways to communicate silently while in flight.
"What is to be gained in a very small tube, which echoes, which is already a very tense environment?" he said.

Stephen Lawson, IDG News Service
, IDG News Service
Stephen Lawson covers mobile, storage and networking technologies for the IDG News Service.
More by Stephen Lawson, IDG News Service
Subscribe to the Best of TechHive Newsletter
Thank you for sharing this page.
Sorry! There was an error emailing this page
Section: Articles -
File Under: Business |
Bitcoin scored several big wins this week, including endorsements from U.S. federal officials and Virgin Group founder Richard Branson, signalling its progress toward wider acceptance.
Bitcoin has battled concerns about volatility, criminal use and potential government crackdowns, but people continue to invest in the virtual currency. It may still be a way from mass market acceptance, but developments over the past few days show it gaining support beyond enthusiasts, Libertarians and black market traders.
On Monday, federal officials including the acting assistant attorney general at the Department of Justice argued that Bitcoin could benefit the financial system and global commerce more broadly. But the anonymous nature of the currency, which makes it attractive for black market transactions, must be watched, they said.
Some see Bitcoin more as an investment -- if a potentially risky one -- than a legal tender. On Friday a bitcoin was worth more than US$800 on the Mt. Gox exchange, up from just $30 earlier this year. Bitcoin is managed and traded on a peer-to-peer network and is meant to be free of regulation by any central financial authority.
The recent positive attention Bitcoin has received increases its legitimacy and means more people now see it as a real currency, said Jordan McKee, an analyst with the Yankee Group, who has been tracking Bitcoin's evolution.
Take British billionaire Richard Branson. The Virgin Group founder's space travel startup Virgin Galactic will start accepting payments in bitcoins, Branson announced Friday, a currency he referred to as "one of the world's most innovative businesses looking to the future."
"For people who can afford to invest a little in bitcoins, it's worth looking into," said Branson, an investor in the currency himself.
There's also a documentary in the works about Bitcoin and the "deep web," by "Bill & Ted's Excellent Adventure" actor Alex Winter. "Guns, drugs and murder, and a new global currency created by hackers that exist outside the control of government and banks," Winter says of the movie on his Kickstarter page.
Bitcoin will even have a role during the U.S.' post-Thanksgiving shopping orgy known as Black Friday, making it part of American consumerism at its best. Through an event organized by the Bitcoin community, a hodgepodge of online merchants like CheapAir, Gyft and Mixed Tees are participating in the shopping extravaganza by giving exclusive deals to shoppers if they pay in bitcoins.
All this traction is great for Bitcoin, but it still has a ways to go before it becomes mainstream. The ways people pay for goods now are pretty well entrenched, Yankee's McKee said.
"Nearly every form of electronic payment rides the rails the [credit] card networks have forged," he said, adding, "it's unlikely anything will circumvent this system anytime soon."
It's a wonder Bitcoin is still around at all, after a series of shutdowns of exchanges, account seizures and massive selloffs. Tokyo-based Mt. Gox, one of the largest exchanges, temporarily shut down in April after a huge drop in the currency's price.
Some groups have still not gotten back on their feet. Tradehill, another large Bitcoin exchange, said in August that it would be suspending its trading, citing banking and regulatory issues. Trading has not been resumed, judging by its website.
Still, the number of stores accepting the virtual currency continues to rise. Bitpay, which provides a service that makes it easier for merchants to get paid in bitcoins, says it's now used by 12,000 merchants worldwide.
Zach Miners covers social networking, search and general technology news for IDG News Service. Follow Zach on Twitter at @zachminers. Zach's e-mail address is This e-mail address is being protected from spambots. You need JavaScript enabled to view it

Zach Miners, IDG News Service
, IDG News Service
Zach Miners covers social networking, search and general technology news for IDG News Service
More by Zach Miners, IDG News Service
Subscribe to the Daily Downloads Newsletter
Thank you for sharing this page.
Sorry! There was an error emailing this page
Section: Articles -
File Under: Business |
«
Start
Prev
1
2
3
4
5
6
7
8
9
10
Next
End
»
Page 1 of 16