Earth
Sewage discharges keep threatening British surf spots
10 July 2014

|

Environment
The British non-governmental organization has been warning the surfing community for the alarming number of sewage spills in the country, but the latest threats can put in danger the health of beach users, especially in summertime.
South West Water, the company which provides water for Cornwall, confirmed that "unfortunately, during periods of intense rainfall, the system can sometimes become overloaded."
Surfers Against Sewage believes there should be approved tighter regulation of sewer overflows to protect British surf spots from raw sewage pollution. The institution led by Hugo Tagholm is creating the Protect Our Waves All Party Parliamentary Group (APPG) to ignite debates in the House of Commons.
There are over 500,000 regular surfers in the United Kingdom. The number of Combined Sewer Overflows (CSOs) in the country is of 31,000. Many of these are completely unregulated.
Section: Articles -
File Under: Earth |
Large barrel jellyfish spotted in Cornwall
08 July 2014

|

Environment
Matt Slater, marine conservationist at the Cornwall Wildlife Trust, was swimming in the Percuil Estuary with his dog, when he spotted a large "Rhizostoma pulmo" just a couple of meters underwater.
"These creatures are incredibly beautiful when you get a close look at them. The tentacles really look like soft coral, and round the edge of the jellyfish's umbrella like bell there is a deep blue line punctuated every twenty centimetres or so with a tiny dot, a sensory statocyst," Slater tells the Cornish Guardian.
"Jellies are more aware of the watery world around them than you may imagine. They are constantly swimming up and down in the water column looking for profitable patches of plankton. The statocysts are their sensory cells that enable them to orientate and tell up from down."
The barrel jellyfishes are totally harmless and feed on plankton. They do have stinging cells, but they are not able to get through human skin.
Section: Articles -
File Under: Earth |
5 Questions For Jeffrey Sachs on Decarbonizing the Economy
15 July 2014
Thirty scientific institutions from 15 countries last week released a report for the United Nations outlining how the world's major carbon dioxide-emitting nations can slash those emissions by mid-century. Called the Deep Decarbonization Pathways Project, the initiative aims to provide government leaders with a plan of action in advance of a UN climate summit in September and climate negotiations in Paris in late 2015.
Yale Environment 360
asked Jeffrey Sachs, director of Columbia University's Earth Institute and a key player in the decarbonization project, five questions about the initiative and the prospects for global action on the climate front.
1. Why do you believe the Deep Decarbonization Pathways Project has a chance of succeeding where other global carbon-cutting initiatives have failed?
It is COP21 of the UN Framework Convention on Climate Change that has the chance of succeeding. COP21 is the meeting in Paris in December 2015 where governments are committed to adopting a new
climate agreement. There are signs that for the first time, all major emitting countries – the U.S., the European Union, China, India, and others – are prepared to take real actions together. This is by no means assured, but it is possible. The
Deep Decarbonization Pathways Project
(DDPP) can help this process by showing the way to deep decarbonization at the country level, and by emphasizing that developments in low-carbon and zero-carbon technologies should be incorporated into the COP21 agreement.
2. What practical incentives does the project offer to governments, citizens, and businesses to embrace "bold" emissions reduction targets despite the economic costs?
The report charts out the depth of energy transformation that will be required, and the major pillars of that transformation. Three are most important: zero-carbon and low-carbon electricity, electrification of vehicles and the heating and cooling of buildings, and great strides in energy efficiency. In order to have these adopted at large scale, we will need three things: carbon pricing, to reflect the social cost of carbon; improved technologies through research, development, and demonstration projects; and clear national pathways giving regulatory and policy guidance to private investors.
3. What is the scale of the research and development effort needed to develop game-changing, low-carbon energy technologies, and how will the costs of these efforts be paid for?
Currently the U.S. government spends around $30 billion per year on biomedical research, but only around $3 billion on low-carbon energy. The world as a whole should increase the RD&D on low-carbon energy systems by roughly one-order of magnitude (that is, a factor of 10), to perhaps $100 billion per year, shared by the public and private sectors. These are very rough estimates. Next year's DDPP report will consider this issue in quantitative and qualitative detail.
4. What are the main guiding principles in the developing world of simultaneously lifting people out of poverty while reducing the carbon intensity of these emerging economies?
We must distinguish between groups of countries. The poorest countries play almost no role in energy-related CO2 emissions. They simply need modern energy, especially electricity and clean cooking fuels. The main goal of the global community should be to support these impoverished countries to achieve modern energy for all. The middle-income countries, by contrast, have large and growing energy sectors that often contribute heavily to global CO2 emissions (notably China). These countries will need to define and implement national deep decarbonization pathways that are specific to their resource base (e.g. wind, solar, hydro, and geothermal energy), economic structure, public attitudes (e.g. to nuclear power), and economic prospects. The high-income countries should support these middle-income countries mainly through cooperative efforts on the research, development, demonstration, and diffusion of low-carbon technologies.
5. In light of disappointing climate negotiations in the past, why do you think the global community will be more inclined to agree to serious reductions in CO2 emissions at talks that culminate in Paris next year?
There are several factors that give cautious optimism for agreement next year. The first, ironically, is that the evidence of global climate disruption is becoming far more evident and frightening around the world. Second, the U.S. and China are much more disposed to move forward on a cooperative and meaningful basis than was true just a few years ago. Third, low-carbon technologies (e.g. photovoltaics, electric vehicles, smart grids) continue to improve. Fourth, the concepts of the carbon budget (consistent with the 2-degree Celsius limit on temperature increase) and long-term transformation pathways are much more widely understood today than just a few years ago.
None of this suggests that a solid agreement is assured. There are still huge obstacles to overcome, including powerful vested interests, e.g. within the global oil industry; the unwillingness of the U.S. and some other high-income countries to commit to a clear and ambitious program of climate financing for the poorer countries; the lack of global trust; and the undue short-termism of politics and finance. Some politicians will want an agreement of any kind, for a successful "photo-op." This will be little better than no agreement. It's our responsibility to work overtime until December 2015 to ensure that we have not only an agreement, but also an agreement that supports the globally agreed limit of 2-degrees C.
Powered By WizardRSS.com | Full Text RSS Feed | Amazon Wordpress | rfid blocking wallet sleeves
Section: Articles -
File Under: Earth |
LeBron James, Place and the Search for Sustainable Communities
My Columbia colleague, Professor Mark Taylor, recently published a wonderful book about his home in western Massachusetts entitled, Recovering Place: Reflections on Stone Hill. It is a distinctive and remarkable volume on the importance of place, design, and meaning. The book is beautifully produced and includes many superb photographs of this very special place. Mark begins his volume with an observation that is key to understanding the human impact of the steamroller, global economy in which we live:
Place is disappearing. The accelerating intersection of globalization, virtualization, and cellularization is transforming the world and human life at an unprecedented rate. The fascination with speed for speeds sake is creating a culture of distraction in which thoughtful reflection and contemplation are all but impossible...As processes of globalization expand, localization contracts until place virtually disappears in a homogeneous space that is subject to constant surveillance and regulation (Taylor, 2).
The accepted wisdom of today's elite is that one should pursue personal financial gain first and worry about other values later. If you manage to get the order wrong and, like Bill or Hillary Clinton, seek public service or political power first, at some point you need to correct your "error" and cash in on a lucrative speaking tour or tell-all book to generate the moola needed to support a fabulous, material-laden lifestyle.
Personally, I'm not poor but I'm not rich either. And I've reluctantly come to understand the role that work and cash play in making the world safe for the people I love. My summer home is a 1,000-square-foot bungalow a block and a half from the ocean in Long Beach, New York. My year-round home is an apartment on Morningside Drive in Manhattan that is owned by my employer. My wife and I bought the Long Beach house in 1987--rebuilding its ground floor after Superstorm Sandy--and moved into our apartment on Morningside Drive in 1990. The point is, I have two homes and I have been fortunate to live in them for decades. Like my colleague Mark Taylor, place is important to me. I note the time passing by the size of the trees in Morningside Park, and the color and texture of the sky in Long Beach. The James Taylor song "The Secret of Life" is never far from my mind. As James correctly observes, "The secret of life is enjoying the passage of time". I try very hard to hit the pause button every once in a while. I worry about the threats to place and perspective that Mark Taylor has correctly identified as the deal we've made with modernity and the costs we incur for the lifestyles we enjoy.
And while commerce will always make its demands, humans have other needs and values. Last week, LeBron James clearly articulated some of those other needs and values in his Sports Illustrated statement about his return to Cleveland. According to James:
Before anyone ever cared where I would play basketball, I was a kid from Northeast Ohio. It's where I walked. It's where I ran. It's where I cried. It's where I bled. It holds a special place in my heart. People there have seen me grow up. I sometimes feel like I'm their son. Their passion can be overwhelming. But it drives me. I want to give them hope when I can. I want to inspire them when I can. My relationship with Northeast Ohio is bigger than basketball. I didn't realize that four years ago. I do now...

But this is not about the roster or the organization. I feel my calling here goes above basketball. I have a responsibility to lead, in more ways than one, and I take that very seriously. My presence can make a difference in Miami, but I think it can mean more where I'm from. I want kids in Northeast Ohio, like the hundreds of Akron third-graders I sponsor through my foundation, to realize that there's no better place to grow up. Maybe some of them will come home after college and start a family or open a business. That would make me smile. Our community, which has struggled so much, needs all the talent it can get. In Northeast Ohio, nothing is given. Everything is earned. You work for what you have. I'm ready to accept the challenge. I'm coming home.
One of the great paradoxes of a global economy and a global communication system is that everything is accessible to everyone. There are no secrets. Opportunity and inequality has gone global. Sometimes we find that when we strive to meet the very human need to fit in and be an accepted part of a group, the need to stand out and be unique must be sacrificed. LeBron James stood out and became a winner, but winning came at a price. It is obvious that a maturing LeBron James realized this. Place, community and home provide a counterweight to the homogenization of culture, ideas, image, food and speech. Escaping to a wealthier and glitzier neighborhood like South Beach bought LeBron championships, but cost him a piece of his sense of place. Last week he reclaimed that part of himself and managed to inspire us in the process.
That sense of place is not a material resource. It is in many ways the most sustainable and renewable resource we have. It is the power of love, loyalty, shared history, and human bonding. It cannot be bought for any amount of money. No matter how smart you are or how great an athlete you might be, you still must earn loyalty every day by your acts and the care and feeding of relationships that are important to you.
Kenny Rogers and Dolly Parton catch the spirit of this sentiment with their recent duet "You Can't Make Old Friends." The song's lyrics are a simple and moving account of the importance and durability of friendship:
What will I do when you are gone?
Who's gonna tell me the truth?
Who's gonna finish the stories I start,
The way you always do?

When somebody knocks at the door,
Someone new walks in.
I will smile and shake their hands,
but you can't make old friends.

You can't make old friends
Can't make old friends
It was you and me, since way back when.
But you can't make old friends.
In the video of the song, Kenny Rogers specifically discusses the need to step back from the pressures of the music business and reflect on friendships and important values. That is, of course, what LeBron James has done with his statement and his move home.
The communities of the Rust Belt have infrastructure, access to food and water, low-cost housing, and room for growth. What is sometimes missing is the energy and sense of purpose that attracts people, business and new ideas. What remains present is what LeBron James is valuing: history, friendship, comfort and familiarity. The cynic searches for some hidden hustle here, but I sense LeBron's genuine growth and sense of admirable purpose. As we move our economic world from "all material consumption all the time," engaging in community life and engaging in social and intellectual discourse are ways that we can enrich ourselves without damaging the planet.
LeBron James is not rejecting the glitz and glamour that we shower on the world's greatest basketball player, but he is allowing another value to enter into the mix, something bigger than cash, championships, and fame: the value of community, and taking responsibility for leading that community. No matter what happens on the basketball court, he has really stepped up where it really matters. And that is very good news in a very challenging world.
Powered By WizardRSS.com | Full Text RSS Feed | Amazon Wordpress | rfid blocking wallet sleeves
Section: Articles -
File Under: Earth |
Waste to Energy Could Meet 12% of U.S. Electricity Demand
The U.S. could power 14 million homes and heat a further 10 million if it moved from landfill to waste to energy, according to a new study published by the American Chemistry Council (ACC).
Conducted by the Earth Engineering Center (EEC) of Columbia University, the study found that if all of the Municipal Solid Waste (MSW) that is currently disposed in landfills each year in the U.S. were diverted to waste to energy facilities, it could generate enough electricity to meet nearly 12% of the U.S. total demand.
According to the study - 2014 Energy and Economic Value of Municipal Solid Waste (MSW), including and Non-recycled Plastics (NRP), Currently Landfilled in the Fifty States – such a shift could also reduce greenhouse gas emissions by at least 123 million tons (111 million tonnes) of carbon dioxide equivalents per year.
The research also found that the recycling of materials from MSW improved by 18.5 million tons (16.8 million tonnes), and the tonnage of materials processed by waste to energy facilities grew by 3.8 million tons (3.4 million tonnes) between 2008 and 2011.
Key statistics from the study are illustrated in a new infographic, 'The Power of Waste.'
According to the authors, if the U.S. were to deploy district heating systems similar to countries such as Denmark, Germany, Sweden and Norway, the current waste stream could provide heat for close to 10 million additional homes.
The study is based on data obtained in Columbia University's 2014 Survey of Waste Management in the U.S., which looked at waste management statistics during 2011, and from MSW characterisation studies in several states.
"Modern technologies that convert waste into energy present a good opportunity to significantly reduce our reliance on landfills, lower our carbon footprint, and provide renewable energy to businesses and communities," commented Nickolas Themelis, director of the Earth Engineering Center at Columbia University.
"Currently, many developed nations are further along in embracing and expanding their use of energy recovery technologies as a vital part of their sustainable resource management systems. This presents an important opportunity for city planners and policy makers in the United States," he added.
Plastics
Engineers at the Earth Engineering Center also calculated the quantity of non-recycled plastics - a subset of MSW that remains after plastics that can be economically recycled have been extracted - available for energy conversion.
The authors explained that teh latest study expands on an earlier EEC study (published in 2011 and based on data from 2008) by including (in addition to plastics in MSW) plastics that are not counted by the U.S. Environmental Protection Agency as MSW but that are disposed in landfill, such as construction demolition debris and auto shredder residue.
According to the study, plastics represent 11% of the total U.S. waste stream. The total recovery rate for plastics, which includes both recycling and energy recovery, was said to have increased from 14.3% in 2008 to 16.6% in 2011.
The recycling rate for plastics was found to have increased by 21% between 2008 and 2011 to reach nearly 2.7 million tons (2.4 million tonnes).
However, according to the authors, if all non-recycled plastics in the U.S. were converted to energy through facilities that use modern plastics-to-oil technologies, they could produce nearly 6 billion gallons (22.7 billion litres) of gasoline.
"Every day, plastics significantly enhance our ability to reduce, reuse, recycle and recover more of our resources," commented Steve Russell, vice president of plastics for ACC. "These important findings show that, while we're making progress, we have a vital opportunity to recycle and recover more of these valuable materials."
This story is also featured in WMW's weekly newscast below.


Read More
ANDRITZ Technology for Fiberight's Municipal Waste to Biofuel Plant in Iowa
Graz, Austria based technology manufacturer, Group ANDRITZ, is to supply equipment, engineering, and field services for Fiberight's cellulosic ethanol plant in Blairstown, Iowa.
E.ON Brings 30 MW Wood Waste to Energy Facility Online in Sheffield, UK
E.ON UK's Blackburn Meadows 30 MW wood waste to energy facility in Sheffield has generated electricity and synchronised with the local distribution network for the first time.
U.S. EPA Plan to Tighten Landfill Methane Emission Regulations
As part of President Obama's Climate Action Plan the U.S. Environmental Protection Agency has proposed updates to its air standards for new Municipal Solid Waste landfills.
Powered By WizardRSS.com | Full Text RSS Feed | Amazon Wordpress | rfid blocking wallet sleeves
Section: Articles -
File Under: Earth |
The smart ocean buoy that detects sharks
01 July 2014

|

Environment
The Clever Buoy is still a prototype, but the project promises to improve safety for all surfers and beachgoers worldwide. The advanced shark detection technology uses new sonar technology to detect shark-sized objects in coastal waters.
When detection is made by the Clever Buoy, an alert will be sent to relevant audiences using Google+ circles, via the Optus Network. It currently detects a shark-like object of two meters or more in length.
Future development of the buoy will involve inbuilt decision–making systems, which will attempt to differentiate the object as a shark or mammal such as a dolphin or whale, with an appropriate response.
The technology is similar to the development of face recognition software in humans. The first successful tests were made in the Sydney Aquarium and the Abrolhos Islands, in Western Australia.
The maximum sonar detection range is currently estimated at around 60 meters (196 feet) if deployed in deep water. Shallower water may reduce the range.
Learn more about sharks, and how to avoid them. Discover the most shark-infested waters in the world.
Section: Articles -
File Under: Earth |
The link between oceanic currents and climate
From: The Earth Institute at Columbia University, via ScienceDaily
Published June 29, 2014 08:19 AM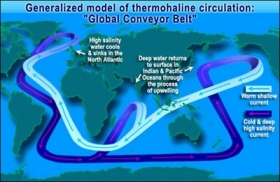 For decades, climate scientists have tried to explain why ice-age cycles became longer and more intense about 900,000 years ago, switching from 41,000-year cycles to 100,000-year cycles. In a new study in the journal Science, researchers found that the deep ocean currents that move heat around the globe stalled or even stopped, possibly due to expanding ice cover in the north. The slowing currents increased carbon dioxide storage in the ocean, leaving less in the atmosphere, which kept temperatures cold and kicked the climate system into a new phase of colder but less frequent ice ages, they hypothesize.
ADVERTISEMENT
"The oceans started storing more carbon dioxide for a longer period of time," said Leopoldo Pena, the study's lead author, a paleoceanographer at Columbia University's Lamont-Doherty Earth Observatory. "Our evidence shows that the oceans played a major role in slowing the pace of ice ages and making them more severe."
The researchers reconstructed the past strength of earth's system of deep-ocean currents by sampling deep-sea sediments off the coast of South Africa, where powerful currents originating in the North Atlantic Ocean pass on their way to Antarctica. How vigorously those currents moved in the past can be inferred by how much North Atlantic water made it that far, as measured by isotope ratios of the element neodymium bearing the signature of North Atlantic seawater. Like a tape recorder, the shells of ancient plankton incorporate this seawater signal through time, allowing scientists to approximate when the currents grew stronger and weaker off South Africa.
They confirmed that over the last 1.2 million years, the conveyor-like currents strengthened during warm periods and weakened during ice ages, as previously thought. But they also discovered that at about 950,000 years ago, ocean circulation weakened significantly and stayed weak for 100,000 years; during that period the planet skipped an interglacial -- the warm interval between ice-ages--and when the system recovered it entered a new phase of longer, 100,000-year ice age cycles. After this turning point, the deep ocean currents remain weak during ice ages, and the ice ages themselves become colder, they find.
"The Global Conveyer Belt for Heat" represents in a simple way how ocean currents carry warm surface waters from the equator toward the poles and moderate global climate. This global circuit takes up to 1,000 years to complete. This illustration shows the generalized model of this thermohaline circulation: 'Global Conveyor Belt.' Cold deep high salinity currents circulating from the north Atlantic Ocean to the southern Atlantic Ocean and east to the Indian Ocean. Deep water returns to the surface in the Indian and Pacific Oceans through the process of upwelling. The warm shallow current then returns west past the Indian Ocean, round South Africa and up to the North Atlantic where the water becomes saltier and colder and sinks starting the process all over again. Image credit: NASA.
Read more at ScienceDaily.
2014©. Copyright Environmental News Network
Section: Articles -
File Under: Earth |
20 Years Later, Legacy of Deadly Colorado Wildfire Endures
John N. Maclean
Twenty years ago, at 4 p.m. on July 6, a wave of flame swept along a ridge on Colorado's Storm King Mountain, killed 14 firefighters, and became a benchmark for wildland firefighting with repercussions that continue to this day.
On Sunday, firefighters from across the nation will gather at the site of what became known as the 1994 South Canyon Fire, about seven miles west of the resort town of Glenwood Springs in central Colorado, to mark the anniversary and take stock of its legacy.
For many of the specially trained crews that battle mountain wildfires in the American West, it was a blaze that made it more acceptable for firefighters to speak up or even decline assignments they consider too dangerous—once a rare occurrence that could result in a firing or ostracism in a profession that requires aggressive, type A personalities. No official report articulated that change, but among many firefighters it was an understood lesson of South Canyon.
The South Canyon blaze, which scorched 2,115 acres, accelerated technical advances in battling wildfires, from a new generation of fire shelters—small, protective "mummy" bags carried by firefighters that can be their defense of last resort from flames—to improved communications. "Immediately, we all had radios," said one South Canyon survivor, Eric Hipke.
South Canyon also sparked more scrutiny of fire officials' decision-making and strategies in battling deadly fires, and led to changes in the National Weather Service's fire weather forecasting division, which doubled its number of fire weather forecasters and found ways to deliver up-to-the-minute weather information—including crucial details about wind, which can fuel a fire and its direction—to forecasters in the field. (Related: "Overwhelming Cause of California Wildfires: Humans.")
After South Canyon, "incident meteorologists became rock stars," said Chris Cuoco, the meteorologist whose accurate prediction of a dangerous weather shift during the South Canyon Fire never reached the firefighters on the mountain.
It's widely accepted within the firefighting community that these and other lessons of the South Canyon Fire have saved lives during the past two decades. Even so, the dangers of fighting wildfires in the hot, dry summer remain real.
The tragedies at Yarnell Hill and South Canyon are among the worst wildland firefighting disasters in U.S. history.
RYAN MORRIS, NG STAFF
SOURCES: NATIONAL INTERAGENCY FIRE CENTER; USGS
On June 30 last year, a well-predicted storm with high winds turned the Yarnell Hill Fire in Arizona back on itself, and flames overwhelmed and killed 19 members of the Granite Mountain Hotshots, a crew from nearby Prescott specially trained to battle brush fires. It was the greatest loss of life for a U.S. wildland fire crew in a single event in more than a century, since a blaze called the Big Burn of 1910 charred more than three million acres in Montana, Idaho, and Washington state, killing an estimated 78 firefighters.
In Focus
A Similar, Even Deadlier Fire
The circumstances that led to the deaths on Yarnell Hill were hauntingly similar to those in South Canyon.
Both cases involved well-trained and aggressive firefighters: smoke jumpers, hotshots, and "helitacks" in South Canyon; hotshots on Yarnell Hill. Smoke jumpers parachute into fire zones, helitacks arrive by helicopter, and hotshots most often by bus or on foot. All three categories of firefighters must be prepared to battle rapidly spreading wildland fires wherever they occur.
Both fires were started by lightning, were not fought all-out at first, and threatened homes and towns. Severe storms that triggered the fatal runs of both fires were accurately predicted, but with only minutes to spare. The crucial forecasts then ran into communication foul-ups and did not reach the vulnerable crews in time, if at all. The fatal blasts of each fire occurred at the worst time of day for fire: late afternoon on days with high temperatures, low humidity, and tricky winds.
In South Canyon and on Yarnell Hill, firefighters waited too long before trying to escape. In both cases, supervisory personnel were handing over duties to a more qualified command team, a normal procedure as fires grow more complex, so there was a lack of immediate oversight and firefighters were pretty much on their own. In both cases, the fire crews were trapped in narrow canyons that magnified the effects of fire.
The South Canyon Fire scorched 2,115 acres in central Colorado.
PHOTO BY JIM KAUTZ, US FOREST SERVICE
So why didn't the lessons from South Canyon prevent the tragedy on Yarnell Hill?
Eric Marsh, the supervisor of the Granite Mountain Hotshots crew that was on Yarnell Hill, was known as a strong, magnetic leader, but he tolerated and even encouraged discussion and dissent. Several years ago, after fighting a fire on the Front Range of Colorado, Marsh had made a long detour and led his crew on a visit to the South Canyon Fire memorial.
"We're going to remember this experience and never let it happen to us," a member of the crew who was not with Marsh's team for the Yarnell Hill Fire recalled thinking at the time about the lessons of the 1994 blaze—including the importance of avoiding life-threatening situations while battling a wildfire.
But on Yarnell Hill last year, it did happen to Marsh's crew.
The reasons that 19 members of Marsh's hotshots crew left a relatively safe ridgeline and headed for a safety zone they never reached will never be explained fully, because none survived. But the fire's threat to Yarnell was likely a factor, based on fragmentary communications to and from the hotshots. From the crew's vantage point, the fire's threat to homes and people in Yarnell was visible. Members of the crew photographed the fire as it turned toward the town, where 126 homes and other structures eventually were lost.
The crew members watched as a storm turned the escalating fire in their direction. They headed down into a box canyon toward a safety zone, a ranch complex they could see in the valley below that appeared to be far closer than it actually was, an optical illusion reported by others who later retraced the crew's steps.
With barely more than 600 yards to go before reaching the ranch, the hotshots were met by flames roaring up the canyon. They used chainsaws and hand tools to clear a zone where they could deploy their fire shelters.
"I'm here with Granite Mountain Hotshots, our escape route has been cut off," Marsh radioed, fighting to control his voice. "We are preparing a deployment site, and we are burning out around ourselves in the brush, and I'll give you a call when we are under the sh... the shelters."
The Yarnell fire is now the focus of a wrongful-death lawsuit brought by family members of a dozen of the firefighters. The families claim that Arizona and Maricopa County officials were negligent in managing the response to the blaze, allegations the officials deny.
A memorial near the site where 12 firefighters died on Colorado's Storm King Mountain.
PHOTOGRAPH BY DAN JACKSON
"A Deep, Deep Blessing"
In Colorado during the past two decades, the South Canyon Fire site on Storm King Mountain has become a shrine to the 14 firefighters who died there. A long, steep, and well-worn trail leads to the crosses that mark the spots on the mountain where they died. Survivors, families of the fallen, and firefighters who go there often are joined on the mountain trek by others who come out of simple curiosity or to pay respects.
As the 20th anniversary approached, Gary McCaleb, a firefighter who knew Don Mackey, one of those killed, visited the site for the first time and reported on social media that "it was a deep, deep blessing to be able to go to the monument; to walk the trail, to at long last let some of the deep, damned grief and loss be left behind in tear-stained dust."
Visitors to the site place caps, T-shirts, loose change, and religious medals on and around the crosses, the same sort of mementos found at the Vietnam Veterans Memorial in Washington, D.C.
When the South Canyon Fire exploded into a blowup, a sudden burst of flame that sweeps all before it, there were 49 firefighters scattered across an area later known as Hell's Gate Ridge, which extends like a mighty arm of Storm King Mountain. Mackey, the smoke jumper in charge, directed one group to safety. He then faced a daunting choice: Stay with the group headed for safety, or hike back into dense brush to check on a dozen firefighters who were digging and cutting a fireline, a trench about 18 inches wide, to try to contain the flames. He turned back to join the firefighters in the brush, an act of selflessness that became known in the wildland fire community as a "Don Mackey moment."
A view of Storm King Mountain days after the massive fire of July 6, 1994.
PHOTO BY JIM KAUTZ, US FOREST SERVICE
With fire below him in the canyon, Mackey's boots ground into loose shale as he power-hiked to catch the endangered firefighters, who had seen the fire erupt in the gulch below them and had turned back, heading away from the flames along the fireline they previously had cleared. Mackey caught up to them where the line turned 90 degrees upward, toward the ridgetop.
Hipke, a survivor, remembers flames "curling and whipping" behind them. The group paused when two smoke jumpers in the lead—Jim Thrash and Roger Roth—halted. Thrash looked at Roth and asked, "Shelters?" He was asking whether the crew members should get under their fire-resistant shelters, or perhaps use them as shields as they continued on.
Hipke, right behind them, did not stop. He ran for it. As he powered up the side of the ridge, a billowing gust of extreme heat, followed by flame, caught him just yards from the top, slammed him to the ground and burned his hands to shreds. Hipke managed to struggle to his feet and hurtle over the ridgetop to safety. Mackey, Thrash, Roth, and nine others, all members of the Prineville Hotshots from Prineville, Oregon—Kathi Walsleben Beck, Tamera Jean Bickett, Scott Alan Blecha, Levi Brinkley, Douglas Michael Dunbar, Terri Ann Hagen, Bonnie Jean Holtby, Rob Johnson, and Jon R. Kelso—did not make it out.
Two helitacks, Richard Kent Tyler and Robert E. Browning, Jr., were manning a helicopter landing zone on the ridgetop when the fire exploded. Once they saw the flames erupt, they hiked along the ridgetop seeking a place where their helicopter could pick them up, but they too were caught by flames and killed. The remaining 35 firefighters on the mountain survived, several with relatively minor burns.
Hipke's injuries healed, and he returned to fighting fires as a smoke jumper a few months later. Fifteen years later, he became an audiovisual specialist for the U.S. Forest Service and began thinking about making a fire-training video about the South Canyon Fire. He did so this year, in time for the 20th anniversary. The video is available on YouTube.
Watch: The South Canyon Fire from the perspective of the 11 firefighters present in 1994.
A key lesson from the video: Firefighters in charge "should listen to everyone on the crew," Hipke said. "That's not the way it used to be."
And fire crews, Hipke said, should be more aggressive in voicing their concerns about dangerous situations. During the South Canyon Fire, he said, he and other firefighters failed to tell Mackey that they were worried about venturing so far into dense brush without a sure way out.
"As workers we want to work, so we shut up," Hipke said.
This photo of Arizona's Yarnell Hill Fire was taken by Christopher Mackenzie, one of the Granite Mountain Hotshots who was later killed in the blaze.
PHOTOGRAPH BY CHRISTOPHER MACKENZIE
"Extreme" Fires Increasingly Common
In the two decades since the South Canyon Fire, at least two things have made firefighting more treacherous: More people have moved into previously unpopulated forests and brushlands, and fires have become more extreme, in part because of years of heat and drought. The term "extreme fire" is now used to describe fires that behave beyond the bounds of past experience. (Related: "Why Big, Intense Wildfires Are the New Normal.")
"I've never seen fire behavior like this before" has become a common refrain of seasoned firefighters. Extreme fires are characterized not necessarily by huge acreage burned, but by the dangerous alignment of violent weather, drought and heat, proximity to homes, and fast-burning vegetation. Adding to the problem is forest management that has a troubled record of trying to impose a healthy mix of fire suppression, deliberate burning, thinning, and logging in the face of the violent nature of some fires, amid a changing scientific and regulatory environment.
Even as the firefighting world changed after the South Canyon Fire, the federal, state, and local agencies with wildland fire responsibilities have struggled to address issues posed by the rising number of homes under threat. The U.S. Forest Service estimates that 32 percent of all housing in the nation, or roughly 37 million units, is on lands where "humans and their development meet or intermix with wildland fuel."
Firefighters visit a makeshift memorial last month in Prescott, Arizona, for the 19 firefighters who died fighting last year's Yarnell Hill Fire.
PHOTOGRAPH BY MAX WHITTAKER / THE NEW YORK TIMES / REDUX
The threat is not always imminent—in Connecticut, for example, two-thirds of all lands are classified as "intermix" zones, but there is no major wildland fire problem. The vulnerable West, however, has seen an influx of millions of homes in recent decades into zones that are threatened. And despite efforts to educate homeowners with catch-phrase programs such as "Prepare, Stay, and Defend," "Living With Fire," "Survivable Space," and others, there is no consensus regarding how much risk firefighters should take in battling wildfires when homes are present.
"We don't know what the mission really is," said Kevin Erickson, a South Canyon Fire survivor and former firefighter.
Today, there is broad agreement in the firefighting community that the Yarnell Hill blaze should have been attacked more vigorously and contained before the fire became so deadly. In the wake of Yarnell Hill, various studies of the tragedy also have cited familiar themes in explaining the damage: drought that made brush particularly dry, communications failures, fire crews that could have been safer if they had been less aggressive.
But to Tom Shepard, who was the superintendent of the Prineville Hotshots crew that lost nine members to the South Canyon Fire, that blaze has left a positive legacy as well.
"It took 15 years for me before I went back up and walked that hill," Shepard said on Hipke's video. "I didn't know how I was going to react to that. Needless to say, it was an emotional time for me." Of firefighters today, Shepard said, "If they see something they don't understand, something out of whack, they're encouraged to speak up. It takes 20 people to run a hotshot crew. Not just one, it takes 20.
"Everybody's got a voice."
John N. Maclean is the author of Fire on the Mountain: The True Story of the South Canyon Fire and other books on wildland fire.
Section: Articles -
File Under: Earth |
Q&A: China's Collision Between Aspiration and Authoritarianism
No country has changed so much, so fast as China. In one generation, it has gone from being largely agricultural to a country of megacities and bullet trains and, soon, the world's tallest skyscraper. The number of Chinese billionaires is growing faster than anywhere in the world, and this year the nation's GDP is expected to overtake that of the United States.
But last year China also executed more people than any other country and has imprisoned an estimated 1,300 political or religious prisoners.
Book Talk
For much of the past decade, New Yorker correspondent Evan Osnos was on the front line of these momentous changes. In his new book, The Age of Ambition: Chasing Fortune, Truth, and Faith in the New China he describes the decisive battle taking place between individualism and authoritarianism, how the Internet is transforming Chinese lives, and why having a weasel in your roof is a sign of good fortune.
You say every journey in China begins with "the call." When did your calling to write about China begin? Did you have a China connection growing up?
We lived in Moscow when I was small. My father was a reporter for the Washington Post, my parents spoke Russian, so I grew up with a sense of Eastern Europe being the cultural background we were interested in. I didn't pay much attention to China until I got to Harvard as a freshman. I took a class on the background to the events of 1989, and that narrative, for me, was electrifying. That drew me in.
You first traveled to China as a student in 1996, returning as a journalist in 2005. What changed in those intervening years?
That was astonishing. In my mind the image of China was fixed. I had this picture of what it meant to be in Beijing, which was left over from the summer I spent there in '96. The city smelled like coal and cheap tobacco. The countryside was inside the confines of the city. I used to eat in Xinjiang village: row after row of gray brick buildings, which the Uyghurs had built as restaurants—there were sheep tied outside them!
Then I came back in 2005, and China had gone from being a place where the cities were the exception to a country where cities were an important part of the narrative. It was in the midst of this incredible physical metamorphosis. China was building the equivalent of Rome every two weeks.
There were new buzzwords, too, weren't there? Like ye xin, meaning "wild heart."
This is one of those instances where the Chinese language is so vivid that it can become an entry point into understanding the inner experience of being there. "Wild heart" had always been pejorative in China. If you were described as having a wild heart, it was a harsh criticism that could be ruinous for your family. It suggested you were at odds with ancient Chinese ideas—the Confucian ethic—but also modern political orthodoxy.
When I came back in 2005, the phrase had come to mean something different. It had lost much of its negative connotation. It had become a neutral term. Indeed, it began to take on a positive meaning. If you go to Chinese bookstores now, you'll find a book called How to Have a Wild Heart in Your 20s.
Unlike most correspondents, you opted not to live in a modern apartment, but in a hutong in Beijing, where I visited you two years ago. Can you describe what that is and what your daily life was like?
I lived in a traditional Chinese courtyard in a hutong, an alleyway. These are the capillaries of the city that have been an essential part of Beijing going back to the Yuan dynasty. For me, they've always been the nerve center of the city—the place where things are happening. The Mongol emperors laid them out, [and] they are very condensed, intimate spaces where you know all your neighbors, and they know everything about you. And I really loved the experience of what the Chinese call "living with your feet touching the ground."
Over the course of eight years I lived in three different courtyards. Each one had its idiosyncrasies. The one I lived in longest shared a wall with a Confucian temple. It was a gift to have this little window onto a part of Beijing that is largely disappearing. It was also a vantage point into the history of the city, because a lot of traditions that are disappearing elsewhere endure in the hutongs.
For instance, we had this weasel that moved into the roof of the house. The neighbors all told me that this was good news because the weasel in northern Chinese cosmology is a very good omen, which heralds the imminent arrival of good fortune! I called an exterminator, but he too congratulated me on the arrival of the weasel—before he set about trying to get rid of it. He failed. And soon there were five weasels!
You describe the narrative of contemporary China as a collision between two forces: aspiration and authoritarianism. Can you give us some examples?
There's a young man I met a few years ago named Tang Jie. He was a patriot, a nationalist. He had become well known because he had produced a video on the Web that was a manifesto for young Chinese nationalists because it criticized the West for what were seen as its efforts to prevent China's rise. After the video became so successful, he thought there might be a market for the ideas he was promoting, so he created what he called the Chinese nationalist YouTube.
But the larger he got, the more his ambitions put him into a political gray area. He began to criticize corruption, for instance, and eventually his website was closed down by the authorities. So you had this curious situation whereby one of China's most ardent patriots found that his own aspiration to develop his voice and put those of his peers out on the Web placed him in direct opposition to the state. He's an acute example of what happens all the time.
What sort of constraints were you yourself under as a correspondent?
I always try not to overemphasize the restrictions we face as foreign journalists, because I think they're absurdly small compared to what Chinese journalists face. The government does interfere with the way we can access politically sensitive individuals. If you go to a village and try to discuss a politically sensitive issue, they'll probably step in the way.
One of the people I write about in the book is the blind lawyer Chen Guangchen, who is now in exile in the U.S. He was under house arrest for years, so when I tried to visit him at home, I was turned away. But I always felt I wanted to minimize those occasions, because the only person who suffers is the person you're trying to see. I tried to figure out more sophisticated ways of getting information that would not imperil the people I was writing about.
There's a wonderful quote you use by China expert Perry Link, who describes the relationship between the people and the Communist Party as like "living beneath a giant anaconda in a chandelier."
[Laughs] What he's referring to is the experience of living in a country with censorship but where the rules are never quite clear. If you're a writer or an editor, you know there are always consequences if your work irritates the government. You can lose your job. You can go to jail. And yet the rules are never explicitly codified in a way that would allow you to make confident judgments about the limits. So it is like living with a snake above your head. You never quite know what the anaconda is going to do. It's always there. Most of the time it does nothing, but its presence shapes your behavior in a deep and psychologically powerful way.
You compare China's "age of ambition" with America's Gilded Age. Can you unpack some of the parallels?
I didn't set out to see China in a framework that was familiar to me. But the longer I was there, the more it reminded me of a period in American history at the end of the 19th century when we were also growing at a furious pace. This was a time when the U.S. was rebuilding from the Civil War. We were laying railroad tracks across the country. It was also a time of spectacular corruption. The grandson of President John Quincy Adams was in the railroad business himself, and he said: "Our business is based on lying, cheating, and stealing." There are a lot of parallels between this muscular, chaotic moment in American history and what's happening in China in our generation.
There are many rags-to-riches stories woven into the book—what's called in China "bare-handed fortunes." Can you tell us about a woman called Gong Haiyan?
She grew up in a small town at the base of a mountain. Her parents were farmers who couldn't read or write. But she was from this generation that was growing up in a period of relative prosperity and peace, and she had the opportunity to go and get an education. From a very early age she also had this inclination toward business. As a kid, she decided to buy Popsicles from a nearby town, bring them home, mark up the price, and sell them door to door.
Her parents said: "We have three neighbors, [and] we live at the foot of a mountain. Who do you think is going to buy these things?" But she stuck at it, and sure enough, she succeeded. She went on to found the Chinese equivalent of Match.com and ended up taking it public on the NASDAQ! That absolute, sheer determination to succeed at all costs is the propulsive force that is driving the country ahead—and makes it so thrilling.
The battle between the state and the individual is being played out on the Internet, which one of the dissidents you profile calls "God's gift to China." How is this battle being fought?
When I arrived in 2005, there were a million bloggers. Today there are about 600 million people online. We think of it as a transformative technology in the West, but in China it has been even more so. They were living more isolated lives, they had less information, and all of a sudden the Internet provided the possibility of connection and this incredible infusion of competing viewpoints and alternative views of history.
But the government has also created human history's arguably most elaborate system of censorship. So what you see is this arms race between the government's determination to prevent what it considers unhealthy information and the citizens' ingenuity in finding and amplifying it. It's like a cat-and-mouse game in which people are figuring out what they can do online, how much they can say and get away with.
On the other side, the government is responding as fast as it can, investing in physical infrastructure or hiring human monitors, people who by the tens of thousands—we don't know how many exactly—spend their time on the Internet either striking down comments that are politically intolerable or doing something more subtle by steering the conversation in a direction the government would like. The term in Chinese for these people is "ushers."
One of the things that come across in the book is the Chinese people's inventiveness and wit in subverting or mocking the system. Tell us about "Big Underpants."
[Laughs] The censorship system is partly based on filters that prevent unflattering words getting out on the Internet. If I typed in "Tiananmen Square," it would be blocked. So as a result, people are constantly creating terms to carry on the conversations they want to have. It's a kind of code or parallel language system.
The government was very pleased when the new headquarters of Chinese Central Television (CCTV) was unveiled. It was this futuristic, Rem Koolhaas high rise, with two towers that slant toward each other. So they allowed discussion to grow on the Internet. But people started calling it the "Big Underpants" [laughs] because that's what it looked like to them. The apparatchiks thought this was not very funny, so they suggested an alternative, the suitably solemn "Window on Knowledge." But people soon figured out that that phrase is a homonym for hemorrhoid [laughs].
One of the many jaw-dropping facts you quote is that in 2012 the richest 70 members of China's National Assembly had a net worth of almost $90 billion, more than ten times that of the U.S. Congress! Can the Communist Party survive this level of corruption?
I think the government has recognized that corruption had become an existential threat. That's why it's embarked on this intense anti-corruption campaign. The question, ultimately, is whether it's prepared to take the kind of steps that are necessary to reinvigorate its legitimacy and ensure its survival. And I don't think we know yet. But the Chinese political system is very adaptable. In 1979 they gave up socialist economics almost overnight because they realized it was a threat to their political survival. And that's an important habit of mind to understand about the way the party conducts itself.
In a chapter called "Soul Craft" you describe the rise of religion and spirituality in contemporary China. Why do you think this is happening?
The Chinese people live in a society that is Communist in name, capitalist in practice, yet it does not have a clear set of philosophical, moral ideas. Life under Mao was almost a religious experience. People would confess their sins at the foot of his statutes and hold his book aloft like a holy text.
Then all of a sudden China embarked on a free-market economy and that cosmology had to be set aside, which left behind this great hole. So, people had this spiritual appetite, which they have gone out to fill themselves. I met Pentecostal judges or tycoons who had adopted the Baha'i faith. There is this great upswell of spiritual energy that reminds me very much of the Great Awakening in the U.S. in the 19th century.
There is also a new nationalist strain, which we're seeing in China's aggressive actions in the South China Sea. Do you think the U.S. and China are on a collision course?
I don't know if we're on a collision course. What's clear is that we have reached a point where these two countries that had a diplomatic accommodation with each other for the past 40 years have entered a new, more complicated phase. I choose not to imagine we're ordained to enter into conflict with each other just because we are two large powers.
One of the reasons I write in such granular detail about Chinese life is to convey to people that at this very moment when our two countries seem to be moving into greater conflict with each other, we have never had more in common as individuals, on the basis of our ordinary, lived experience. And that should be a basis for mutual understanding—and not distrust.
One of the hardest things to explain to people outside China is that even in a country that is the only place in the world with a Nobel Peace Prize winner in prison, there is immense humor and joy at the same time. And you have to allow both of those images into your portrait of the place, or you won't capture it honestly. Putting those two in harsh juxtaposition is very much my project in this book.
Section: Articles -
File Under: Earth |
«
Start
Prev
1
2
3
4
5
6
7
8
9
10
Next
End
»
Page 1 of 104